2021 Upper Deck AEW Checklist, Details
When you click on links to various merchants on this site, like eBay, and make a purchase, this can result in this site earning a commission.
Wrestling cards have gone elite. 2021 Upper Deck AEW marks a couple of firsts. The big one is the fact that it marks the first mainstream All Elite Wrestling cards. And while Upper Deck has featured professional wrestlers like CM Punk and Mark Henry before in some of their past products, this is the company's debut set that's strictly wrestling.
The product has a flagship style makeup with a variety of card types and styles. And while autographs and memorabilia cards are guaranteed in each hobby box, they are key components of the checklist.
2021 Upper Deck AEW Checklist Overview
The full base set has 100 total cards. However, it breaks down into four different subsets, each with their own design and level of rarity.
The first 60 cards make up the shell set, highlighting members of the AEW roster. Following these are ten Tag Teams cards that combine to land 1:2 packs. This is the same insertion rate for ten Crew cards. AEW Magazine is the final section, taking up the final 20 spots on the checklist. These are one per pack.
All 100 cards have three similar levels of parallels. Gold are the most common, combining to land one per hobby pack. There's also Pyro, which average out to five per hobby box, and Dynamite.
Autographs and Memorabilia Cards
Most of the hits in 2021 Upper Deck AEW are essentially premium versions of select base cards with additional parallels of their own.
Wrestlers Autographs have two tiers of rarity depending on the signer. The more common signatures combine to land 1:180 packs while short prints are 1:768.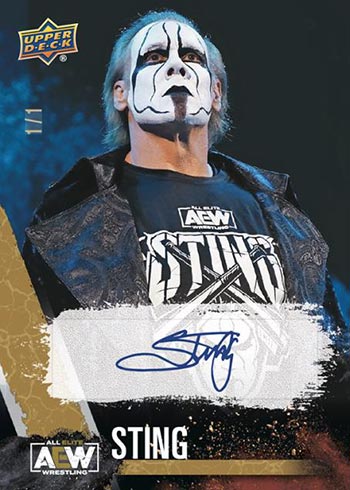 Other autograph subsets include Tag Teams (1:2,048 packs), Crew (1:1,024 packs) and AEW Magazine (1:768 packs).
All four signature subsets come with Pyro (/25), Dynamite (/5), and Gold (1/1) parallels.
Memorabilia cards all come with serial numbers. Wrestlers Gold Memorabilia have 199 copies. Tag Teams are numbered to 99 while Crew are limited to 49 copies. Mat Red parallels can also be found (Wrestlers /50, Tag Teams /25, Crew /10).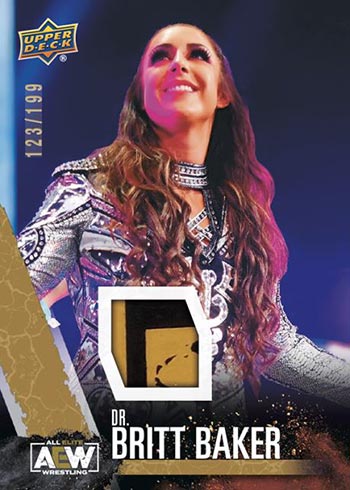 Finally, The Dotted Line is a standalone autograph insert that incorporates illustrations into the design. These are tough pulls, falling 1:1,536 hobby packs.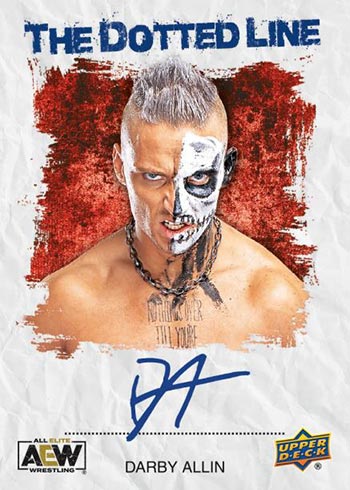 According to Upper Deck, Darby Allin, Kenny Omega, Jon Moxley, Britt Baker, Sting Chris Jericho, Cody Rhodes, Nyla Rose, Matt and Nick Jackson, and Hikaru Shida are among the signers in the product.
Additional Inserts
Five standalone inserts are also part of the 2021 Upper Deck AEW checklist.
UD Canvas, a familiar name in the card maker's flagship hockey line, are 1:5 packs with short prints coming in with longer 1:40 pack odds. These have a design that could pass as a base set elsewhere that makes images a focal point. The cards get their name from the canvas-style stock they're printed on.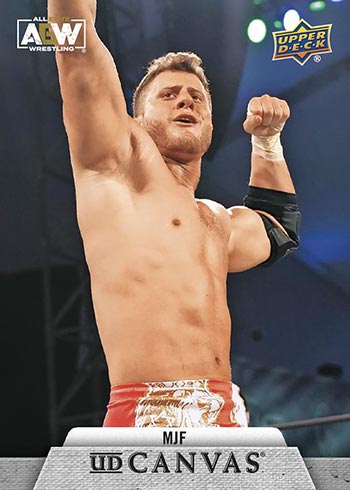 Main Features puts the spotlight on some of the biggest individual talents on the AEW roster. Parallels can be found in Green (/199), Red (/50), Purple (/25) and Black (1/1).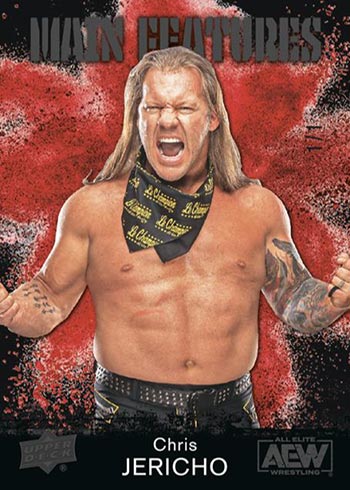 Big moves and high-flying moments are featured in Top Rope (1:10 packs).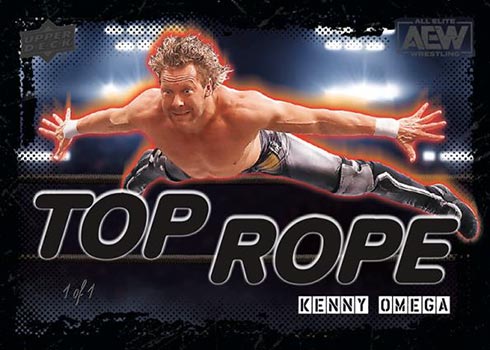 Rhodes to Success (1:10 packs) is dedicated to Cody Rhodes.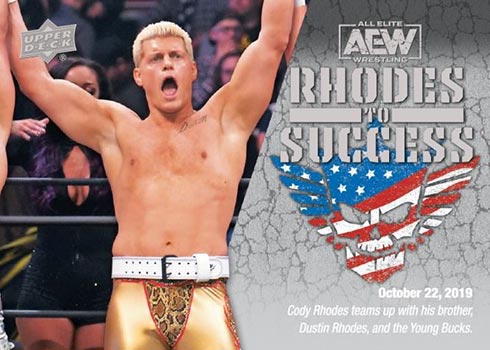 Silver (1:54 packs), Red (/50) and Black (1/1) make up the parallel lineup for both Top Rope and Rhodes to Success.
Wednesday in Action cards are moderately tough, falling 1:64 packs. These are done with a shadow box design, giving them a premium touch.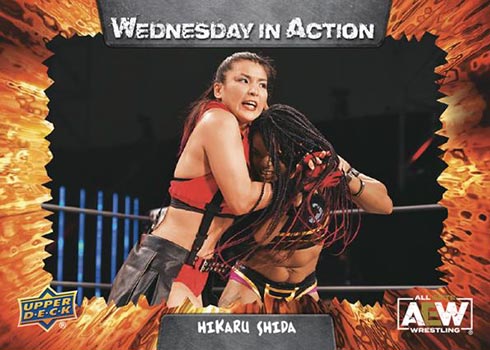 2021 Upper Deck AEW wrestling cards at a glance:
Cards per pack: Hobby – 8
Packs per box: Hobby – 16
Boxes per case: Hobby – 16
Set size: 100 cards
Release date: January 6, 2022
Shop for 2021 Upper Deck AEW boxes on eBay:
What to expect in a hobby box:
Main Features, Rhodes to Success or Top Rope Inserts – 16
Main Features, Rhodes to Success or Top Rope Silver Inserts – 3
UD Canvas Inserts – 4
1st Edition, Callout or Finisher Parallels – 1
Dynamite or Numbered Parallels – 1
Gold Parallels – 16
Pyro Parallels – 5
2021 Upper Deck AEW Checklist
You can also download a customizable spreadsheet copy of the checklist:
Please note that print runs for cards without serial numbers have not been announced.