The Daily: 2003-04 Upper Deck Exquisite Collection Dwyane Wade Rookie Card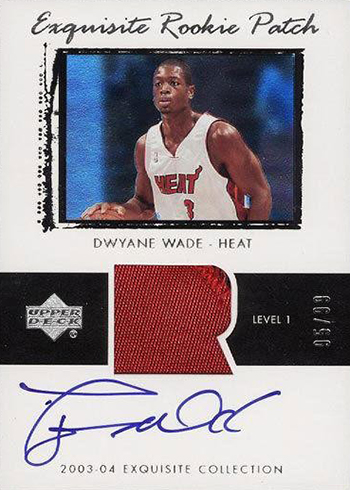 There are buzzer beaters and then there's this.
DWYANE WADE AT THE BUZZER! ?

Presented by @TISSOT pic.twitter.com/axiXs0GHWW

— NBA TV (@NBATV) February 28, 2019

All game-winning buzzer beaters are beautiful. But some are a little more so than others. A soon-to-be-retired Dwyane Wade recovering from a block and throwing up a prayer is one of the latter.
In a similar vein are Dwyane Wade Rookie Cards. Like any buzzer beater, you can't go wrong with any of them. But the 2003-04 Upper Deck Exquisite Collection easily stands above them all.
Coming from the landmark release that took super premium to luxury levels, the debut Exquisite release gets a lot of attention for its LeBron James RC. But even without James, the rookie class would have still been strong. Like most classic Exquisite Rookies, this one has the autograph patch combination as well as a print run of 99 copies, something that was almost unheard of at the time.
Just about everything in 2003-04 Exquisite comes with a steep price tag. Expect to pay thousands for one of these cards today.
The Daily highlights a key player or personality in the world of sports or collecting from the past 24 hours along with one of their key cards.