The Daily: 2018 Topps US Olympic Team Chloe Kim Autograph

At just 17 years of age, Chloe Kim is an Olympic gold medalist. She dominated the Women's Halfpipe, winning with the 93.75 score from her first run. But taking a pass on her final run wasn't Kim's style, either. Even though she already had gold sewn up, the didn't hold up and laid down an even better run than the first, becoming the first female to hit back-to-back 1080s. That final run upped Kim's score to 98.25.
Kim arrived in PyeongChang as a star and a favorite, but she's leaving as something bigger. Her youthful charm,
social media savvy
,
familial story
and tremendous skill have thrust her into a bigger spotlight beyond the podium. It's a place Kim is likely to stay in the years and in future Olympic games well into the future.
I'm so nervous!!!!!!! ??

— Chloe Kim (@chloekimsnow) February 11, 2018
Oh and I also had 2 churros today and they were pretty bomb so if you ever get nervous go eat a churro

— Chloe Kim (@chloekimsnow) February 11, 2018
I hate crying but I'll give myself a pass for this one. Thank you everyone for the love! Stoked to bring home the gold pic.twitter.com/vxApf1lxbI

— Chloe Kim (@chloekimsnow) February 13, 2018
Chloe Kim is a headliner in 2018 Topps US Winter Olympic Team where she has a variety of cards. This includes a couple of different autographs, parallels, inserts, a memorabilia card and a couple spots in the base set.
Her main autograph in the product is numbered to 60. Not surprisingly, it has become the card to chase in the recently released product. Parallels come in Silver (/50), Gold (/25) and US Flag (/25).
Chloe Kim 2018 Topps US Winter Olympic Team Cards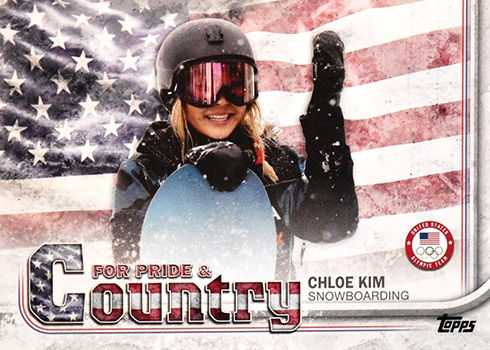 Here's a full list of 2018 Topps US Winter Olympic Team Chloe Kim cards excluding parallels:
Base #US-36
Base #USA-33
Base Autographs #US-36
Base Autographs #USA-34
Team USA Memorabilia Pieces #TMC-CK
Did You Know? #DYK-CK
For Pride and Country #PAC-CK
USOC Insignia Commemorative Relics #ICR-CK
If you're looking for Chloe Kim cards, you can find them on the Beckett Marketplace and on eBay.
The Daily highlights a key player or personality in the world of sports or collecting from the past 24 hours along with one of their key cards.