Even before he won gold at PyeongChang, Shaun White was a snowboarding icon. From video games to mass market clothing lines and all points in between, White has long been a household name and the biggest face of a sport that has exploded in popularity over the last 30 years.
His gold in the halfpipe is an exclamation point to an iconic career. It's especially sweet as it comes after he just missed the podium in Sochi, coming in fourth in 2014. White also won gold in 2006 and 2010.
But between all the Olympic glory, more than a dozen X-Games golds and the stardom, the number of Shaun White cards is shockingly low. He has yet to have a card from a major company.
The first Shaun White trading card came on a sheet found in the June, 2003 issue of Sports Illustrated for Kids.
As far as pack-inserted cards, the obscure 2004 Procore Sports X-Games is the only one.
White has appeared on a handful of SI for Kids cards over the years. Besides his debut, which is quite tough to find today, he has one from 2008 (while skateboarding) that's done with a 3-D effect (glasses required).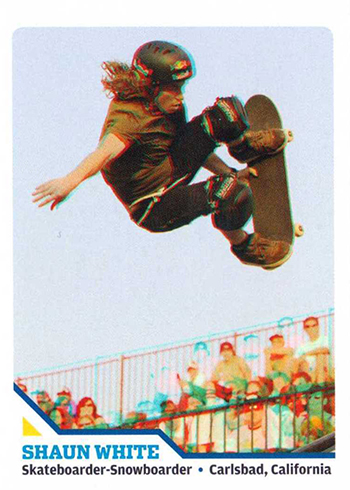 The Daily highlights a key player or personality in the world of sports or collecting from the past 24 hours along with one of their key cards.