2019 Topps Heritage Baseball Checklist, Team Set Lists, Details
2019 Topps Heritage Baseball brings things into a new decade but the structure remains largely the same. The nostalgia-driven brand moves into the tumultuous '70s, drawing largely from 1970 Topps Baseball.
As always, this isn't a set that's about premium hits, at least in quantity. It gains a lot of its popularity in drawing from the past and offering something for collectors to build and mull over. That said, hobby boxes do come with one autograph or memorabilia card.
2019 Topps Heritage Baseball Base Set Breakdown
The 2019 Topps Heritage Baseball main set comes in at 500 cards. They use the 1970 design and the somewhat subdued gray borders. It's all rookies and veterans. Be on the lookout for some cards that pay homage to the original set as well.
Like usual, there's a bit of an added challenge that comes with the short prints. As with the past couple of years, these are the final 100 cards on the checklist.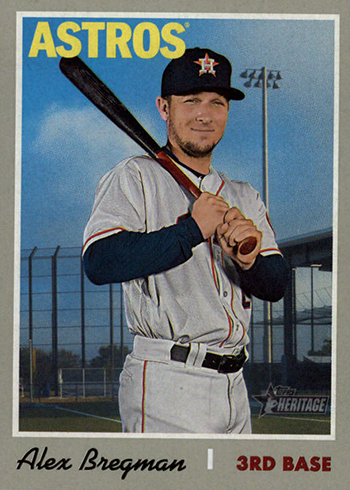 As far as parallels go, there are a couple of hobby exclusives. All 500 cards have Black Border versions that are limited to 50 copies each. Flip Stock parallels have just five copies. These are a little less obvious at first glance. Basically, the card stock has between switched around. So Flip Stock fronts are a little rougher to the eye and hands while backs have a slightly more slick feel that's usually reserved for the fronts.
Chrome cards are a partial parallel of 100 cards. In addition to the regular chromium take are Refractors (/570), Black Refractors (/70), hobby-only Gold Refractors (/5) and Superfractors (1/1). Hot box-exclusive parallels return in random hobby and retail blaster boxes. Each of these have a special Refractor (in the past these have been Purple) in every pack that's not available elsewhere. So if you open the first pack and find one of these hot box Refractors, every pack in the box has one.
Mini cards return for another year, again numbered to 100.
New to 2019 Topps Heritage Baseball are Silver Metal cards. These bode well for the gray borders as it blends with the actual metal they're done on.
2019 Topps Heritage Baseball Variation Short Prints
Once again, variations play a role in Topps Heritage. Action Image and Team Name Color swap variations are both back as hobby exclusives. Throwback Uniform Variations, Errors, Nickname and Traded Variations are among the other short prints.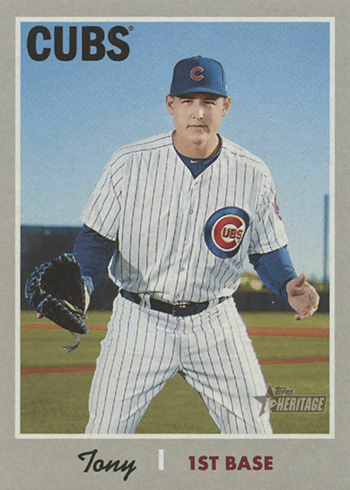 Autographs
Heritage is a brand that doesn't deliver a ton of autographs when you compare it to high-end brands. However, the line does center on hard signatures.
Real One Autographs are back, taking on the same general look of the base set. Besides the expected mix of current and retired players, collectors can also find some slight more obscure names on the checklist of players who wrapped up their career in 1970.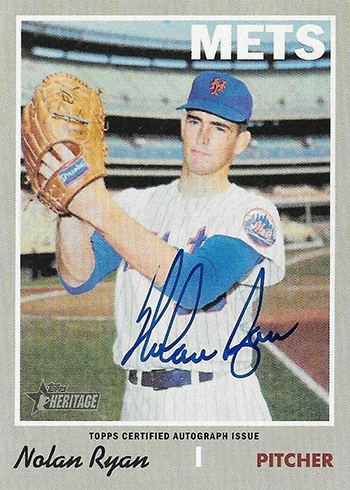 Red Ink Special Edition parallels return, all with no more than 70 copies.
Real One Dual and Triple Autographs are exclusive to hobby. Despite having multiple signatures, they're still on-card.
Brew Crew Autographs (/100) all come with signatures from players who were part of the Milwaukee Brewers organization during their first season.
Autographed memorabilia cards are available in 2019 Topps Heritage Baseball. They're just tough to pull. Clubhouse Collection Autograph Relics have both single (/25 or less) and dual (/10 or less) versions. These have on-card signatures.
Flashback Autographed Relics (/25) highlight big moments from 1970.
All signed memorabilia sets have one-of-one Patch parallels.
One place where you won't find on-card autographs are the cut signatures. These draw from both baseball players and celebrities who were big in 1970. All cut signatures are one-of-ones.
Memorabilia Cards
Clubhouse Collection Relics anchor the memorabilia cards in 2019 Topps Heritage Baseball. Base versions come with a single bat or uniform swatch and have Gold (/99) and Patch (1/1) parallels.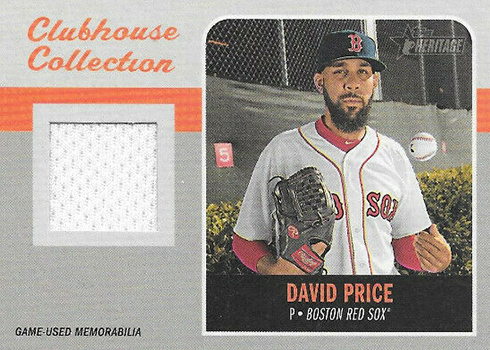 In addition to these are Clubhouse Collection Dual (/70), Triple (/25) and Quad (/10) that are also randomly inserted, adding a multi-player element. Parallels are limited to one-of-one Patch cards.
1970 Mint Relics come with coins from the same year embedded in them. Available only in hobby packs, versions include Nickel (/15), Dime (/10), Quarter (/5) and Half Dollar (1/1).
Past players make up the checklist for 1970 U.S. Postage Stamp Relics (/50). Instead of coins, these have vintage postage stamps as a focal point.
Additional Inserts
2019 Topps Heritage Baseball has more inserts that take a more basic approach. New Age Performers are the most common at 1:6 hobby packs. As the name suggests, young players get the spotlight. Then and Now (1:18) compare a current standout with someone from 1970 who put up similar numbers.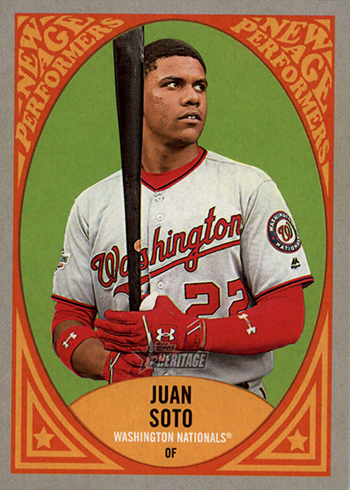 Baseball Flashbacks (1:18) showcase a big moment from 1970. News Flashbacks (1:18) do something similar, only with a larger pop culture scope.
New to this set are 1970 Topps Scratch Offs, which are one per hobby box. These are based off the original 1970 Topps Scratch Offs set.
2019 Topps Heritage Baseball hobby boxes also come with a box loader card, which are available in four different themes. 1970 Topps Super, 1970 Poster and Topps Teammates all have roots in the past.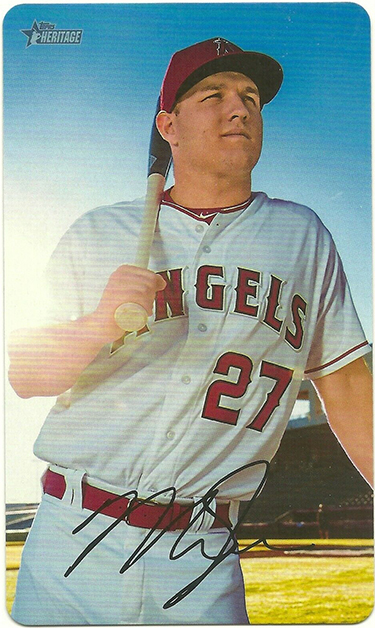 There are also 1970 Topps Originals, buyback cards that have a special stamp noting they've been included here.
2019 Topps Heritage Baseball at a glance:
Cards per pack: 9
Packs per box: 24
Boxes per case: 12
Set size: 500 cards
Release date: February 27, 2019
What to expect in a hobby box:
Autographs or Memorabilia Cards – 1 Total
Baseball Flashbacks – 1
New Age Performers – 2
News Flashbacks – 1
Then and Now – 1
Box Loaders – 1
2019 Topps Heritage Baseball Checklist
Base
Variations
Autographs
Memorabilia
Inserts
Box Loaders
Team Sets