The Daily: 1998-99 SP Authentic Vince Carter RC
The Card: 1998-99 SP Authentic Vince Carter RC #95 /3500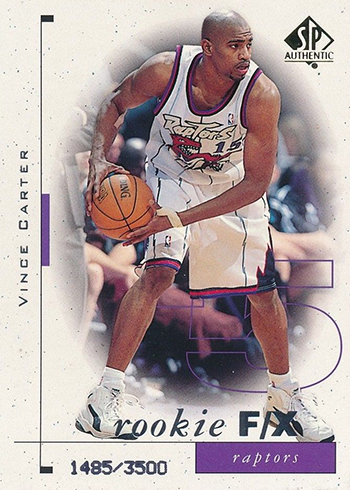 The Vince Carter tour continues, this time moving to Atlanta for the 2018-19 season. The 41-year-old signed a one-year deal with the Hawks where he'll likely help mentor the team's young core.
It'll be Carter's 21st season in the NBA with Atlanta as his eighth team. Carter spent last season with the Sacramento Kings.
Carter rose to fame quickly in the late 1990s as a high-flier with the Toronto Raptors. His electric plays and massive dunks made him a must-watch on the nightly basketball highlights. Perhaps more importantly, Carter helped build basketball in Canada as the Raptors were still a young franchise.
With big dunks and plays, it was no wonder that Vince Carter cards were hot back in the day. Very hot. As in some of the biggest in the entire hobby. As far as Vince Carter Rookie Cards go, no were bigger than his 1998-99 SP Authentic.
Today, big-time Rookie Cards normally come with a combination of autographs, big patches and small print runs. If you look at the 1998-99 SP Authentic Vince Carter by today's standards, it has none of those. It has no autograph and no swatch. And while it's numbered, its print run is 3,500 copies. But back then, that was limited.
While a far cry from its peak as far as value goes, the 1998-99 SP Authentic Vince Carter remains one of the most recognized cards of its time. And as time passes, don't be surprised if it gains a little traction again as we shift more into Vince Carter retrospective and appreciation mode.
The Daily highlights a key player or personality in the world of sports or collecting from the past 24 hours along with one of their key cards.