Vince Carter Rookie Card Countdown
In you were busting packs of basketball cards in 1998-99, there was a good chance you were hunting for a Vince Carter Rookie Card. In his early seasons with the Raptors, he was one of basketball's biggest stars. Electric on the court, you never knew what he was going to do next. With Michael Jordan's career winding down, Carter was christened by many to be next.
Over the years, things changed. Vince Carter was still a star. But that high-flying, electrifying, "It's ovah!" Slam Dunk champ faded in a certain sense. Or did Carter evolve? He found a way to change his game and prolong his career into one lasting more than two decades. But unless your last name is Ripken, longevity doesn't usually equate to perennial hobby hot list status. Other stars rose, basketball cards evolved, Vince Carter cards lost some of their cool.
But as his career wound down and came to a close, nostalgia kicked in. Fans and collectors both got pangs to look back on those early days of a remarkable career. Not only that, but many of those 1998-99 sets that Vince Carter Rookie Cards are found in have become extremely popular due to the presence of Jordan, Kobe, Shaq and more (Dirk Nowitzki and Paul Pierce also have RCs in 1998-99). It's often for the inserts and tough parallels, but all of Carter's cards have seen a renaissance from the quieter days.
Just as the NBA was transitioning from one era to the next, basketball cards were, too. Technology was changing how cards were made and how they looked. Variety was rising and the idea of high-end was constantly evolving. While present, autographs were reserved for inserts. For Rookie Cards, short prints and serial numbers were starting to become the rage. All this comes through scanning the Vince Carter Rookie Card checklist, although most do lean towards premium (in build, not necessarily value).
Most Valuable Vince Carter Rookie Card Countdown
The following list ranks Vince Carter Rookie Cards primarily by their value in the Beckett price guide. Only base cards with the RC tag are included. Inserts and parallels are not. A comprehensive Vince Carter card checklist is available in the Beckett database.
18. 1998-99 Flair Showcase Row 3 Vince Carter RC #35
No matter the sport, few will deny the elegant look of the Flair Showcase that helped bring the '90s to a close. The multiple photos and shiny fronts help define the look. But there's also the tiered structure that helped give it an identity. Every player, including Carter, has three levels of base cards in 1998-99 Flair Showcase Basketball. Row 3 is the most common so it's the RC. Row 2 is uncommon while Row 1 is serial numbered to 1500. Besides the rarity, each card also has different photos and layouts.
Parallels: Legacy Collection (/99), Masterpieces (1/1)
Buy on: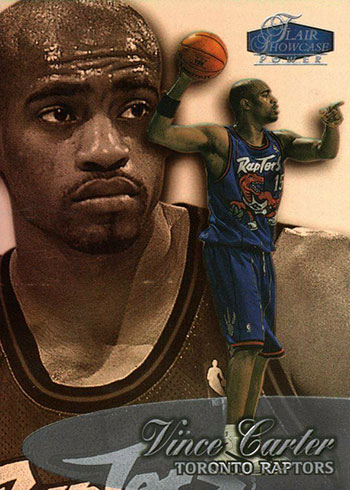 ---
17. 1998-99 UD Ionix Vince Carter RC #65
1998-99 UD Ionix has one of the most colorful Vince Carter Rookie Cards. The blues, greens and mix of shapes and lines give it a futuristic look — almost like Elroy busting an era–equivalent pack of 1983 Topps Baseball on an episode of The Jetsons. Carter is one of 20 rookies in the 80-card set. Each is a short print with one landing every fourth pack.
Parallels: Reciprocal (/100)
Buy on: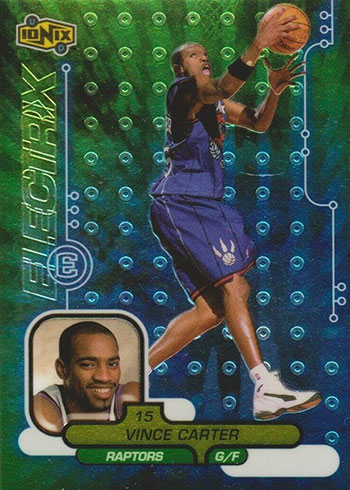 ---
16. 1998-99 Fleer Brilliants Vince Carter RC #105
Fleer Brilliants is a product of its time. The mirror foil front is slick, giving it a chromium-like look (but not quite). The stock is also a little thicker than many sets and extremely slick on the back. Basically, it's the company's take on Select Certified.
Parallels: Blue, Gold (/99), 24-Karat Gold (/24)
Buy on: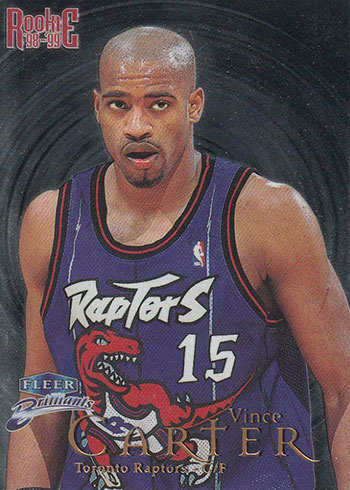 ---
15. 1998-99 Ultra Vince Carter RC #106
Usually, Fleer Ultra cards feature some of the best action shots in the hobby. Not so much for this Vince Carter Rookie Card. Instead, collectors see a softer side with a draft day portrait.
Parallels: Gold Medallion, Platinum Medallion (/66), Masterpieces (1/1)
Buy on: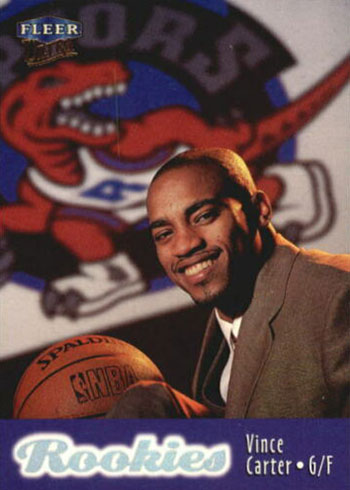 ---
14. 1998-99 Upper Deck Encore Vince Carter RC #118
The layout might be the same as Carter's flagship Upper Deck RC but the finish here has some added shine. It also has a different photo to help it look like more than just a parallel or too close to the same. Part of the Rookie Watch subset, these cards fall 1:4 packs.
Parallels: F/X (/125)
Buy on: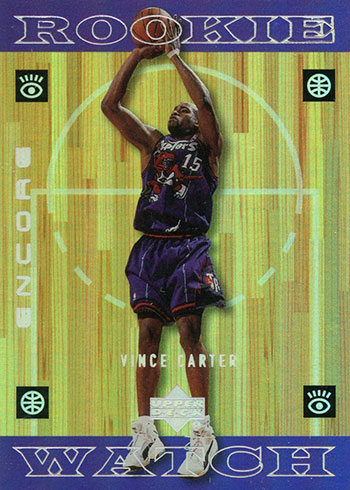 ---
13. 1998-99 SkyBox Premium Vince Carter RC #234
Speaking of cool photos. When SkyBox debuted in 1990-91, they tried to emphasize premium. By the time the '90s were coming to a close, they'd adopted the mantra into the flagship line's name. However, several other brands had surpassed it in that regard by then as well. Still, this is a card that can be appreciated for what it is. It starts with the dunk and adds a little flair with both the colorful streaking and foil highlights. At 25 copies, the Star Rubies parallel is one of the scarcest from Carter's rookie season. It's also one of the most legendary parallel sets from an era with several of them.
Parallels: Star Rubies (/25)
Buy on: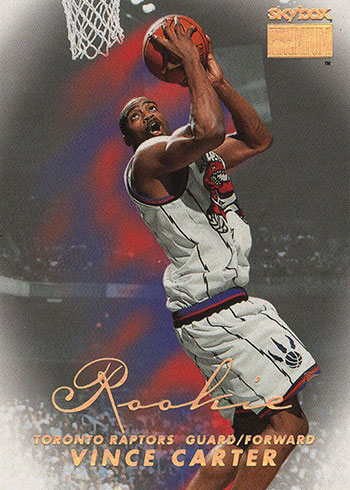 ---
12. 1998-99 Upper Deck Ovation Vince Carter RC #75
The 1998-99 Upper Deck Ovation Vince Carter Rookie Card gives collectors something textured. Not only does the background look like a basketball, but it kind of feels like it as well. It's probably not a good idea to try and make it bounce, though.
Parallels: Gold (/1000)
Buy on: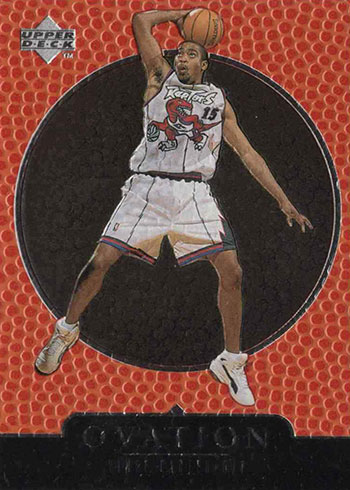 ---
11. 1998-99 Upper Deck Vince Carter RC #316
This is one of several Vince Carter Rookie Cards with a great photo. That said, the design-heavy backdrop is not typical for the main Upper Deck line, which is usually focused on photography. While one of Carter's more common RCs, a lot of collectors followed the brand and have memories of it, giving it a slight bump.
Parallels: Bronze (/100), Gold (1/1)
Buy on: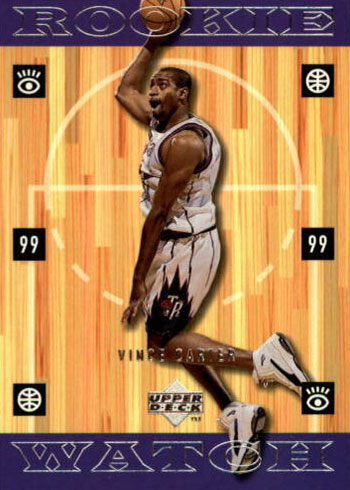 ---
10. 1998-99 Black Diamond Vince Carter RC #120
Upper Deck's Black Diamond line is synonymous with light f/x foil treatment. It's not quite as prominent here as it is in some other sets but it's definitely there. When you hold the card and shine it with light, some intricate lines start to emerge giving the background some added pop. Rookies are 1:4 packs. Parallels add diamonds to the bar in the nameplate. Besides the smaller quantities and serial numbers on the back, not much else changes with them.
Parallels: Double Diamond (/2500), Triple Diamond (/1000), Quad Diamond (/50)
Buy on: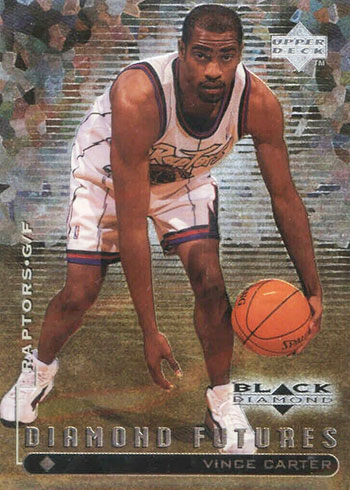 ---
9. 1998-99 SkyBox Molten Metal Vince Carter RC #134
SkyBox liked its Metal. After Metal Universe came Molten Metal. It's another set highlighting foil but in multiple ways. The finish is somewhat similar to Flair Showcase and needs to be seen in person to be full appreciated. But what stands out more is the action shot that has Carter appearing to soar. The pose, the arm extension, the facial expression — they come together for a great rookie photo. It's one of 20 Supernatural subset cards, which combine to land every other pack.
Parallels: Xplosion
Buy on: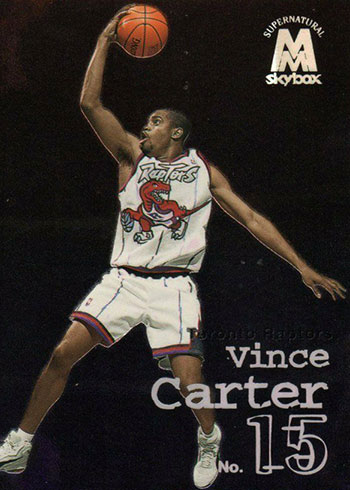 ---
8. 1998-99 Bowman's Best Vince Carter RC #105
For those that are priced out out Topps Chrome, Bowman's Best might be next best thing for Chromies. It has the same sort of shine and an original design. The Bowman name doesn't have quite the legacy in basketball as it does in baseball but it's still respected. On the parallel front, both the regular Refractor and Atomic Refractor have the added appeal of serial numbers (out of 400 and 100, respectively).
Parallels: Refractors (/400), Atomic Refractors (/100)
Buy on: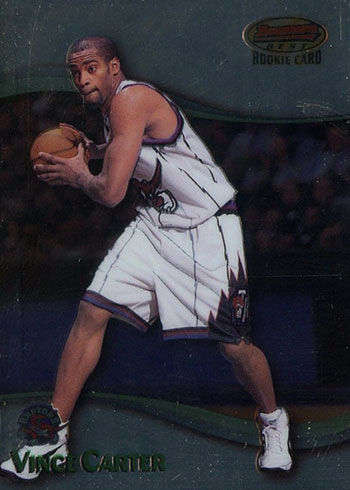 ---
7. 1998-99 E-X Century Vince Carter RC #89
Foil and acetate combine for one of the most distinct looking Vince Carter Rookie Cards. At the time of its release, this was one of the most expensive products on the market. By today's standards, it wasn't massive but the hobby was in a different place then. Rookies are slight short prints in 1998-99 E-X Century Basketball, landing 1:1.5 packs. The product also has one of the most coveted Vince Carter inserts from his first season in Dunk 'n Go Nuts.
Parallels: Credentials Now (/89), Credentials Future (/2)
Buy on: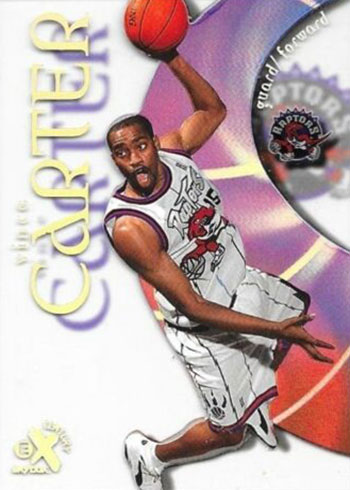 ---
6. 1998-99 Topps Vince Carter RC #199
Rookies weren't a big part of some of the lockout-shortened season's early sets. In several of the cheaper and more widely available lines line Hoops and Fleer, there are no RCs at all. Same with Metal Universe. 1998-99 Topps is the only truly entry-level release to have a Vince Carter Rookie Card. It's found in Series 2 packs. The flagship line, which has a long history in not just basketball but all sports cards, has taken off in hoops. This means much stronger values for basic Topps Rookie Cards than in the past.
Buy on: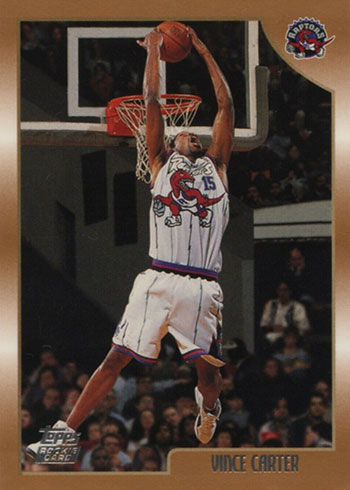 ---
5. 1998-99 Stadium Club Vince Carter RC #105
Rookie Cards in 1998-99 Stadium Club Basketball arrived in packs in the form of redemptions. While it's hard to call this one rare, the distribution makes it tougher to find than if the final cards were live on release day. There's the action shot that Stadium Club is known for, but the foil finish gives it a different look than what some might be used to from the brand.
Parallels: First Day Issue (/200), One of a Kind (/150), Printing Plates Black (1/1), Printing Plates Cyan (1/1), Printing Plates Magenta (1/1), Printing Plates Yellow (1/1)
Buy on: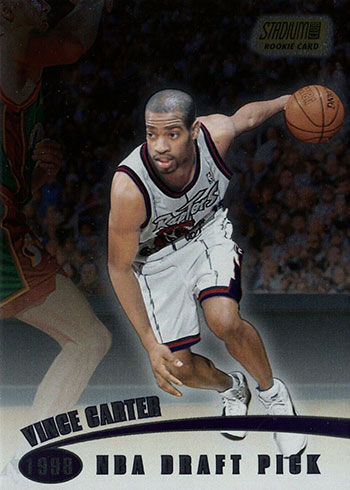 ---
4. 1998-99 SPx Finite Vince Carter RC #215 /2500
Yes, 1998-99 SPx Finite has one of the most valuable Vince Carter Rookie Cards. But is it possible this card is still somewhat overlooked. For starters, the print run of 2,500 numbered copies makes it more rare than the much pricier SP Authentic RC. There's also the foil stock that makes the card tough on grading thanks to prevalent edge flaking and roughness.
Parallels: Radiance (/1500), Spectrum (/25)
Buy on: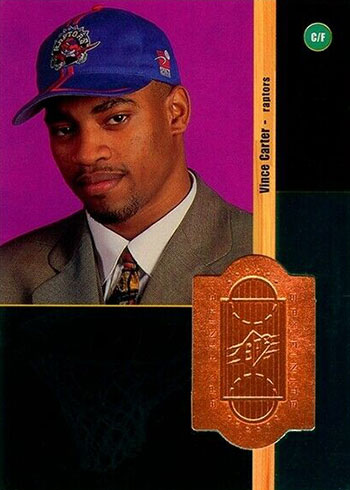 ---
3. 1998-99 Finest Vince Carter RC #230
When it debuted in 1993-94, Finest was basketball's first chromium line. By the time 1998-99 Finest came out it had some competition from within. As other lines were rising in popularity, Finest got a little big stagnant. But it's still chromium so it's still stable as far as values go. This is one of the years where Topps added a film to the front to protect the surface from scratching and damage. The film can be removed or kept in place. Unless it's one of the No Protector parallels where the film was never there in the first place. Despite the good intentions, the concept was confusing.
Parallels: No Protectors, No Protectors Refractors, Refractors
Buy on: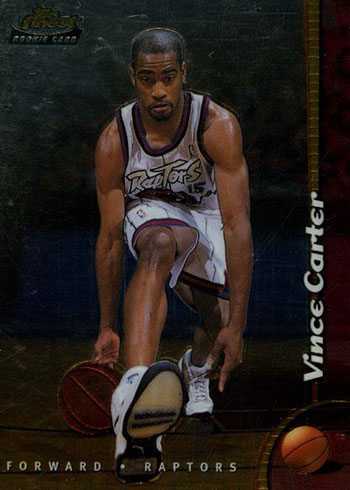 ---
2. 1998-99 Topps Chrome Vince Carter RC #199
Key Chrome cards have soared in recent years and the 1998-99 Topps Chrome Vince Carter Rookie Card is no exception. It gives the traditional shiny spin to his more affordable Topps card. It also opts for more attractive silver borders over flagship's brown. As far as rookie parallels go, Carter's Refractor is definitely one of the most iconic — and expensive.
Parallels: Refractors
Buy on: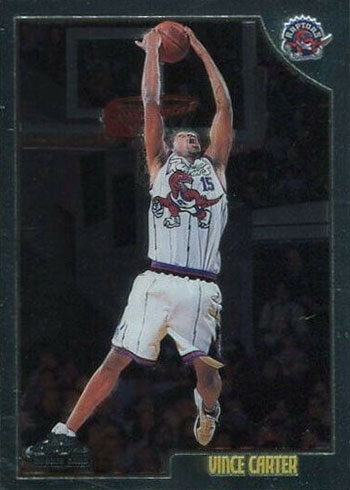 ---
1. 1998-99 SP Authentic Vince Carter RC #95 /3500
The 1998-99 SP Authentic Vince Carter is one of the decade's most iconic Rookie Cards. It came at a time when premium sets were adding layers to RCs. Here, it's the serial numbering to 3,500 copies. Today, that would be a big number for a key card. Back then, it was rare. You can also take the fact that there are no parallels to spread things out, either.
At the height of Carter's popularity, this was one of the biggest cards in the hobby. As his profile slipped somewhat, it lost some of its value but has began rebounding in the twilight of Carter's career.
Buy on: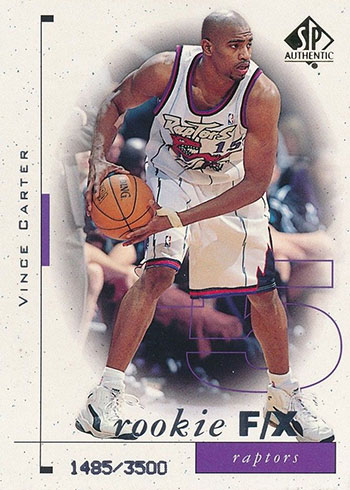 ---