Nostalgic Wax: 1978 O-Pee-Chee Jaws 2 – Beckett Pricing Insider
Shark Week inspired me to take a stroll down memory lane and crack open a box of 1978 O-Pee-Chee Jaws 2. What better way to do that than to film it for a special Retro Box Busters. The bonus? It's the 40th anniversary of the film.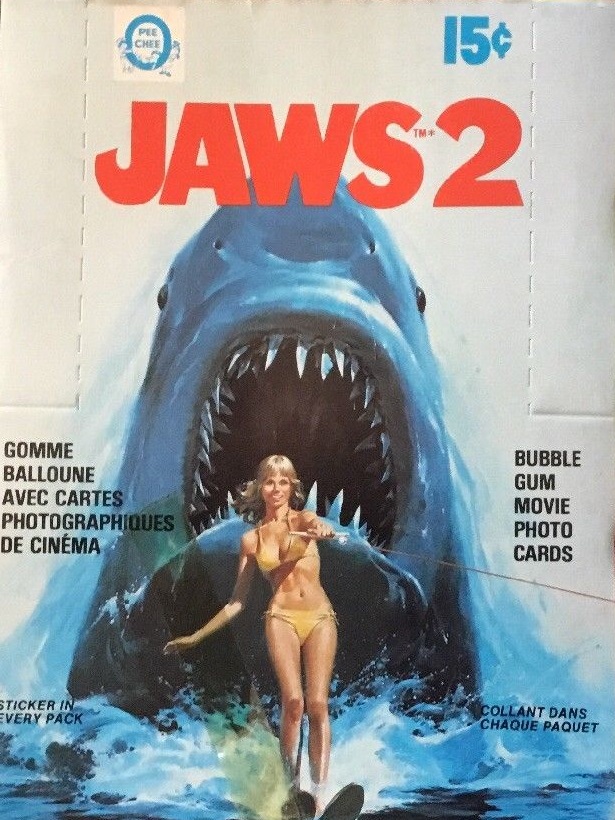 While it can be difficult to remember what happened 40 years ago, one thing I do remember well is my affinity for sharks, especially the Jaws movies.
I picked up the O-Pee-Chee version of which most people are unaware because they were distributed originally in Canada. I do vaguely remember busting packs of the Topps version when I was a kid.
The cards themselves are your typical Topps fanfare from the '70s. However, since these were made by O-Pee-Chee, the card edges have the guillotine-cut serrated edges. In fact, to the casual observer, it may look like Jaws himself cut them with his teeth.
The card fronts depict a scene from the film surrounded by a yellow and black border. In the lower left corner is a fin indentation that contains the card number and the film title. The title of the card lies at the center bottom. Since this is O-Pee-Chee, you get the benefits of a bilingual title.
The backs contain either a puzzle piece or movie facts. The bilingual text lies within a yellow body surrounded by a red border. The title of the film is at the top and, once again, the shape of a fin graces the bottom left corner. The puzzle is enormous at 44 pieces and it forms the key art image of card #47.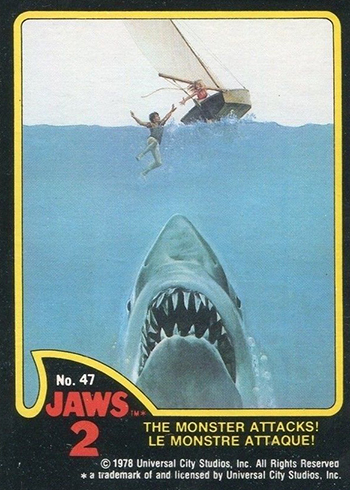 The stickers have an image on the front surrounded by a deep sea blue border. The backs are all identical, providing peel off instructions.
Here is a quick box breakdown:
36 packs per box, 7 cards and 1 sticker per pack
59 card base set
11 sticker set
The only hits within this box were nostalgia and the splendor of being a kid again.