The Daily: 1991 Upper Deck Michael Jordan #SP1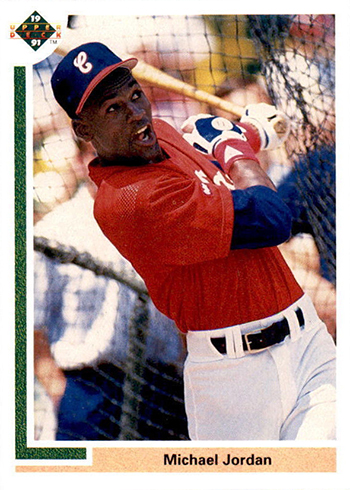 On February 7, 1994, the legend of Michael Jordan took a turn. Having stepped away from basketball, he opted to try something new — baseball. Jordan played baseball up until high school but then he became the best basketball player on the planet.
The Chicago White Sox signed him and the rest became history. The experiment lasted just one year but it was a memorable one for those who witnessed it and followed it.
It became a big deal in the card world as well. All of a sudden there was a fresh spin on Michael Jordan cards with plenty of opportunities. Upper Deck, in particular, took advantage, using Jordan as an anchor for many of their 1994 baseball products.
But the history of Michael Jordan baseball cards goes back even further. The 1991 Upper Deck Michael Jordan #SP1 was one of the most coveted cards of the hobby's peak. Showcasing Jordan taking batting practice at Comiskey, it's one of the early mainstream chase cards. For those who bought one or two packs at a time, it did seem like a tough card at the time. It turns out it's anything but.
Still, there's a lot of nostalgia and novelty surrounding the 1991 Upper Deck Michael Jordan #SP1 today. It might not sell for anywhere close to the amounts it used to, but it's still one of the most memorable cards from the hobby's biggest era.
The Daily highlights a key player or personality in the world of sports or collecting from the past 24 hours along with one of their key cards.