2019 Piece of the Game Baseball Authenticated Masterpieces are unlike any other blind-package sports product. Each piece is a game-used. Everything is autographed. Everything is a piece of original art.
They're all of the above.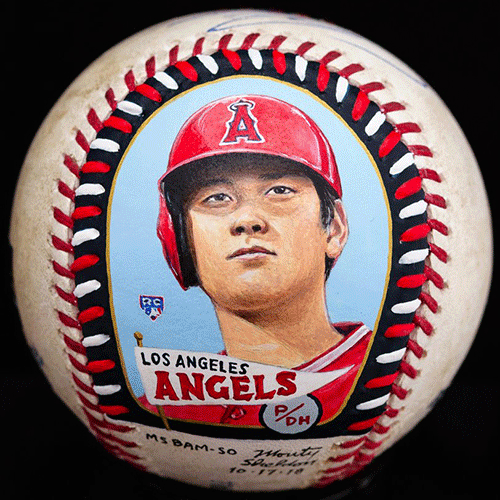 Bringing 2019 Piece of the Game Baseball Authenticated Masterpieces to Life
It all starts with the ball itself. They carry MLB Authentication from an official game. Some of these include hits, RBIs, balls from a player's debut and more.
These balls have also been signed by the player.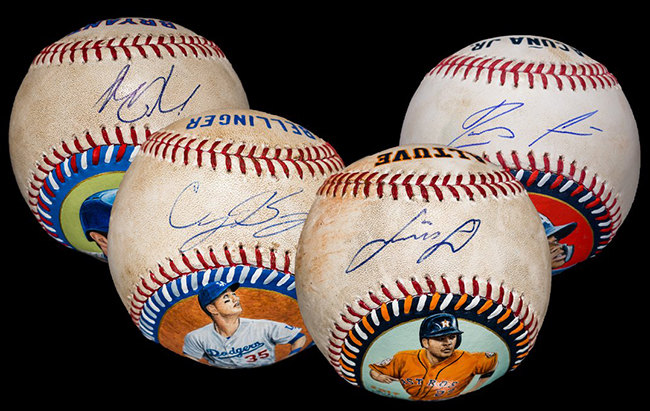 What comes next is what makes 2019 Piece of the Game Baseball Authenticated Masterpieces unique — the artwork. Each ball is painted by Monty Sheldon, a renowned artist who is well known in the world of sports. This includes sports cards. Sheldon's work includes the art patch cards from Topps Gypsy Queen.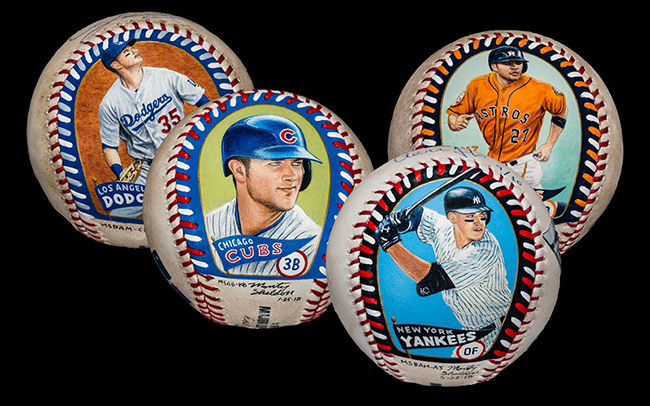 Sheldon's work is colorful and full of detail, especially when you consider the size of the canvas and its non-traditional shape.
The main set features 19 different players, all superstars. Mike Trout, Derek Jeter, Ichiro Suzuki, Bryce Harper and Aaron Judge are among them. These players have six different balls, three done as portraits and three with action renditions.
Chase Baseballs
Baseball Authenticated Masterpieces has a couple of chase elements to go with the main set. Seven Rookie Balls showcase members of the deep 2018 rookie class. The game-used, autograph, art approach doesn't change. Shohei Ohtani, Ronald Acuna Jr. and Juan Soto are all part of the Rookie Balls lineup.
Dual-player balls can also be found with signatures from a pair of stars with corresponding art for each. Combinations include Jeter and Mariano Rivera, Kris Bryant and Anthony Rizzo, and Trout with Harper.
But the ultimate chase element comes in the form of Babe Ruth. A sweet spot signed ball has been given the hand-painted treatment for the first time.
Limited Edition
2019 Piece of the Game Baseball Authenticated Masterpieces has an extremely small production run. It has just 15 boxes, each with ten balls. That means 150 total balls across the production run. Individual balls come in a package so it's a mystery until it's opened.
The boxes themselves are custom made using maple and ash wood like a baseball bat.
Piece of the Game is creating something they call Baseball Identity for each ball. It's essentially a clearing house of information about each individual ball. It tells its story. This includes authentication details. There's also info on the game the ball came from including the date, play and even the player's stats.
2019 Piece of the Game Baseball Authenticated Masterpieces are scheduled for a spring release. More images and info can be found on the Piece of the Game website.
 2019 Piece of the Game Baseball Authenticated Masterpieces Checklist
Main Player Checklist
19 players.
Each has three action and three portrait balls.
Jose Altuve
Cody Bellinger
Adrian Beltre
Kris Bryant
Miguel Cabrera
Carlos Correa
Paul Goldschmidt
Bryce Harper
Derek Jeter
Aaron Judge
Clayton Kershaw
Manny Machado
J.D. Martinez
David Ortiz
Buster Posey
Albert Pujols
Giancarlo Stanton
Ichiro Suzuki
Mike Trout
Rookie Balls
1.75 per box.
Ronald Acuna Jr.
Ozzie Albies
Rafael Devers
Rhys Hoskins
Shohei Ohtani
Juan Soto
Gleyber Torres
Dual Signed and Painted Baseballs
1 per box.
Derek Jeter/Mariano Rivera
Madison Bumgarner/Clayton Kershaw
Jose Altuve/Carlos Correa
Kris Bryant/Anthony Rizzo
Mike Trout/Albert Pujols
Bryce Harper/Max Scherzer
Craig Biggio/Jeff Bagwell
Mookie Betts/Xander Bogaerts
Mookie Betts/Rafael Devers
Aaron Judge/Giancarlo Stanton
Carlos Correa/Carlos Beltran
Chipper Jones/John Smoltz
Mike Trout/Bryce Harper
Babe Ruth Autographed Ball
1:15 boxes.
Babe Ruth