Stephen Strasburg SuperFractor Raffle site is live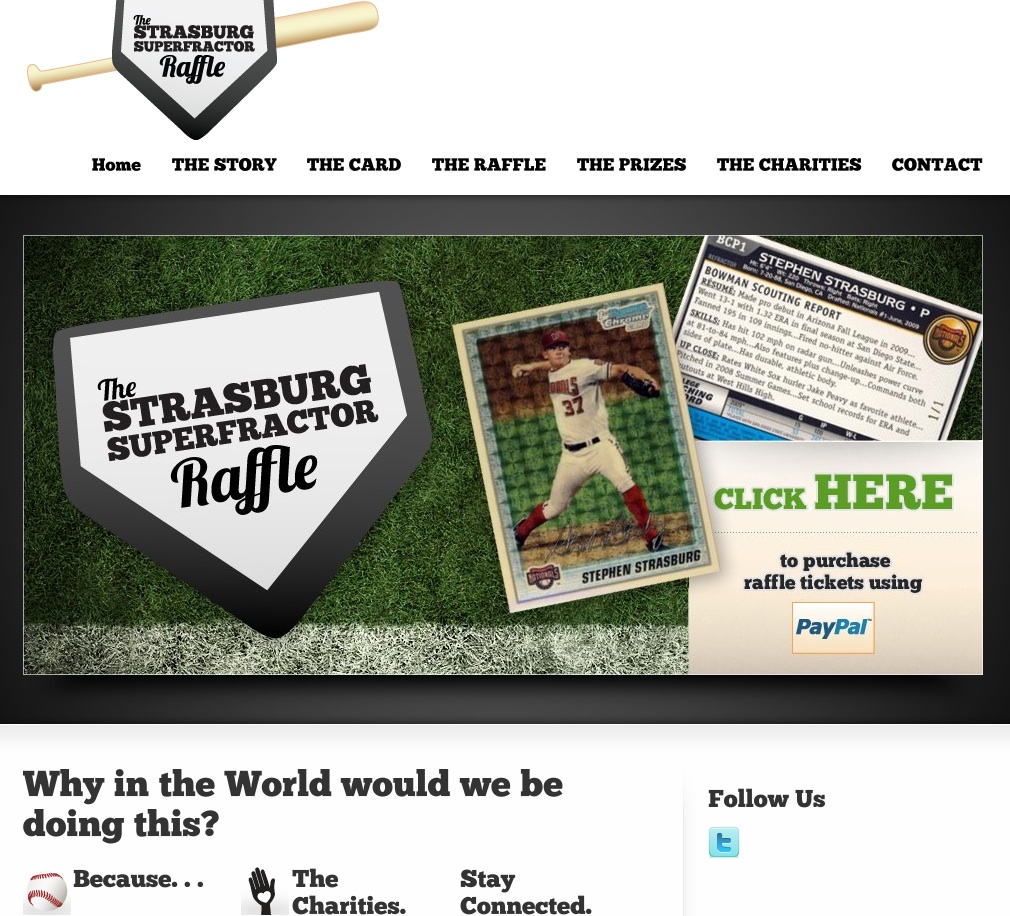 By Chris Olds | Baseball Editor
The hard part is over with — and now you can have a chance to own one of the most talked-about baseball cards ever made while helping raise money for a charity and some Little League and softball organizations.
The card? The $21,403 Stephen Strasburg SuperFractor from 2010 Bowman.
The benefactors of collector Devin Grant's generosity? The Bryan Stow Fund — the San Francisco Giants fan who was nearly beaten to death by two men after a Dodgers game on Opening Day — two California Little League organizations and two softball leagues near where Grant lives.
The website? That's www.strasburgsuperfractorraffle.org.
The raffle tickets are $10 with a third of the proceeds going to the Stow fund and 30 percent going to the Half Moon Bay Little League, 30 percent to the West Sacramento Little League and five percent each to the Half Moon Bay Softball League and the West Sacramento Softball League.
Grant, who found the card in a pack of Razor Rookie Retro at Peninsula Sports Cards in Belmont, Calif., recently decided that he'd rather have the card do some good than sit in his collection.
"It took about two days to know that this was something bigger than me," Grant told Beckett Baseball before the site's launch. "I mean the act of pulling the card was phenomenal, but a card like this has some firepower and I felt that it could be used in a more powerful way."
The card has, indeed, been a powerful force in the hobby initially selling for $16,403 before the Washington Nationals pitcher made his debut last summer and then re-selling for $21,403. It was sold the second time after its owner, Robert J. Power, received several negative and harassing messages after the publicity about his buying the card. The card was purchased by Leaf's Brian Gray, who placed it into packs of his repackaged product that launched last year — but the card had never been found until now.
Now, though, the card, which has generated plenty of publicity — and money — on its own, can help generate more and benefit kids and a baseball fan who was the victim of a senseless crime.
Chris Olds is the editor of Beckett Baseball. Have a comment, question or idea? Send an e-mail to him at colds@beckett.com. Follow him on Twitter by clicking here.