2014 Rittenhouse Star Trek Movies Trading Cards Details
Rittenhouse Archives' newest product, 2014 Star Trek Movie trading cards, comes out next week on Feb. 26.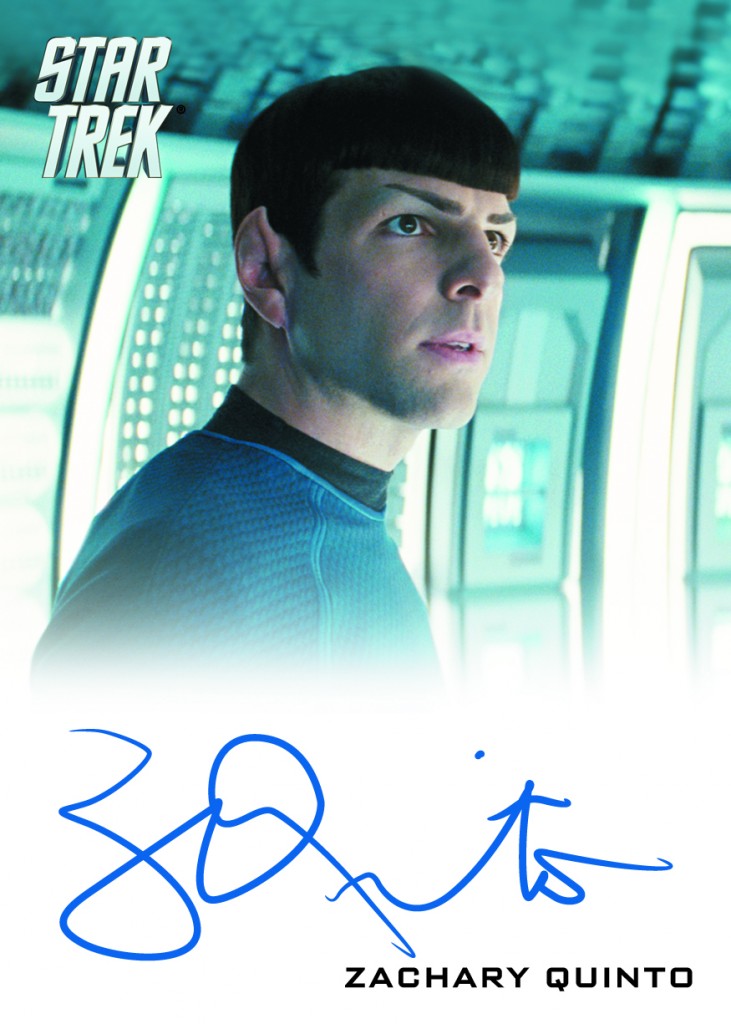 The set features the 2009 Star Trek movie and Star Trek Into the Darkness from 2013. Each box will come with 24 packs and six cards in each pack.
There are two autographs in every box and the autographs list is extensive with all the top actors included such as Chris Pine (Captain Kirk), Zachary Quinto (Spock) and Leonard Nimoy (Spock).
Other signers include Alice Eve (Carol Marcus), Peter Weller (Admiral Marcus), Bruce Greenwood (Admiral Pike), Ben Cross (Sarek), Jennifer Morrison (Winona Kirk), Simon Pegg (Scotty) and more.
The set will feature 110 cards with scene-by-scene plot synopses and photos from Star Trek Into the Darkness and 110 cards from Star Trek (2009). The cards will have also Silver (numbered to 200) and Gold (numbered to 100) parallels.
One of the chase elements includes a Star Trek Into the Darkness Foldout set.
Hits include Star Trek Into the Darkness Uniform Badges (numbered to 250 or less), Star Trek Into the Darkness Costume Relics (numbered to 300 or less) and Autographs.
Rittenhouse offers the following case incentives:
Case toppers: CT1 "Space, The Final Frontier" Monologue Card (2009); and CT2 "Space, The Final Frontier" Monologue Card (2013)
Six cases: Simon Pegg (Scotty) autograph relic card
Nine cases: Benedict Cumberbatch (Khan) autograph card
18 cases: Star Trek Movies Trading Cards Archive Box, including 20 Silver Parallel Cards (10 each set) and 10 Gold Parallel Cards (five each set)