Rittenhouse's Star Trek Aliens delivers variety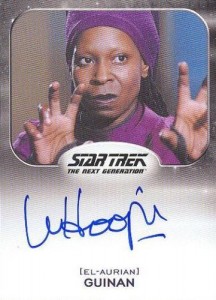 By Matt Bible | Beckett Non-Sports and Gaming Analyst | Commentary
Rittenhouse boldly goes where no one has gone before with the latest release in the Star Trek card universe: Star Trek Aliens. And, like the James Bond Archives product, Star Trek Aliens is poised to be another smashing success for the company. With an eclectic array of inserts, sketches, badge relics and autographs from which to choose, collectors' attempts to resist this product will be futile.
Released on Wednesday, Aliens already is picking up steam on the secondary market. Here are the basics: Each hobby box contains 24 packs with five cards per pack. The base set consists of 100 cards and it contains all the mysterious aliens that one would find in the Star Trek Universe. The Klingons, Romulans, The Borg, and Dominion are all in there. Each card contains three photos that vary between head shots and action sequences. Both the television and movie franchises are well represented within the base set and it is complemented with a gold parallel set that is serial-numbered to 100.
As with any non-sports card box worth its weight in gold-pressed Latinum, Aliens has a variety of inserts. There are stickers that contain some fan-favorite Star Trek characters, such as Spock and Deanna Troi. There are also a couple of insert sets that chronicle the various aspects that make Star Trek such an intriguing franchise. Ships features some of the notorious alien ships that have been seen throughout the series, such as the Klingon Bird of Prey and the Romulan Warbird.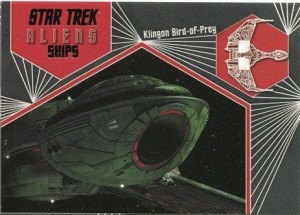 First Appearances is a die-cut insert set that reflects the initial appearances of certain alien species, like the classic Klingons and the reptilian-like Cardassians. And, if you've ever dreamed about learning to speak Klingon, there is a Quotable Klingon set which contains Klingon sayings in the proper Klingon vernacular. Badge Relics are one of the more difficult inserts to attain (inserted at about one or two per case). These cards contain manufactured relics of the various tribal insignia and communicator pins/badges that represent different alien races. They are serial numbered to 200.
However, the autographed cards are the real prize in this product. There are 76 total signature cards and they are all on-card. The most notable name in this set is Whoopi Goldberg, who is making her autographed card debut. Other notable names include: Michael Dorn (Worf), Marina Sirtis (Deanna Troi), John DeLancie (Q), Jeri Ryan (Seven of Nine), Malcolm McDowell (Dr. Soran), Tim Russ (Tuvok), and Leonard Nimoy (Spock). Autograph scarcity ranges from limited to extremely limited, depending on the person. They are inserted three per box.