Star-studded Saturday autograph lineup has something for everyone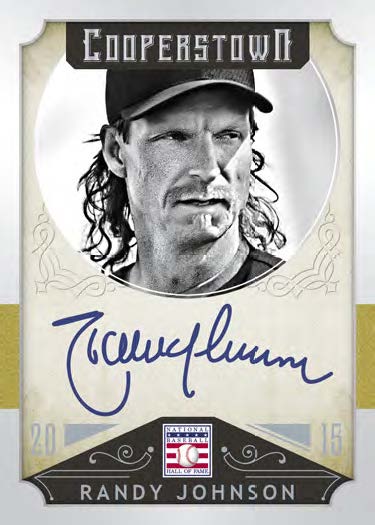 By Stephen Laroche | Beckett Media
The TRISTAR Autograph Pavilion has been extremely busy thus far this week at the 36th National Sports Collectors Convention in Chicago and the demand for some of the world's most iconic athletes will be strong on Saturday.
While recent Baseball Hall of Fame inductee Pedro Martinez had to cancel his appearance at the show, his fellow Class of 2015 members Randy Johnson and John Smoltz are ready to meet their fans. Throw in other prominent names from the national pastime such as Rickey Henderson, Cal Ripken Jr., Bill Mazeroski, Reggie Jackson and Mike Piazza along with a trio of Chicago Cubs teammates in Andre Dawson, Greg Maddux, and Rafael Palmeiro.
Some fans in attendance may be surprised to see a very controversial guest as Hulk Hogan will be making an appearance after recently being fired by World Wrestling Entertainment for comments he had made. Fans of the squared circle will be able to meet 16-time world champion Ric Flair along with boxing legend Mike Tyson.
Who else will be among Saturday's crew of signers? Find out more after the jump.
Among the other prominent names scheduled to appear are Allen Iverson, Barry Sanders, Emmitt Smith, Scottie Pippen, Brian Urlacher, Isiah Thomas, and Lou Holtz. Tennis enthusiasts will also relish the chance to interact with Jimmy Connors and Ivan Lendl.
Collectors that purchased the VIP package for the National will have the chance to obtain a free signature from Derek Bell, Cecil Cooper, Dexter Jackson, and Football Hall of Famer Jan Stenerud on Saturday.
The complete Saturday schedule for TRISTAR's Autograph Pavilion is as follows:
Rickey Henderson     11:00 AM
Ric Flair     11:00 AM
Bill Mazeroski     11:00 AM
Cal Ripken Jr.     11:00 AM
Derek Bell*     11:15 AM
Mike Piazza     11:15 AM
Allen Iverson     11:30 AM
Reggie Jackson     11:30 AM
Randy Johnson     12:00 PM
Dexter Jackson*     12:15 PM
Barry Sanders     12:45 PM
Emmitt Smith     1:00 PM
John Smoltz     1:00 PM
Jimmy Connors     2:00 PM
Andre Dawson     2:00 PM
Greg Maddux     2:00 PM
Scottie Pippen     2:15 PM
Cecil Cooper*     2:30 PM
Rafael Palmeiro     2:30 PM
Mike Tyson     2:30 PM
Brian Urlacher     2:30 PM
Hulk Hogan     3:00 PM
Jan Stenerud*     3:15 PM
Isiah Thomas     3:30 PM
Lou Holtz     3:45 PM
Ivan Lendl     4:00 PM
* – VIP signer