Young collectors get the spotlight in Panini Kids Break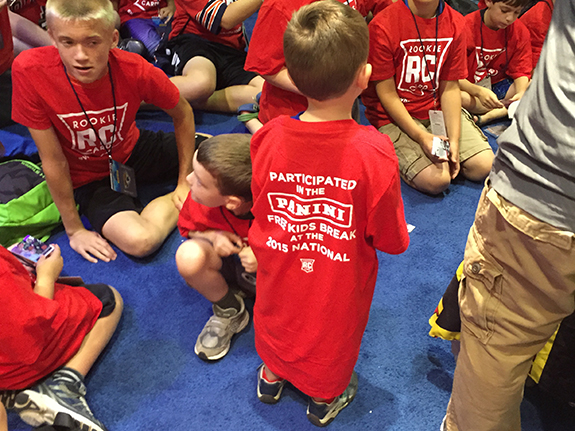 Walk into a primary classroom and you're likely to see one of two things. Some are filled with kids who are bored, restless and counting down until the clock hits three. Other classrooms are filled with excitement. It was like the latter at the Panini Kids Break on Friday afternoon at the National.
It was "criss cross, apple sauce" all the way for most of the kids as they sat on the red carpet as a case of 2014 Absolute Football was busted. The children were eager to see what cards were pulled, whether it was their team or not. To them, a cool card was a cool card. None mentioned what an autograph or other rarity might be worth.
The free Kids Break kicked off with special Rookie Card t-shirts for those at the booth. The young collectors who were selected to participated were given a lanyard representing a specific team. Whatever turned up in the break from their team they got to keep.
"The way Panini is engaging kids at the show into the hobby has been great," said Carina Noble. Both of her young boys landed cards during the event.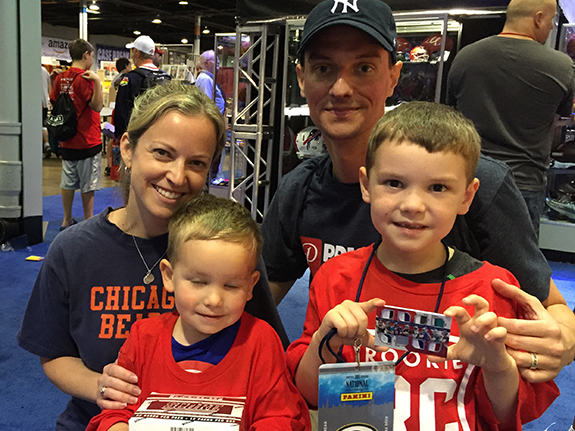 Volunteers came up one at a time to open boxes. Most sat quietly with all their attention at the front as cards were revealed and shown off. While the autographs and jersey cards got legitimate "ooos and aaahs," they were happy with their base cards too. At one point, there was even a "raise the roof" from one child.
Dillon was one of the volunteers who got to open a box. "I liked getting the jersey card," he said. The young Derek Jeter fan ended up taking home a card with eight patch swatches. His younger brother Luke was also happy to add to his collection with some cards.
"It's cool to give back to the kids and get them engaged," said Panini's Scott Prusha. "That's what my dad did to get me into the hobby when I was younger."
Few are going to argue that less kids are collecting today than in the past. And there are lots of challenges in changing that. But for this particular event, it showed that children do still get excited for cards. And that's an important first step.