Star Crossed: 1980s Star Company Basketball Card Masterclass
When you click on links to various merchants on this site, like eBay, and make a purchase, this can result in this site earning a commission.
In this era of pack shredding and case ripping, it seems impossible that 40 years ago NBA trading cards were dead. Literally. As in nobody producing anything.
Topps released its tri-perforated curiosity in 1980-81, and followed that with a standard release in 1981-82. But Topps saw basketball cards as a losing proposition. Bad business. Few seemed to care.
So, they didn't renew.
Thus, as the 1982-83 season tipped off, there was no official NBA licensed basketball card set.
Robert Levin saw the mistake – saw a market powered by the raging Celtics-Lakers rivalry, but not one being served at the time. He wanted in.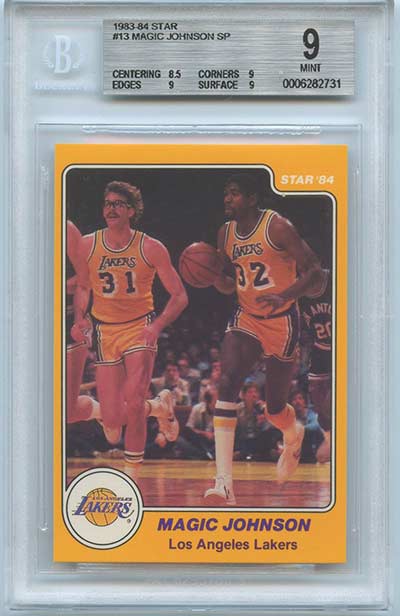 Levin petitioned the NBA to secure a league license and agreed upon minimum guarantees, with the license running from 1983 through 1986. "That era of players just entering their primes was significant," says Steve Taft, a longtime recognized expert on all Star Company-related basketball issues who has also consulted with NBA investigators on Star matters. "Magic and Bird . . . Wilkins, Drexler, Barkley, Isiah Thomas. Those three years [of Star] offered a lot of the key players, including Jordan."
The presence of Michael Jordan in Star sets beginning in 1984-85 is significant because it offered the first licensed trading card look at the kid who was taking the league by storm.
As Jordan became a brand ("Like Mike," "It must be the shoes," etc.) the Jordan #101 card became arguably the most important basketball card in history, if nothing else because it was his first. But it also became one of his most counterfeited cards, although those have been fairly easy to spot as the original plates were never used to fire the presses back up for Jordan #101.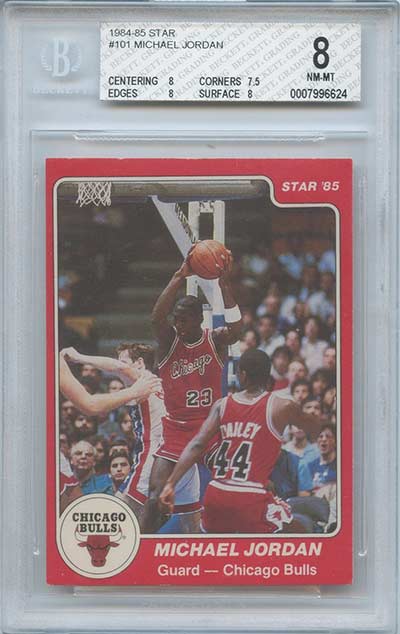 "While fears persist about #101 Jordan counterfeits, thus far they tend to be pretty easy to spot," Taft says. "Concern that a new, higher quality counterfeit will eventually appear is something to consider. Of course, that's true for all significant cards.
"While these issues should be of concern, in total it's a fair estimate to suggest there's a greater quantity of 1986 Fleer counterfeits than these Star counterfeits," Taft adds. "And with a little study time, and/or reliance on BGS and PSA grading, you can get to a 99.99% assurance of getting it right."
The name Star Company in basketball card history has been both cheered and jeered. The brand was a revelation at its introduction, yet the brand name was destroyed by the man who created it – Robert S. Levin – who printed fake Star cards for sale on Shop at Home in 1997…although Star's NBA license had expired after the company's 1986 releases.
The NBA didn't find it amusing that Levin and his company were printing cards in 1997 and dating them in the mid-1980s to appear as if they were lost, but now "found." Of course, it didn't work. And the world was introduced to the term "Shop at Home scandal."
It was officially the end for Levin's little basketball card empire. The NBA sued both Star Co. and Shop at Home.
If Star Company Basketball Cards got the Master Class treatment, Taft would be the professor. Come to think of it, he's already taught the course to others, including BGS which has been grading Star cards since December 2008. He's gained some of his knowledge through handling the cards himself, as well as comparing notes with fellow Star experts Todd Crosner and Bill Schonsheck.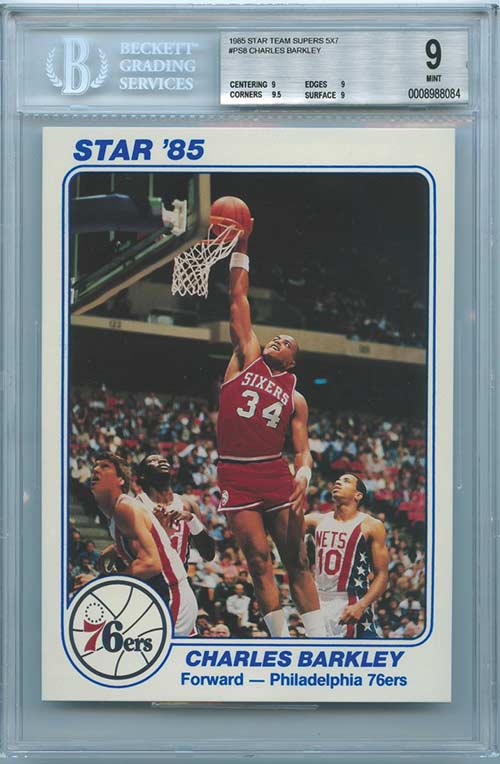 Taft's message to collectors is simple: There are far more good, authentic Star Basketball cards than bad. Far more. Misinformation paralyzed the market for Star, but led by Jordan, Magic and Bird and a current market hungry for that era of basketball, the cards are back on the radars of collectors who are viewing them like never before.
Beckett Media: What is behind the current uptick of interest in Star basketball cards?
Steve Taft: "It's a combination of things. While Jordan cards have been on the hot list for quite a while, I'm seeing more interest in Bird, Magic, Barkley, Kareem, Dr. J., Stockton, and many other star players from the Star Co. era of the mid-1980s. I'm even seeing an uptick in sales of Star Co. commons. And the announcement from PSA that they are starting to grade Star Co. certainly has added to the interest level. I think it's a pretty big deal to finally have PSA and BGS both on board to grade these cards, and that really brings a stronger level of confidence to the hobby that these cards can be graded and authenticated."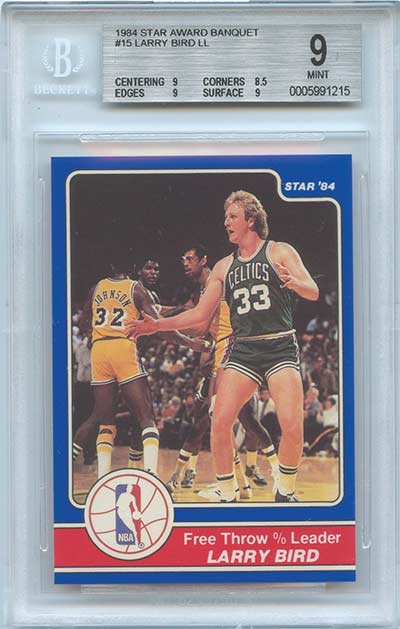 BM: How bad did the flurry of misinformation surrounding Star Co. affect the NBA sets?
ST: "The simple answer is it hurt a lot. Demand and card values dropped quite a bit. It has been a long, slow build to get the correct information out to the hobby, but I think we've been pretty successful turning things around, and now that the two biggest grading companies are taking Star Co. submissions, I think basketball collectors can be pretty confident in adding Star Co. cards to their collections."
BM: You've handled Star Co. basketball cards from the company's very first release in 1983. What were the early days like?
ST:"I ordered 50 sets of the 1983 All-Star Set, Star Co.'s first basketball issue. I skipped a few order forms when cash flow was tight, but I remember ordering a batch of 1985 Lite All-Stars, 1985 Gatorade, 1985-86 All-Rookie Team, and many others. I think those were $1.25 per set. There were some minimum order sizes to get the dealer pricing. With the Star Co. NBA team sets, my recollection is you had to order five of each team to get the dealer pricing.
Pretty amazing to look back at hav- ing bought many of those Jordans at $1.25 each. Of course, I was selling them for $2-$5 a set for the first couple years. They didn't start to make the value move until about 1988."
BM: The 1983-84 Star set carries a lot of short prints. Why is that, because of centering or some other problem?
ST: "What actually happened with that first series of cards, you'll see a lot of surface ink problems. Levin had to toss a lot of cards because the surface ink ruined the card."
BM: Was the packaging of team sets in polybags ever a point of contention with collectors at the time? How much did those bags hurt edges and corners?
ST: "I actually thought it was a rather innovative move on the part of Robert Levin, the Star Co. owner, to package the cards in team bags and subsets (like the All-Star sets, Slam Dunk sets, etc.). I'm holding many of the original dealer order forms from Star Co. I've barely skimmed thru them, but you can see where store owners/dealers would order extra sets of their hometown team compared to the other teams. This was an area where this packaging was very helpful. I don't think the Star Co. bags impacted condition any more than the typical wax pack. It still gets down to handling, or, hopefully, a lack of handling."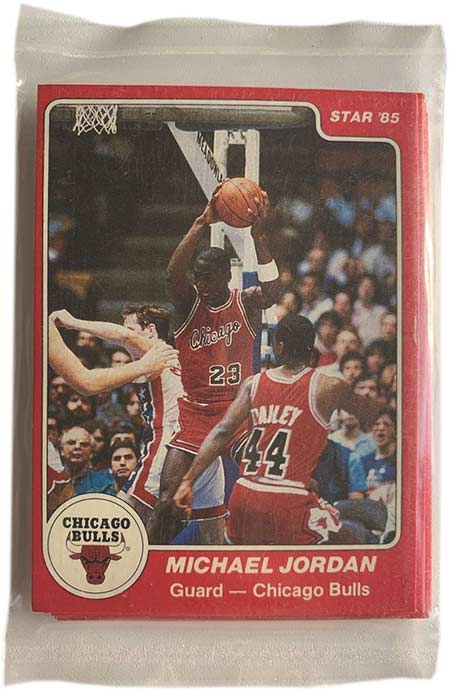 BM: Are there still any raw legitimate copies of Jordan's 1984-85 #101 card? Or have the majority been graded?
ST: "There's certainly a lot in BGS holders with approximately 15 years of grading Star. And PSA has already slabbed a few. The answer is yes, there are still some sealed bags and raw, original Jordan 101s. I don't see as many [sealed] bags as 10-plus years ago, but there still are some being held by collectors."
BM: What is the level of interest for players who did not make the 1980-81 Topps set but appear in 1986 Fleer?
ST: "I'm seeing a pretty solid level of interest at my Beckett Marketplace Store in sales of the minor stars and commons. One of the great moves made by Star Co. was to go 10-12 players deep per team with their first two NBA sets. Some of these players never made it to a Topps card previously, or never made it to a Fleer card in later years."
BM: Are there still bargains to be found for players like Larry Bird, Magic, Isiah, Barkley, Olajuwon, etc.?
ST: "The superstars can be expensive from the NBA team sets, but there's some great values still available in the subsets. If you look at the 1984 Award Banquet, or, the 1984 Celtics Champs, or the 1985-86 Lakers Champs, there's at least two cards of Bird and Magic in each set. These can be bought for a lot less than the price of the Bird or Magic cards in the team sets. Besides Bird and Magic, these subsets have many other big stars included like Kareem, Dr. J. and others."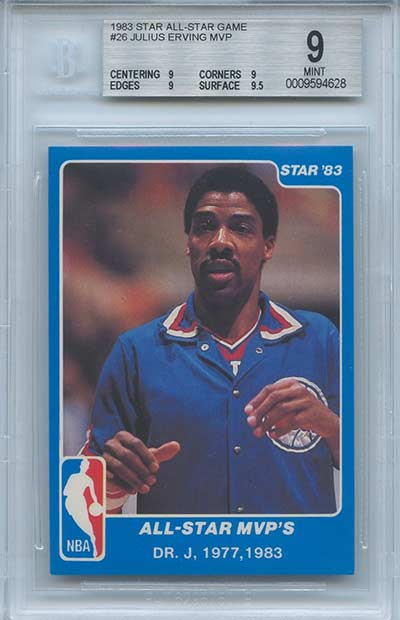 BM: What was the first sign of potential issues with some of the nefarious things going on with the cards, and what was that?
ST: "The first thing that shook up the hobby was what we refer to as the "Type II Counterfeits." These were cards that an employee at the print shop most likely stole. The layering of the film negatives was off register a bit, and these were most likely cards that should have been destroyed. There are a couple other telltale signs to differentiate these cards from the original issues. In an SCD interview, this employee claimed to have bought the cards from Star at the Hawaii Trade Show. What he didn't tell SCD was that he was an employee of the print shop. I got this bit of info when I was discussing counterfeits with the NBA lawyers. This "Type II Counterfeit" situation had the attention of law enforcement, the NBA lawyers, SCD's Bob Lemke, and I got involved, too. A very important point to consider is that with all the research that was done between all of us – both together and individually – I never found any sign that the Star Co. owner, Robert Levin, ever had possession or sold any of these Type II Counterfeits. Nearly 40 years later, it still looks like these cards were solely distributed by that former employee of the print shop.
"These are the cards that do require some knowledge to differentiate from the originals, but, with a little study time, it can be done. It's probably easier than learning the 30-plus counterfeit variations of the Jordan Fleer RC."
BM: What sets were affected by these quality-control rejects finding their way onto the market?
ST: "The Type II Counterfeits consist of 1985-86 Star NBA #'s 95-172, 1986 Best of the NEW, and the 1986 Michael Jordan 10-Card Set. The general telltale signs are the originals have a slight amount of front border color bleed onto a back edge(s).
The Type II's do not bleed. The border framing lines tend to be different than the originals. Ink on back 'tends' to be brighter on the Type II's. Note I said 'tends' and not guaranteed. Gloss 'tends' to be more noticeable on the Type II's than the originals. Again, note 'tends' and not guaranteed."
BM: What was the moment of reckoning with Star cards? Was it the Shop at Home situation?
ST: "That happened in 1997 and caused the most harm to the brand. The way it was perceived at the time was that Star had reprinted their original cards. However, that was not what happened. Brand new cards were printed, but they were backdated to 1985 and 1986, with the explanation these cards were left in the warehouse storage all these years. Possible confusion stemmed from using similar set names. A good example is the 1985 Lite All-Stars set. The original set has blue front with white backs and red ink. Most of the cards have different pictures. The Jordan card appears to have the same picture, but it was cropped slightly different on the Shop at Home issue. Ultimately, these sets were unlicensed fantasy sets, as they were not copies of the original sets.
"I received a call from the NBA's Private Investigator shortly after these sets started appearing on Shop at Home. The NBA thought there was likely some illegal use of their licensing going on, as they didn't think the sets were printed back in 1985/1986. I have some awareness of the Star Co. office and what was stored there around the time of the private auction, and was pretty sure these cards were not in storage. Ultimately, a search warrant was served on the Florida print shop Star Co. was using and these Shop at Home cards were found in the process of being printed and ready for pick up."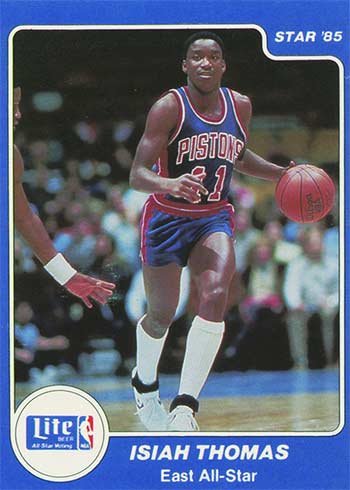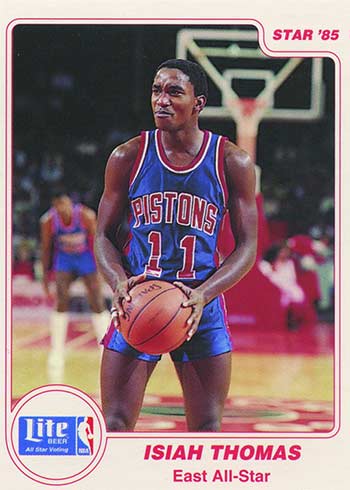 BB: They were essentially 'Sets That Never Were' because they were new creations,right? But they didn't go back and reprint the original mid-'80s cards…why?
ST: "While the Shop at Home scandal was the dark moment in Star Co. history, it also provides some pretty strong evidence to suggest the purity of the original 1983-1986 Star Co. Basketball cards. My thought is if you could successfully reprint your original cards, why would you bother to spend the labor time and money to design and print brand new cards? At the time, if Star could have successfully reprinted Jordan 101 RCs, they could have easily sold a few each month for about $2,000 each. This would be a much easier way to make money than designing new sets, paying the set-up and printing costs, then using middlemen to get your product to Shop at Home.
"The rumor of Star reprinting the original 1983-1986 sets was still making the rounds, despite a lack of evidence to support the rumor. The NBA attorney's and Private Investigator never found that to be true, and I never found any evidence of that in my research efforts. Ultimately, it's important for collectors to know the Shop at Home sets were new sets that were backdated, and none of them were reprints of the original 1983-1986 sets. I should add this…if you want to know if a set is an original, get a copy of Beckett's Annual Basketball Card Price Guide. It lists ALL the original 1983-1986 Star Co. sets. If you do not see the set listed there, it's one of the illegal sets."
BM: What was your role as a consultant for BGS, and how did you work with them when they started grading Star Co.?
ST: "Mark Anderson, the former Director of Grading at BGS, called me to discuss my thoughts on training BGS on Star authentication. A few weeks later I went to Dallas and spent a day with the BGS grading staff. We discussed some Star history, went over the Type II counterfeits and Shop at Home situation, and went over all the things to look for in identifying counterfeits. We had a few phone calls for a couple months, and I remained available for a couple years in case there were any questions, though I was rarely called. I was able to work with graders at three companies over the years, and it never ceased to amaze me how good their eyes were at picking up the little things.
"I consulted with Sports Collector's Digest, GAI /Global Authentication, Inc, and Beckett/BGS on Star authentication. I had an agreement just about ready with PSA, but we didn't get to complete that one. For clarity, I did not grade cards for any company in my role as an authentication consultant. I just provided authentication training and information."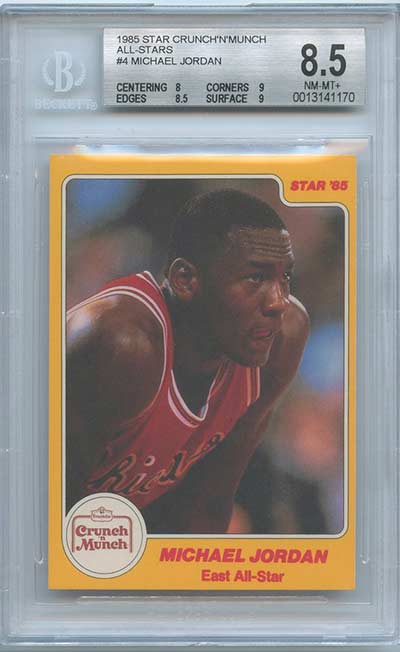 BM: PSA has begun to grade Star Co. cards again. Is this a sign of wider acceptance and growing market for the cards? Will you be consulting with them, or any other grading company, in some capacity?
ST: "I had a few discussions with PSA's former management about providing training on Star Co. authentication, but it never went anywhere. I received a call over a year ago from the new management that they wanted to begin grading Star Co. So the first thing for collectors to understand is there's new management/ ownership at PSA, and one of their first projects was to grade Star. I've heard so many complaints over the years from collectors about PSA avoiding the Star Co. authentication process, but you have to separate the old ownership from the new. Credit should be given to the new team for taking this project and getting started. I've been getting asked a lot if I trained PSA. The answer is no and almost. We discussed a contract, but my personal and work-related scheduling issues caused too long of a delay. The bottom line is the new ownership recognized the importance of grading Star and they have started on a limited basis. I would assume they will add more sets to their acceptance list as they complete their research. And yes, this is another major sign of acceptance of Star Co. cards."
BM: What are some pieces of Star Co. history you own?
ST: "I guess I've had every card from the 1983-1986 run at least a few times, and some many, many times. But I'm a card dealer, so, they go in and out of inventory. I do have a partnership with Bill Schonsheck on the key historical pieces from Star Co. In 1996, Bill made a deal with Robert Levin to buy out the office records and production transparencies used to make the original Star Co. cards. Bill tucked these away for over 20 years and contacted me about this about three years ago.
"Recently, I've started to market the Production Transparencies. They're similar to film negatives and these were used in the production of the cards. We've recently sold the Michael Jordan 1984-85 Star #195 and #288 Transparencies, but we still have the #101 Jordan RC Transparency, a couple other Jordans, and approximately 500 more commons, stars, and rookies. Production on the various Star Co. sets was between 3,000 and 10,000 sets per issue.
These Production Transparencies are one of a kind, and the significance of having the exact image used to make these cards is quite special. Bill's personal collection contains original artwork and images used for 1961 Fleer Basketball, early Topps, and this very large collection of the Star Co. Production Transparencies. This batch also includes some original artwork that sets up the border designs, and, I have a big box of original invoices and cancelled checks.
"It's interesting to go thru the checks to see royalty payments to the NBA, payments to printers and design companies. Going through the invoices is also interesting. I see many names that I don't know, but every once-in-a-while I'll see an order with a familiar name. I don't think this batch includes every invoice in their history, but at some point, I'd like to go through them in better detail. There's a debate about whether the Jordan #101 or the blue bordered 5 x 7 Court Kings was the first card shipped of Jordan by Star. I just don't remember, but one of my old dealer friends claims it was the Court Kings. Others have disputed that and said it was the #101 in the Bulls team bag. There's a chance these invoices could provide some evidence to figure this out.
"After all the research I did many years ago, to have the Transparencies and office records of Star Co. now is really special to me. But there's the old problem that I am a sports collectibles dealer and have to sell the Transparencies, though, I'll likely keep a couple for a keepsake memento."
BM: Are we still having the same conversation about Star basketball cards in a year, or will it be more about the cards and less about the scandal?
ST: "As each year goes by, there's more collectors that see BGS and now PSA handling the Star Co. brand. I've done quite a few online interviews and articles discussing authenticity, etc. There are websites and forums dedicated to Star Co. basketball cards. When you add all this up, the knowledge base is now quite large to help collectors navigate the issues, and most importantly, clear up some of the false rumors that persisted in the past. With Jordan, Bird, and Magic cards running throughout Star Co. sets, I think we can expect the market to continue to grow. In my discussions with collectors, I see how much interest there is in the players from these sets, and as these collectors learn more about the cards and see the two major grading companies both saying, "we will grade and authenticate your Star Co. cards," the future looks promising to me."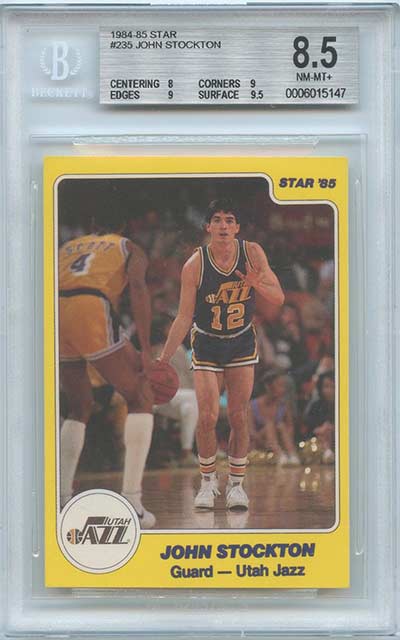 BM: What is Robert Levin's legacy with Star? Did he do more harm or good?
ST: "Levin's legacy…that's tricky…You can't dismiss his role in the Shop at Home scandal because of the problems that it brought to the hobby/industry of sports collectibles. So, while I have to acknowledge the negatives, perhaps we should take note of the innovative marketing of the basketball cards he developed. Doing sets that contained players at the end of the bench, making 10-12 players deep in team sets, the All-Star, Slam Dunk, All-Rookie, NBA Champs subsets that featured the bigger stars. Going direct to hobby dealers with offers and low minimum quantity purchases. Looking back, he did a tremendous job showcasing the NBA. So, despite the problems that developed long after his 1983-1986 run ended, you can't dismiss the outstanding coverage his products gave to the hobby in the mid-'80s."
BM:And finally, what is Star's legacy with the collecting public, especially now with more knowledge about the cards?
ST: "Around the early '90s, I would refer to the 1980s as the NBA's Golden Era. I don't think there was a better era for the NBA, before or since. The Lakers/Celtics rivalry with Magic and Bird was probably the most competitive team basketball ever played. And the 76ers and Pistons got in on the action a bit, too. Ultimately, Star's legacy is covering the NBA's greatest era with all those team sets and subsets. Jordan, Bird, Magic, and the rookie cards of Barkley, Ewing, Stockton, Olajuwon, Drexler, Wilkins, Thomas…lots of cards of those superstars throughout the Star Co. checklists."