The Last Dance Collection: Phil Jackson
Part 4 – Phil Jackson
When the concept of this series came to mind I wanted to just focus on the starting five of the Bulls '97-98 team, but I had to add Phil to the mix. He was the architect of the triangle offense the drove the Bulls to six rings. He's a hippie, a mystic, and unconventional in almost every way, but it just works for him. Michael Jordan credits Phil for bringing the Bulls together when they were just on the cusp of greatness. To further that, Jordan trusted Jackson and completely bought into what he was selling, and the rest is history.
They called him "The Zen Master", "Coach Phil", and "Action". No matter the chosen moniker, champion had to be said as well. With his 13 NBA titles, 11 as a coach and two as a player, Jackson's championship pedigree cannot be ignored. His induction to the Hall of Fame in 2007 was a give me. Plus he dated the boss's daughter when he was in Los Angeles, which may be the most impressive thing about his resume.
Let's take a look at some Phil Jackson cards you can to your Last Dance collection.
What's not to love about '70s era basketball cards? Seriously, they're great, and Jackson's rookie is no different. The high shorts, the extra-shmedium jersey, the hair, the mustache. I mean just look at it. Phil could have been your favorite uncle that let you take sips of his Natty-Lite when no one was looking, or he could have had a recurring walk-on role in Three's Company. This card is just great and it's an easy addition to your collection.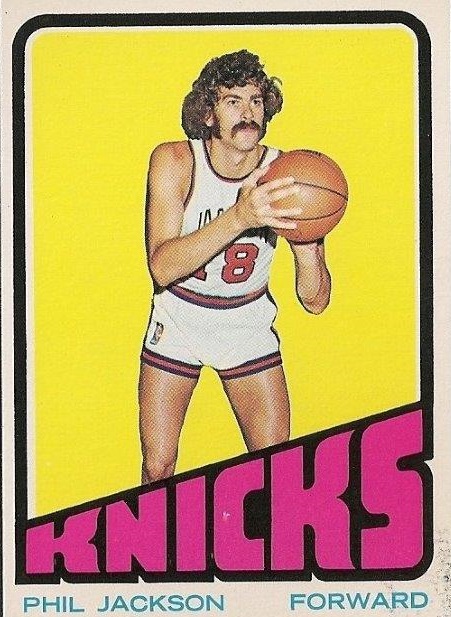 The image on the front of this card is perplexing. It's just The Zen Master sitting on the bench looking confused about something. However, the back of the card, well, that is where it's at.  One gets the impression that Phil is a Soviet spy sent to infiltrate the NBA and take their game plans back to Mother Russia, or, he's the most passionate kisser on Video Match. Either way, this card typically sells for about $.50 but since the premiere of The Last Dance, they have gone for as much as $5. This is where his head-coaching career started so it makes sense to grab it if you don't already have it.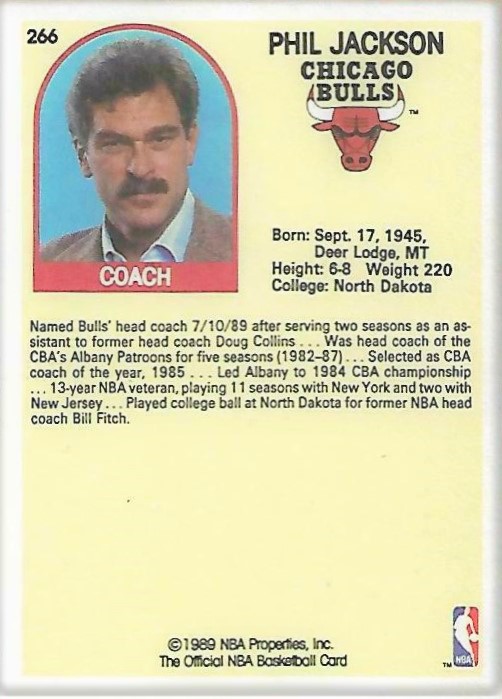 2010-11 Playoff National Treasures Champions Signatures Combos:
You can find your share of Jackson autographs on the market but he did not have pack-pulled certified autographs until '10-11 National Treasures, and those were tough. One dual autograph with Kobe numbered to /5, another with Rodman out of /5 as well. There was also a quad signature card that featured Rodman, Kukoc, Harper, and Phil numbered to /2 that has most likely never seen the light of day. Simply put, if you ever see one of these cards available, and you're looking to add a unique piece to your Last Dance collection, pull the trigger.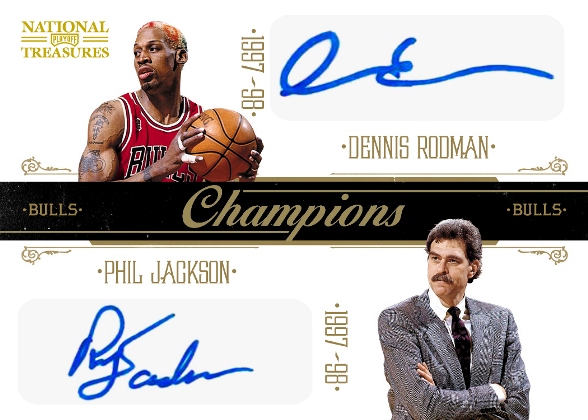 Looking for more Phil Jackson cards? Check out the Beckett Marketplace.