Robert Griffin III's cards demanding big bucks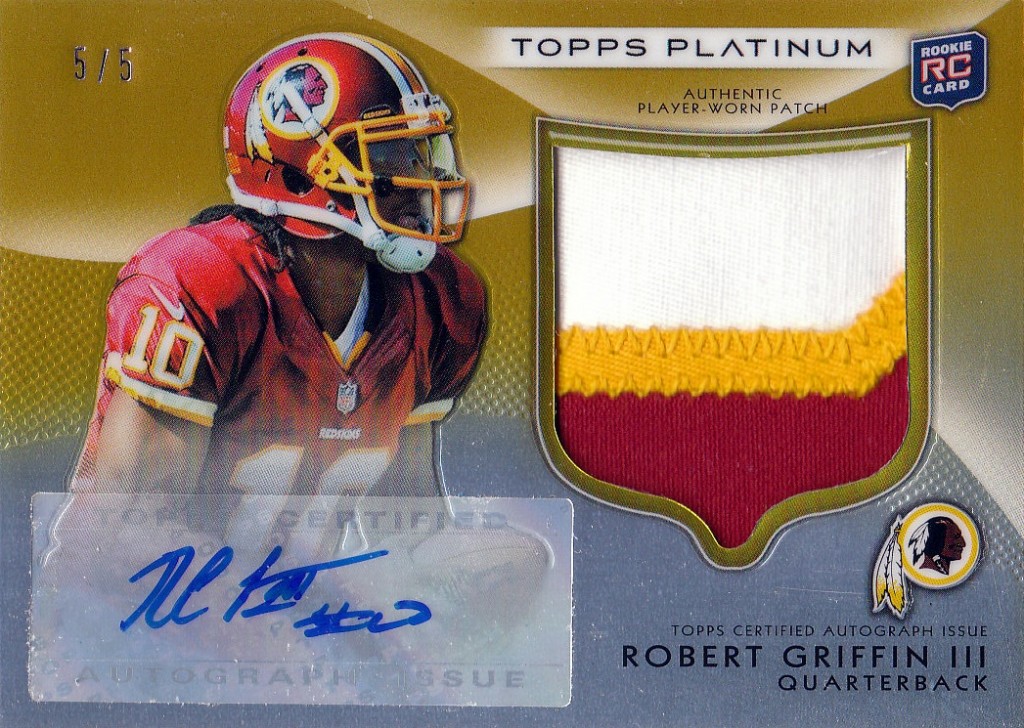 By Dan Good | Contributing Editor
Some of Robert Griffin III's most sought-after cards are commanding used car prices.
The Washington Redskins rookie quarterback is one of football's hottest stars – and he has the high-end cardboard to prove it. A Topps Platinum 1/1 autographed superfractor of RGIII is currently listed on eBay for a Buy It Now price of $10,000
.
By Sunday morning, the seller had declined 11 offers for the card.
Another 1/1, this one a sketch card from 2012 Panini America
, is priced at $2,995. The card carries Griffin's penmanship. He drew a picture of a tree and wrote, "Plant your roots and watch them grow."
Redskins fans have watched Griffin grow this season. Last week, the rookie ran for a 67-yard touchdown, leading Washington to a 38-26 victory over the Vikings.
Other Griffin cards listed on eBay include:
2012 Topps Finest Pulsar/Prism autograph refractor 3/10

2012 Topps Prime quad relic autograph 10/10

2012 Press Pass Showcase patches autographs front size tag 1/1

2012 Panini Certified Mirror Emerald quad relic autograph 3/5

2012 Finest Moment superfractor autograph 1/1

2012 Panini Momentum triple jersey autograph 1/1

2012 Topps Inception quad rookie autograph patches booklet (Griffin, Luck, Blackmon and Richardson) 3/5

2012 Topps Platinum Gold Refractor patch autograph 3/5
A Platinum gold refractor rookie patch autographs superfractor recently sold for $5,655.
Dan Good has been a journalist for more than a decade. He currently works at the New York Post. You can email Dan here with ideas, comments and questions. Follow him on Twitter here.