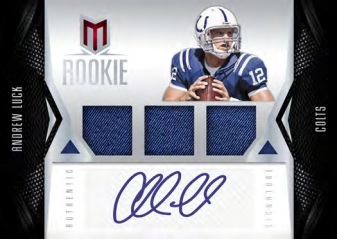 By Susan Lulgjuraj | Beckett Football Editor
Football season for trading cards is really going to kick up in August.
Another product on the schedule is Panini Momentum, which is currently scheduled for Aug. 29, and it will include many of the top rookies.
Momentum is on the higher-end scale of Panini America products. There are 10 packs per box with three cards in each pack, which should include at least an autograph or memorabilia card. Hobby boxes have a pre-sale price of around $200 right now.
In every box, collectors can expect one Momentum Rookie Signature RPS (an autograph card with three memorabilia swatches), three to four rookie autographs and five to six memorabilia cards. Base cards will have four printing plate parallels.
There will be at least two autographs of players such as Andrew Luck, Robert Griffin III, Trent Richardson, Justin Blackmon, Ryan Tannehill, Michael Floyd, Kendall Wright, Brandon Weeden, A.J. Jenkins, Doug Martin and David Wilson in each case. There will also be at last one auto of Brian Quick, Coby Fleener, Stephen Hill, Alshon Jeffery, Isaiah Peed, Ryan Broyles, Brock Osweiler, LaMichael James and Rueben Randle.
One of the highlighted inserts is STUDS – meaning earring studs. These cards will feature embedded diamonds of players who are well know for the jewelry.
When it comes to autograph, Souvenir Signatures is one of the top subsets. It will include current and former stars, although checklist has not been provided yet.
Here's a look at the different memorabilia cards:
・ Double Feature Materials will take two common players from current and past teams such as Dez Bryant and Miles Austin from the Dallas Cowboys. These cards will also come double prime, triple and triple prime variations.
・ Head of the Class Materials include player-worn memorabilia of player's from this year's draft. Head of Class will also feature combos, triples and quads.
・ Rookies aren't the only ones getting memorabilia card treatment. Momentum Materials will use stars of the past such as John Elway.
Susan Lulgjuraj is the editor of Beckett Football magazine. You can email Susan here with ideas, comments and questions. Follow her on Twitter here.