Readers Write: Meeting heroes at Cooperstown
From time to time, we'll showcase mail from readers — here's the latest of many letters in response to Beckett Baseball Editor Chris Olds' run-in with Hall of Famer Reggie Jackson as found in the October 2012 issue. (An online version of the piece is here.)
—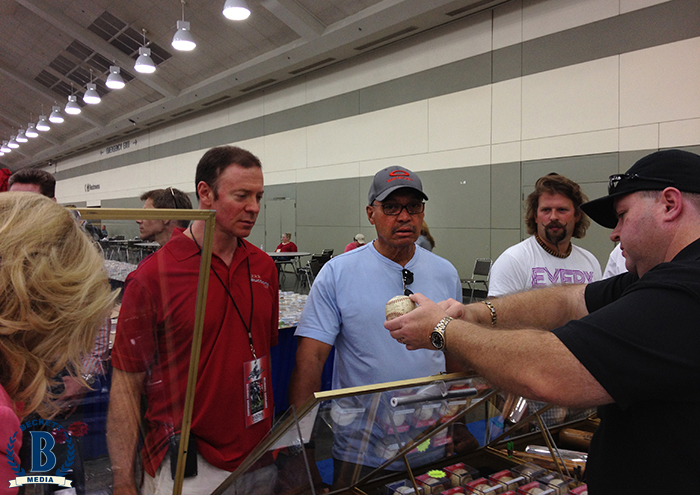 Just wanted to let you know that I liked reading your article "You May Not Want to Meet Your Favorite Stars," which was written around the misfortune of meeting Mr. Reggie Jackson.
I'd like to start off by saying that I am a 33-year-old from Toronto and a long-time baseball card collector.  I buy Beckett price guides a couple times a year, as I mostly buy older cards, specifically 1950s and 1960s, and I figure they don't change in value that much … not that I collect for the value, anyways. For me, it is mostly collecting guys who I respect or who have met, and that is why your article spoke volumes to me.
I go to Cooperstown, N.Y., every summer for the annual Baseball Hall of Fame induction ceremony, and I have had the privilege to meet many Hall of Famers who have generally all been very nice, with the exception of a miserable Whitey Ford, but that is another story.  I recently met "Mr. Cub" Ernie Banks who is most likely the nicest man you'd ever want to meet. Put it this way, I am now in the market for an Ernie Banks Rookie Card. He was awesome, and he even hit on my wife which I didn't mind because he's Ernie Banks!
It is always a conflicting moment when we can meet our favorite athletes, because you don't want your boyhood image of them to be tarnished, but like with Reggie Jackson and your encounter with him, sadly that happens.  When I read your article, I thought about everything I had heard about him from people in Cooperstown, and your encounter with him is not an isolated one. He is not well-liked, and I have always avoided him while in the mecca of baseball … many people do. He often has the shortest lines for autographs and this past summer, he didn't even show his face mostly because of the negativity he spoke [with Alex Rodriguez] this past summer.
I enjoyed your article, but was not surprised that you had the experience you did with Mr. Jackson.  You'd think that he would be kind or even a bit polite, especially at the National Convention … especially because he needs to make a living some how nowadays … and his autograph is still wanted, for now that is.
— Jon Laframboise, Toronto
—
Thanks for the response. There were many emails about that column — some from people in the industry and others who have just had similar encounters. It was exciting to hear from some people I hadn't expected to hear from — and unfortunate to hear that so many had experiences similar to mine. — Chris Olds
Chris Olds is the editor of Beckett Baseball magazine. Have a comment, question or idea? Send an email to him at colds@beckett.com. Follow him on Twitter by clicking here.