QTY, FYI: 2011 Press Pass Red Ink & Inscriptions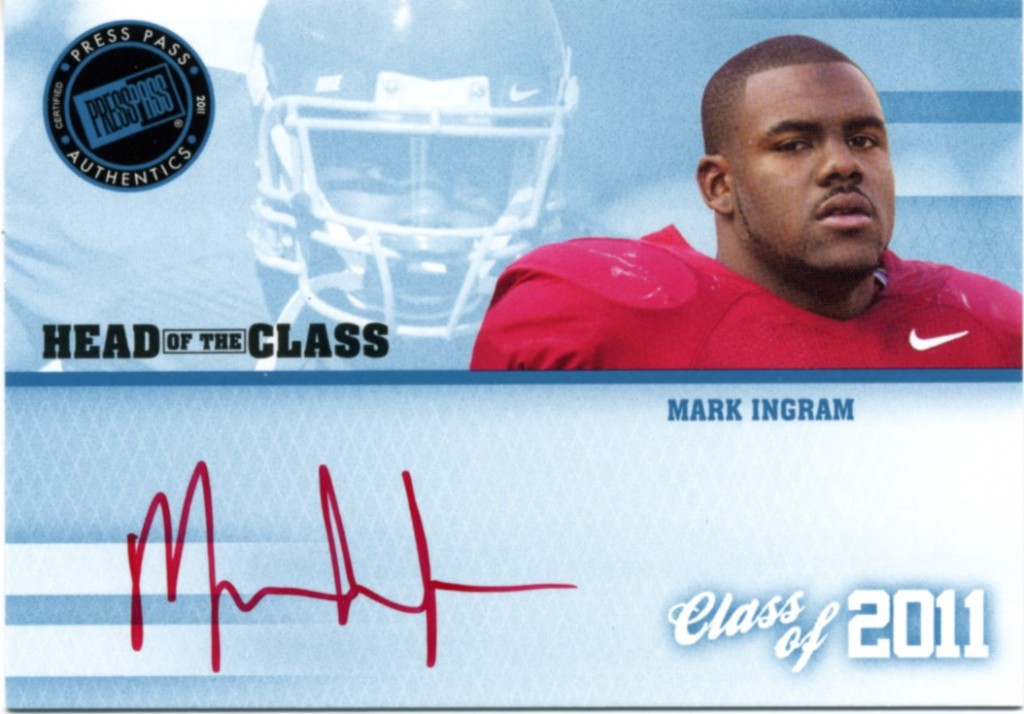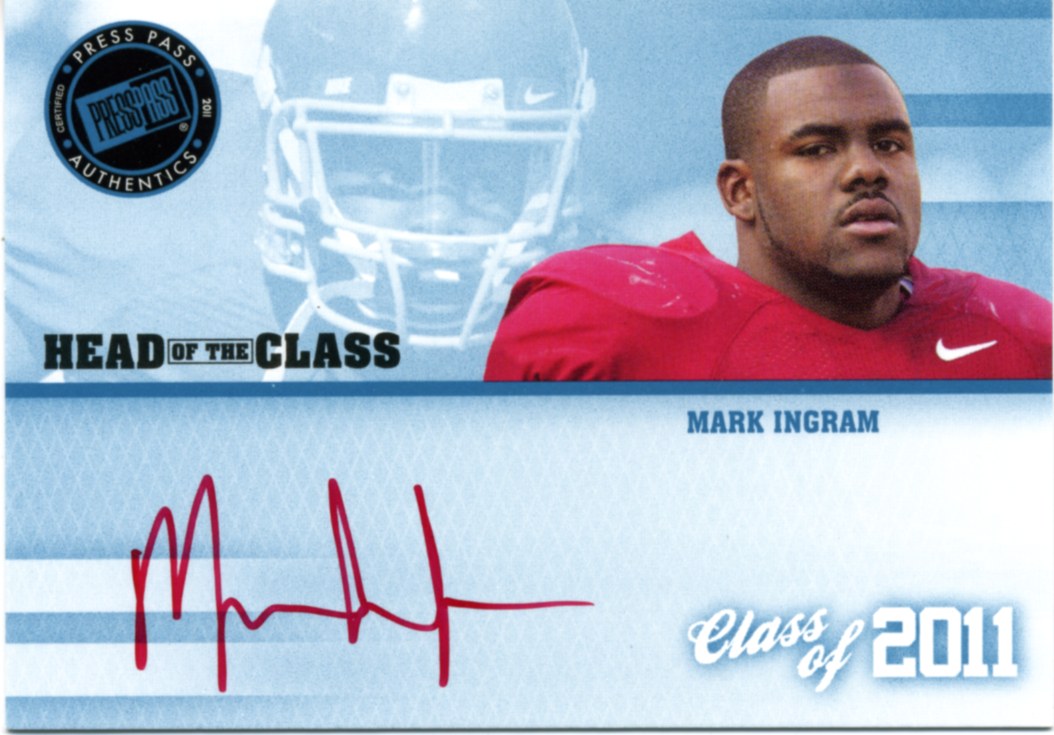 By Andrew Tolentino | Football Editor
Delivering a familiar product to early-season collectors, Press Pass has made its presence loud and clear with 2011 Press Pass Football. By now, the hits have surfaced and sold on the secondary market — garnering the attention of prospectors and flat-out college football enthusiasts.
To add some more substance to these preseason pulls, the manufacturer provided us — and in turn, collectors — with all-important information on many of the most desirable cards in the set. After the almighty jump, you'll find a full-blown list of players and respective quantities for their Red Ink autographs and Red Ink inscriptions in 2011 Press Pass.
Stay tuned for more information — landing tomorrow — on Blue Ink autographs and Blue Ink inscriptions.

Red Ink Bronze
Darvin Adams – 31
Prince Amukamara – 50
Armon Binns – 25
Ahmad Black – 99
Da'Quan Bowers – 50
Brandon Burton – 47
Delone Carter – 49
John Clay – 45
Randall Cobb – 18
Marcell Dareus – 50
Nick Fairley- 12
Mark Herzlich – 49
Cameron Heyward – 43
Kendall Hunter – 51
Mark Ingram – 11
Julio Jones – 15
Colin Kaepernick – 50
Ryan Kerrigan – 50
Dion Lewis – 49
Greg Little – 50
Derrick Locke – 52
Von Miller – 50
Rahim Moore – 15
Drake Nevis – 50
Cameron Newton – 15
Stephen Paea – 50
Niles Paul – 10
Austin Pettis – 25
Christian Ponder – 6
Stevan Ridley – 25
Jacquizz Rodgers – 46
Evan Royster – 25
Kyle Rudolph – 50
Greg Salas – 50
Dane Sanzenbacher – 50
Aldon Smith – 45
Torrey Smith – 43
Luke Stocker – 10
Tyrod Taylor – 50
Terrence Toliver – 5
J.J. Watt – 19
Aaron Williams – 60
Ryan Williams – 15
Titus Young – 19
Red Ink Silver
Darvin Adams – 20
Jonathan Baldwin – 50
Randall Cobb – 4
Andy Dalton – 9
Tandon Doss – 50
Nick Fairley – 19
Blaine Gabbert – 5
Mark Ingram – 10
Julio Jones – 5
Mikel Leshoure – 21
Rahim Moore – 11
Niles Paul – 10
Christian Ponder – 6
Jacquizz Rodgers – 20
Luke Stocker – 8 "Go Vols!" (Inscription)
Shane Vereen – 50
J.J. Watt – 5
Aaron Williams – 5
D.J. Williams – 10
Ryan Williams – 20
Red Ink Gold
Darvin Adams – 28
Randall Cobb – 5
Andy Dalton – 8
Nick Fairley – 10
Blaine Gabbert – 5
Mark Ingram – 9
Julio Jones – 20
Mikel Leshoure – 25
Jake Locker – 33; 7 "#10" (Inscription)
Ryan Mallett – 9
Rahim Moore – 12
Cameron Newton – 9
Niles Paul – 10
Christian Ponder – 12
Stevan Ridley – 25
Jacquizz Rodgers – 15
Luke Stocker – 5 "Go Vols!" (Inscription)
Daniel Thomas – 50
J.J. Watt – 5
D.J. Williams – 10
Red Ink Blue
Randall Cobb – 10
Andy Dalton – 9
Nick Fairley – 10
Blaine Gabbert – 10
Mark Ingram – 15
Julio Jones – 10
Mikel Leshoure – 1
Ryan Mallett – 10
Rahim Moore – 9
Niles Paul – 6
Austin Pettis – 25
Christian Ponder – 8
Jacquizz Rodgers – 15
Luke Stocker – 12 "Go Vols!" (Inscription)
Aaron Williams – 5
D.J. Williams – 10
Red Ink Green
Blaine Gabbert – 5
Mark Ingram – 16
Julio Jones -5
Cameron Newton – 11
Red Ink Red
Blaine Gabbert – 5
Mark Ingram – 1
Julio Jones – 5
Red Ink Power Pick
Jonathan Baldwin – 53
Blaine Gabbert -10
Mark Ingram – 4
Julio Jones – 22
Mikel Leshoure – 25
Jake Locker – 10
Ryan Mallett – 10
Cameron Newton – 20
Daniel Thomas – 16
Red Ink Press Pass Showbound
Jonathan Baldwin – 3
Mark Ingram – 5
Julio Jones – 3
DeMarco Murray – 25
Red Ink Class of 2011
Blaine Gabbert – 10
Mark Ingram- 10
Julio Jones – 22
Mikel Leshoure – 5
Ryan Mallett – 10
Cameron Newton – 5
Daniel Thomas – 35
Red Ink Head of the Class
Jonathan Baldwin – 3
Mark Ingram – 9
Julio Jones – 3
Mikel Leshoure – 20
Ryan Mallett – 10
DeMarco Murray – 25
Cameron Newton – 10