Dick Perez discusses Diamond Kings, the hobby & more in upcoming issues of Beckett Sports Card Monthly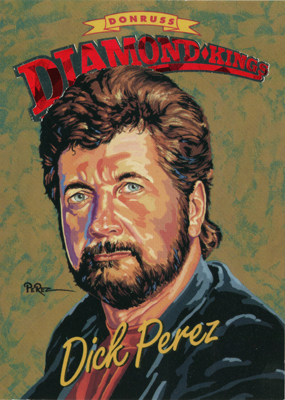 By Chris Olds | Editor
A collector might best remember Dick Perez from his Diamond Kings cards made by Donruss in the 1980s — and that's what we recently hooked up with him to discuss for the next issue of Beckett Sports Card Monthly. It's an issue that will be dedicated solely to the decade where the hobby exploded into the mainstream and started to become what it is today.
For those perhaps too young to remember, Perez's paintings appeared on Diamond Kings cards annually from 1982 to 1996, and before that, he created postcards of Hall of Fame baseball players with Perez-Steele Galleries beginning in 1980. After the Diamond Kings run, card collectors have seen him on cards from Topps — the inaugural Allen & Ginter release in 2006 and on Turkey Red and Topps Heritage creations in later years. In fact, Perez created original artwork that was found inside packs (inside Rip Cards) in that landmark Ginter release — showing just how much the hobby has changed in roughly a decade.
Here's a small selection of comments from our first discussion with the legendary artist …
On the heyday of Diamond Kings: "The Donruss people of those years were great to me, though I never got a lot of company feedback. In fact, my best memory is that after the first couple of years, they left me alone to paint and experiment with different styles. I never had to get approval."
On the end of Diamond Kings: "Those years flew by. I guess it was an indication of how busy I was during those years painting for Donruss, the Hall of Fame, the Philadelphia Phillies, private commissions and various other projects. By 1996, I believe I was ready to move on."
On the changes in the hobby at that time: "Sadly, the mid-90s was a time that saw a decline in the card industry. Donruss was one of the victims of that downturn. Not only did the baseball strike of 1994 have its effect, but by that time an immoderate number of companies had gotten into the act, and, undisciplined, produced too many cards and subsets in order to outdo each other. Collectors were confused, frustrated that to complete anything would cost a fortune and lost interest. I mean, how many Ken Griffey Jr., cards did you need? Baseball card collecting lost the two things that are inherent to collecting, the hopeful chase, and rarity — not to mention the smell of the gum."
On Topps being the MLB exclusive: "I really like what Topps is doing today with baseball cards. Their emulation of the old card designs, like Allen & Ginter and the Turkey Reds, shows a respect for the trading card tradition. They have blended well the old with the new and have applied today's technology to turn out some handsome products. Interestingly, Topps is now the exclusive official card maker for MLB, so we have come full circle."
While Perez's earlier works can still be collected the old-fashioned way — card by card — they also are collected in a new place. That's in a recently released book called "The Immortals." The oversized 560-page book includes much of Perez's past work — and it even includes galleries of all of his Diamond Kings cards. It's $199 for the standard edition. For $600, a Collectors Edition includes a 1/1 graphite drawing of a Hall of Famer of the buyer's choice included within. (A $1,500 Deluxe Edition that included a small painting is sold out.) For more information, visit www.dickperez.com.
We'll have a second Q&A with him in another upcoming issue of BSCM that's focused on artwork in the sports card and memorabilia world. That's an issue that will feature a cover graced by a painting that Perez is preparing right now.
Chris Olds is the editor of Beckett Baseball. Have a comment, question or idea? Send an e-mail to him at colds@beckett.com. Follow him on Twitter by clicking here.