Teasing 2011 Topps Heritage …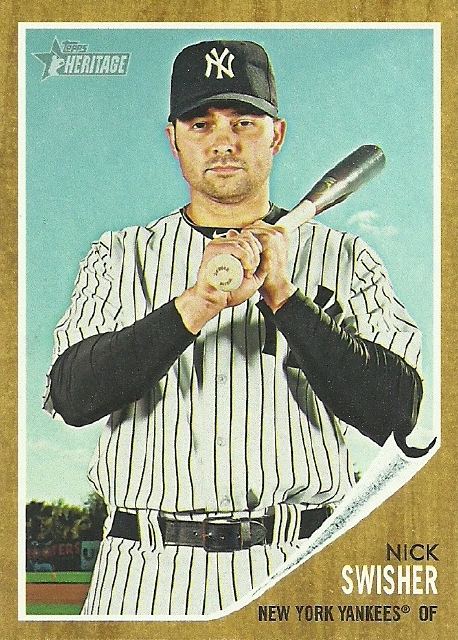 By Chris Olds | Editor
We should have our hands on some 2011 Topps Heritage baseball cards soon — it officially arrives in hobby shops on Wednesday — but here are some observations about the set modeled after the 1962 Topps release that you should be looking for.
Tinted windows
The 1962 set had several cards that had an odd green tint to them and that anomaly is back with "green tint" variations where the photos are slightly greenish. Not to be outdone, it appears that those same cards found in Walmart retail packs have blue tints and Target cards have red tints. This has not been confirmed by Topps, but early breaks online indicate this to be the case. The reds are rather jarring, while the blues and greens are somewhat mellow — may not be as easily noticed. It also appears that cards with variations in this stretch of the set also have tinted variations, adding to the collecting challenge.
Back in black?
There also are black-border variant cards — a new creation found on the standard cards. They arrive three per retail three-pack packages. In the past, Chrome inserts had black variations … so not sure what's going on here. Confirmed so far, however, are Green Refractors …
Variations like in 1962 …
The 1962 set had three versions of card No. 139 — a Babe Ruth Special and two Hal Reniffs. Looks like Joba Chamberlain plays Reniff this year … do we need more Yankees cards — much less more Jobas?
The short report
The standard set consists of 425 cards, so the high-numbers from 426-500 are SPs. (Not confirmed by Topps, but is very, very likely.)
Hats off
The hatless look that was common in older Topps sets — and last year's Heritage and T206 releases — is back in some instances here. While I wasn't a fan of those cards at all — still not — there are a few highlights. Find Brian Wilson's card to marvel at the 'do … and wonder why The Beard isn't there.
We'll have more on Heritage in the coming days.