The BGS 100 Most Submitted Cards: 70-61
When you click on links to various merchants on this site, like eBay, and make a purchase, this can result in this site earning a commission.
The BGS 100 Most Submitted Cards Countdown has been full of names you may have suspected. Kobe Bryant, Michael Jordan, Cal Ripken Jr, and Ken Griffey Jr have all made appearances through the first 30 cards. Then there have been those names that really make you question what we as a hobby were thinking. For example, Matt Leinart, Jimmy Clausen, and Brady Quinn all cracked the Top 100.
That's the beauty of collecting though. There is no real wrong way to do it. You collect what makes you happy and if that means you need a Gem Mint 2010 Score CJ Spiller rookie, then go and get you one. Just keep that in mind as you make your way through this week's entries.
So, let's pick back up with the BGS 100 Most Submitted Cards Countdown with entry number 70.
70. 1991 Topps Traded #45T Jason Giambi USA RC (4,324 Copies Graded)
I'm not familiar with this version of Jason Giambi. I remember the controversial Giambi who loved to party with the A's and was kind of a bust with the Yankees. This Giambi here, young and full of potential, is a stranger to me. Look at that smile, he has his whole MLB career in front of him with nary a thought about steroids. Oh, to be young again.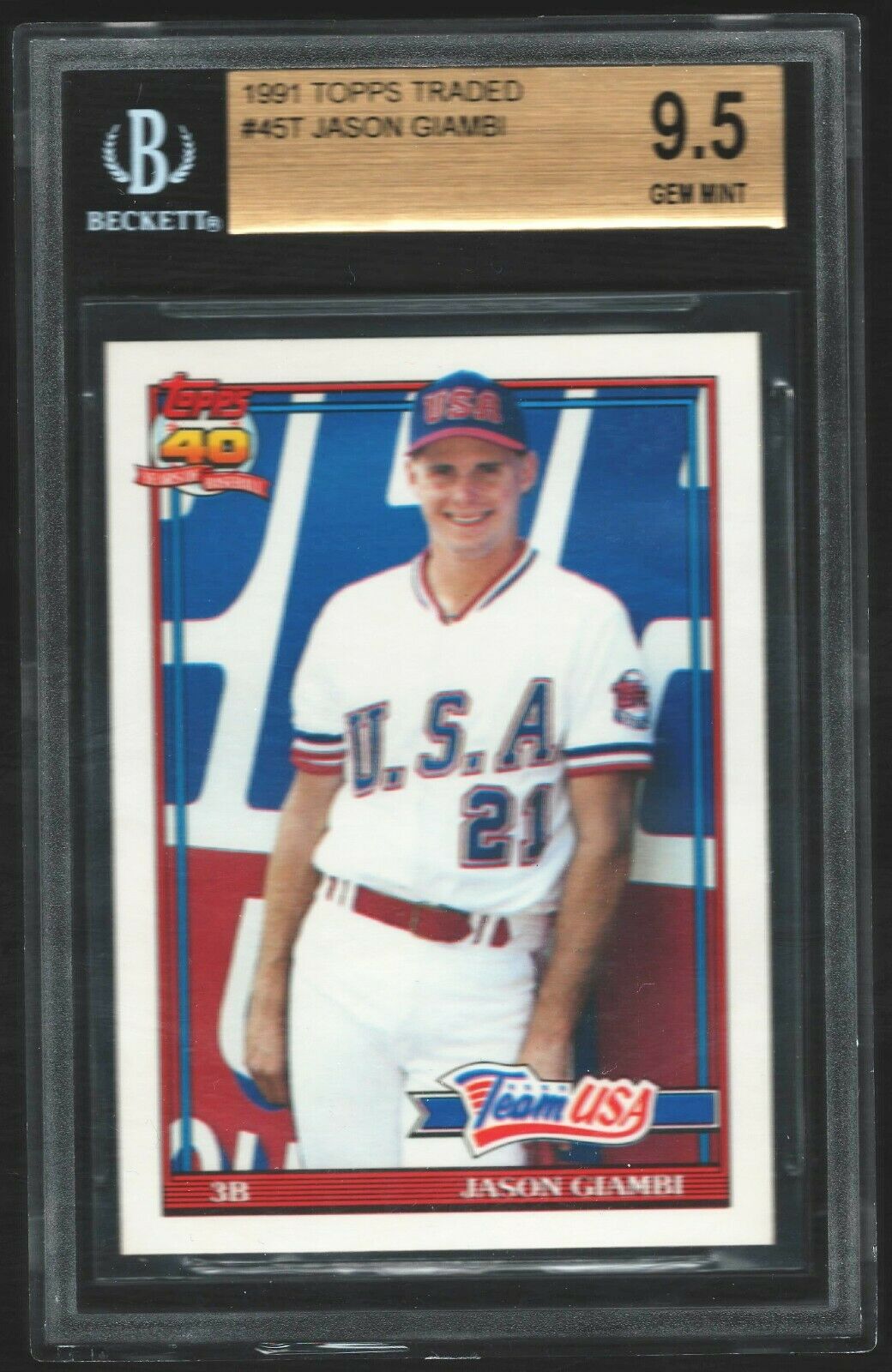 69. 2007 Score #341 Adrian Peterson RC (4,389 Copies Graded)
Now, this is a version of Peterson that I am familiar with. For those younger collectors out there, or those just getting into NFL, please know that Adrian Peterson you see on the Lions today is a far cry from who he was back in 2007. His nickname "AD" stood for "All Day" because that was how much of a force he was. He was everything he was advertised to be and then some. Injuries and have slowed him down later in his career, but he still shows flashes of who he used to be.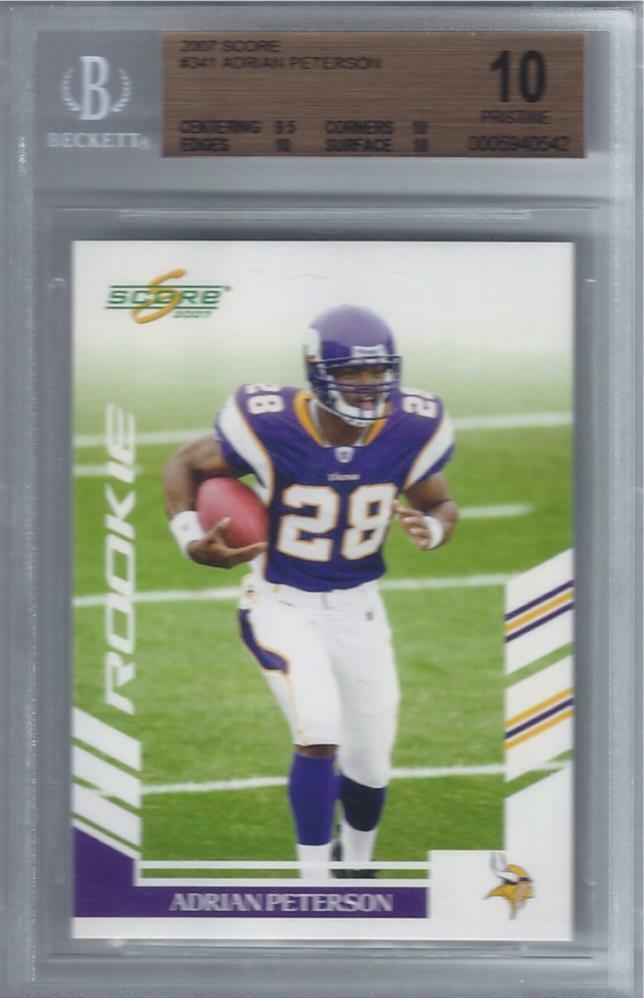 68.  1992 Bowman #461 Mike Piazza RC (4,474 Copies Graded)
Piazza was the Rookie of the Year in 1993 and finished 9th in the MVP voting, and thus his Hall of Fame career began. A 12x All-Star and 10x Silver Slugger, Piazza was never afraid of the limelight. Which is part of the reason why he faired so well in the Los Angeles and New York markets. He had many great moments in the MLB, but the broken bat incident with Clemens will always be at the forefront of his career highlights. In my opinion, Mike is underrated in the hobby.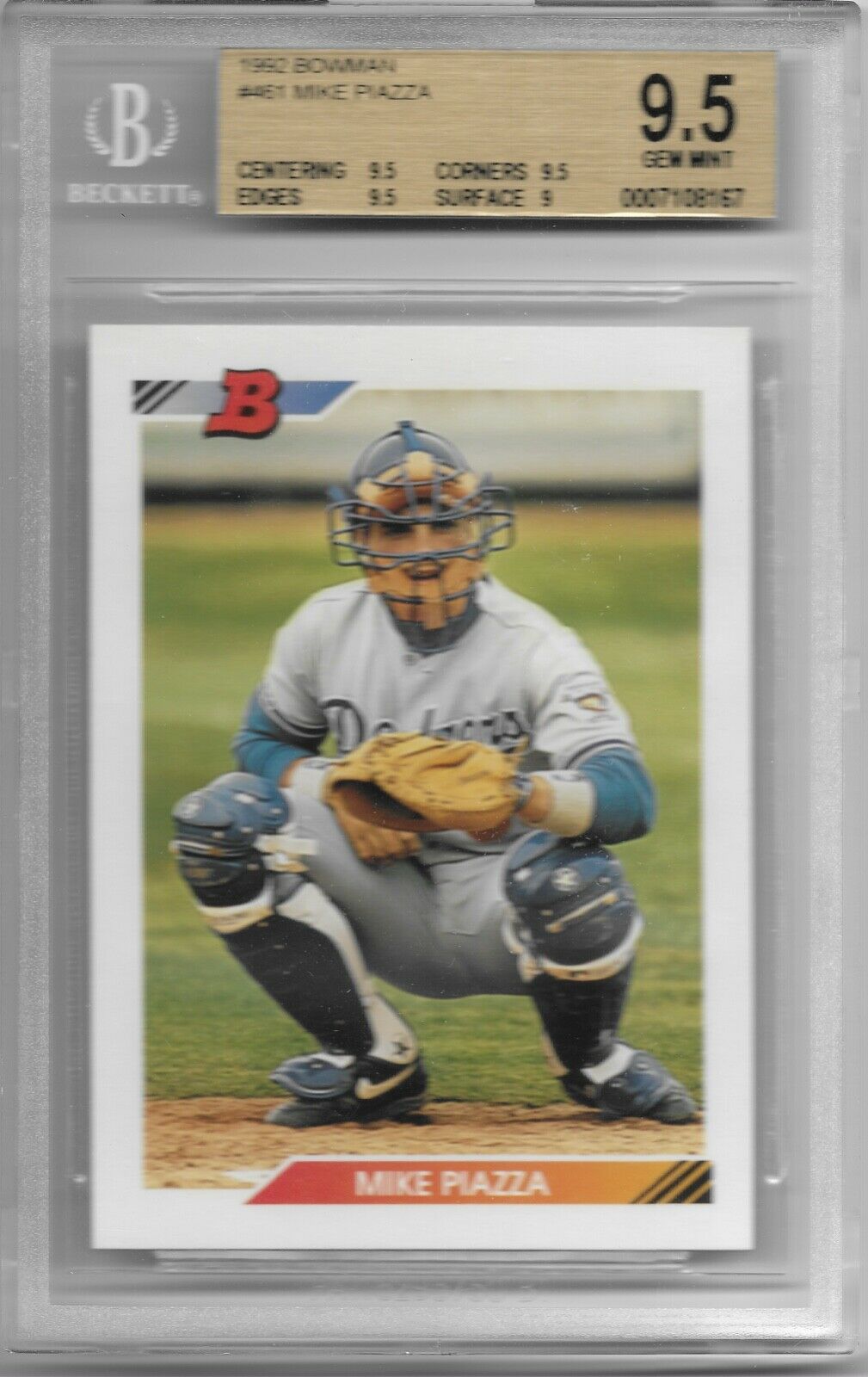 67.  2006 Score #350B Jay Cutler/updated game action photo/Factory Set only (4,492 Copies Graded)
Just ask any Broncos or Bears fan about what they think about Jay Cutler and you will hear tales of disappointment. However, what Jay may have lacked on the gridiron, he more than made up for in his second career as a reality TV star on "Very Cavallari". Cutler was cold and calculated at every blitz his wife and her friends threw at him. In fact, he was pretty much awesome in every facet of that shows run. Jay Cutler may have shown glimpses of the QB he was at Vandy in the NFL, but on Very Cavallari, he was the star of the show.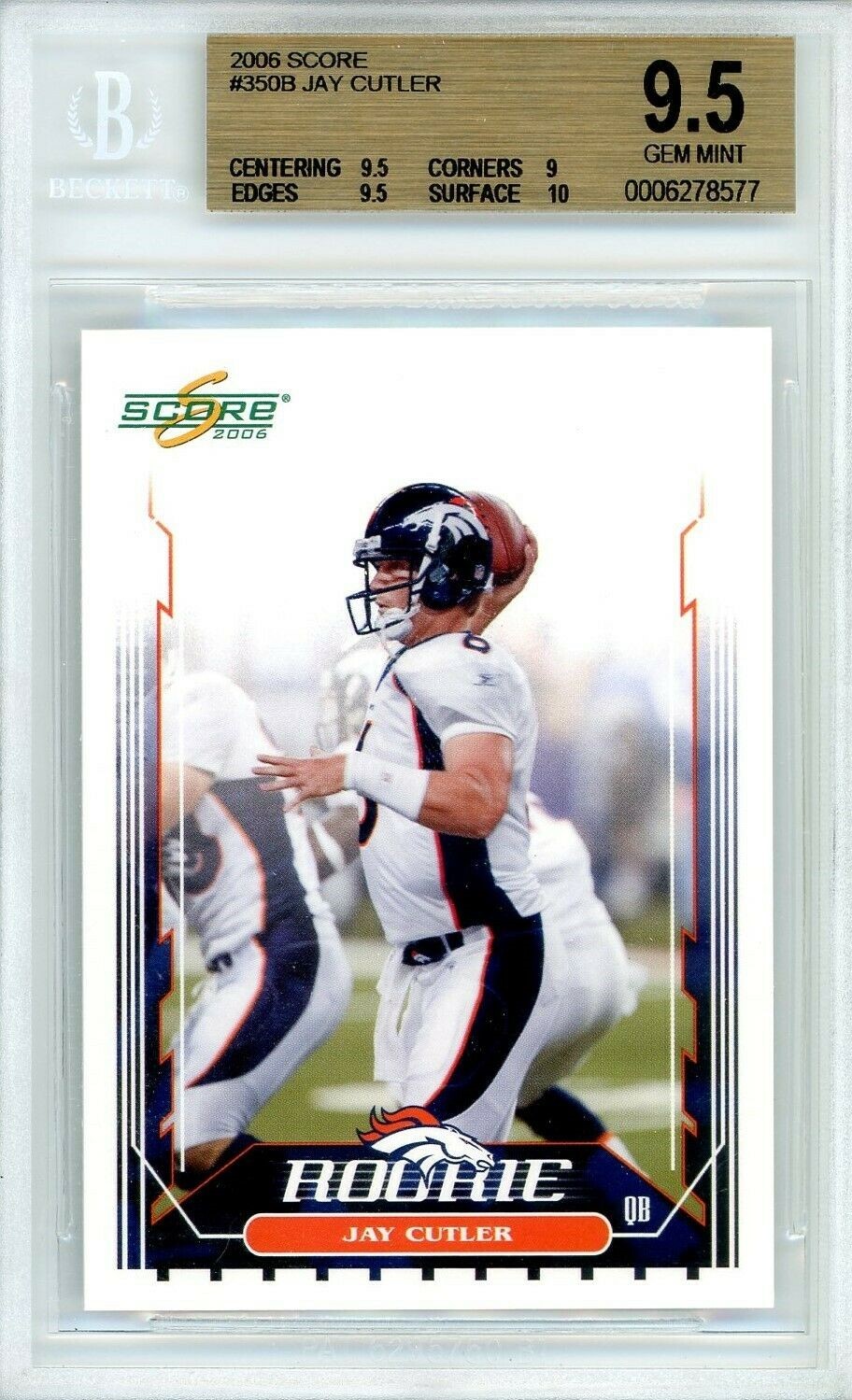 66.  1996-97 Finest #74 Kobe Bryant B RC (4,532 Copies Graded)
This is Kobe's third card on the BGS 100 Most Submitted Cards Countdown and each one has gotten progressively more expensive. If you are looking for a high-end Kobe Bryant rookie that doesn't say "Topps Chrome" on it, this is it.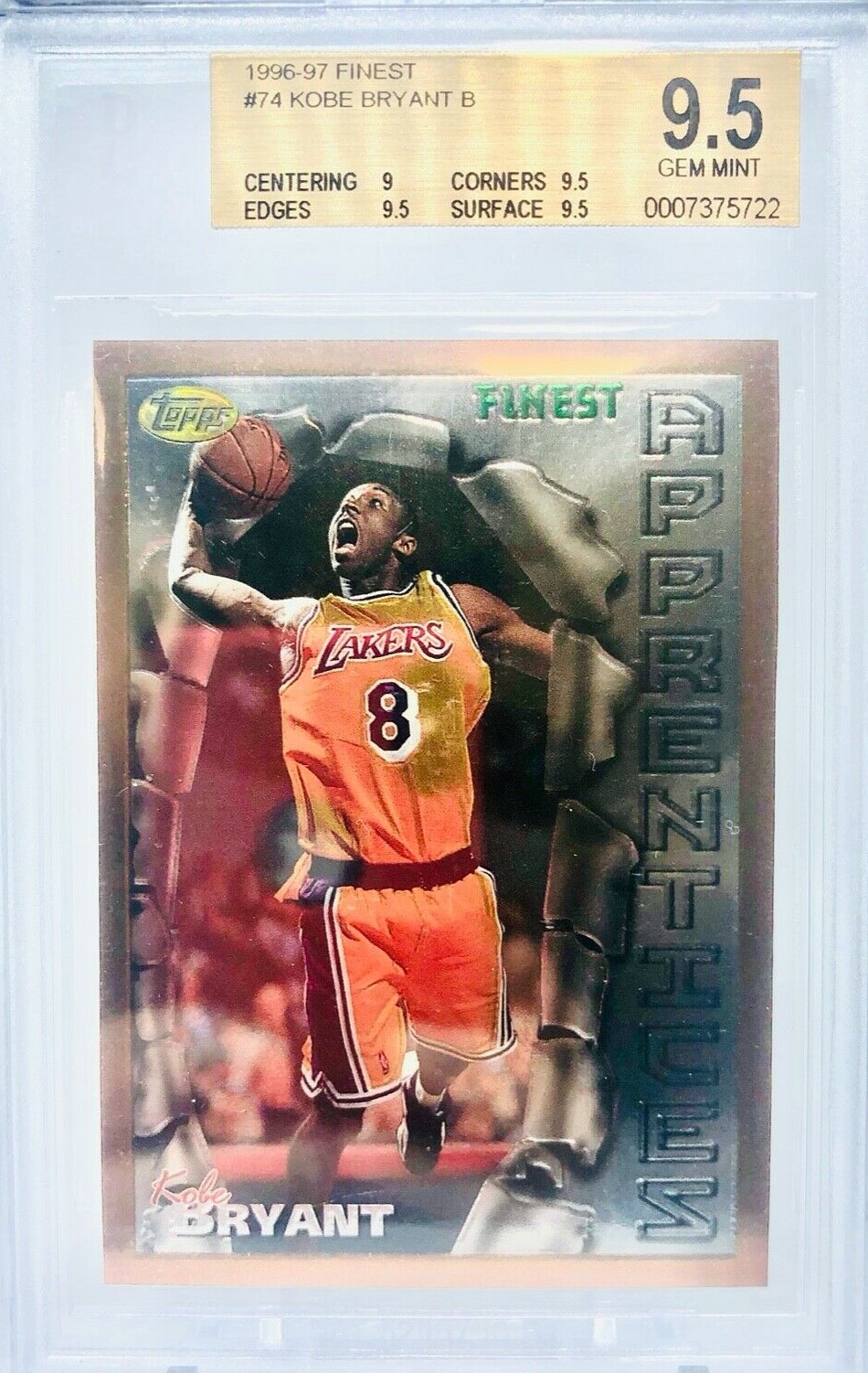 65. 1982 Topps Traded #98T Cal Ripken (4,613 Copies Graded)
Another repeated name on the countdown here at number 65 with Cal Ripken Jr.  I know everyone loves his rookie from the Topps Flagship set, but I happen to think this one is better as it just features Cal.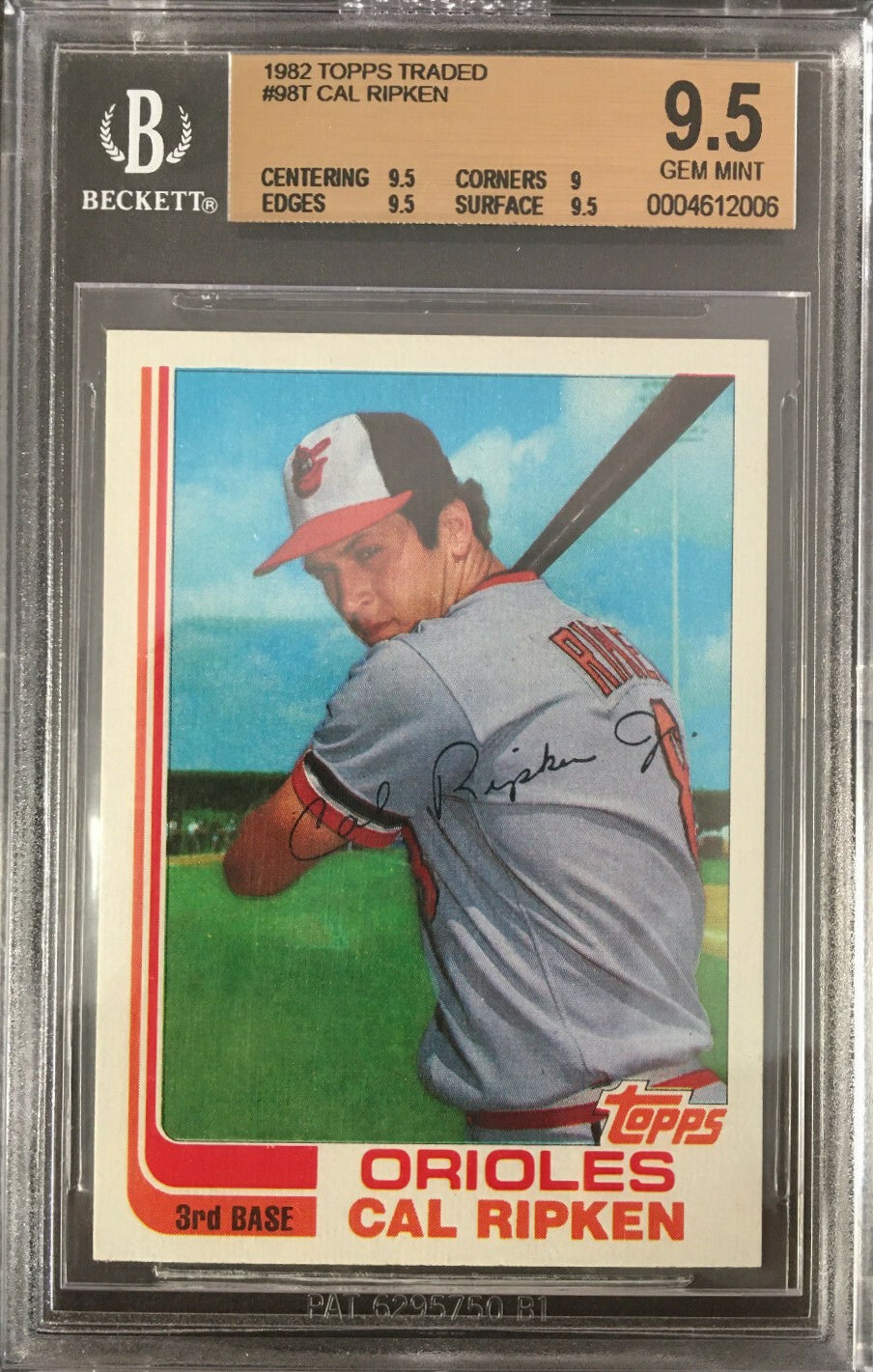 64. 2006 Score #334 DeAngelo Williams RC (4,659 Copies Graded)
NFL scouts swing and miss on running backs all the time. Guys who were full of potential in college sometimes just don't make it on the next level. However, I don't think that can be said of Williams. The Panthers drafted him 27th overall in 2006 and he was part of a two-headed monster out of their backfield alongside Jonathan Stewart. Splitting time with Stewart help elongate his career. Barring injury, he never rushed for less than 500 yards a season which meant he was solid and dependable. He may not be a hobby standout, but Panthers fans remember him fondly.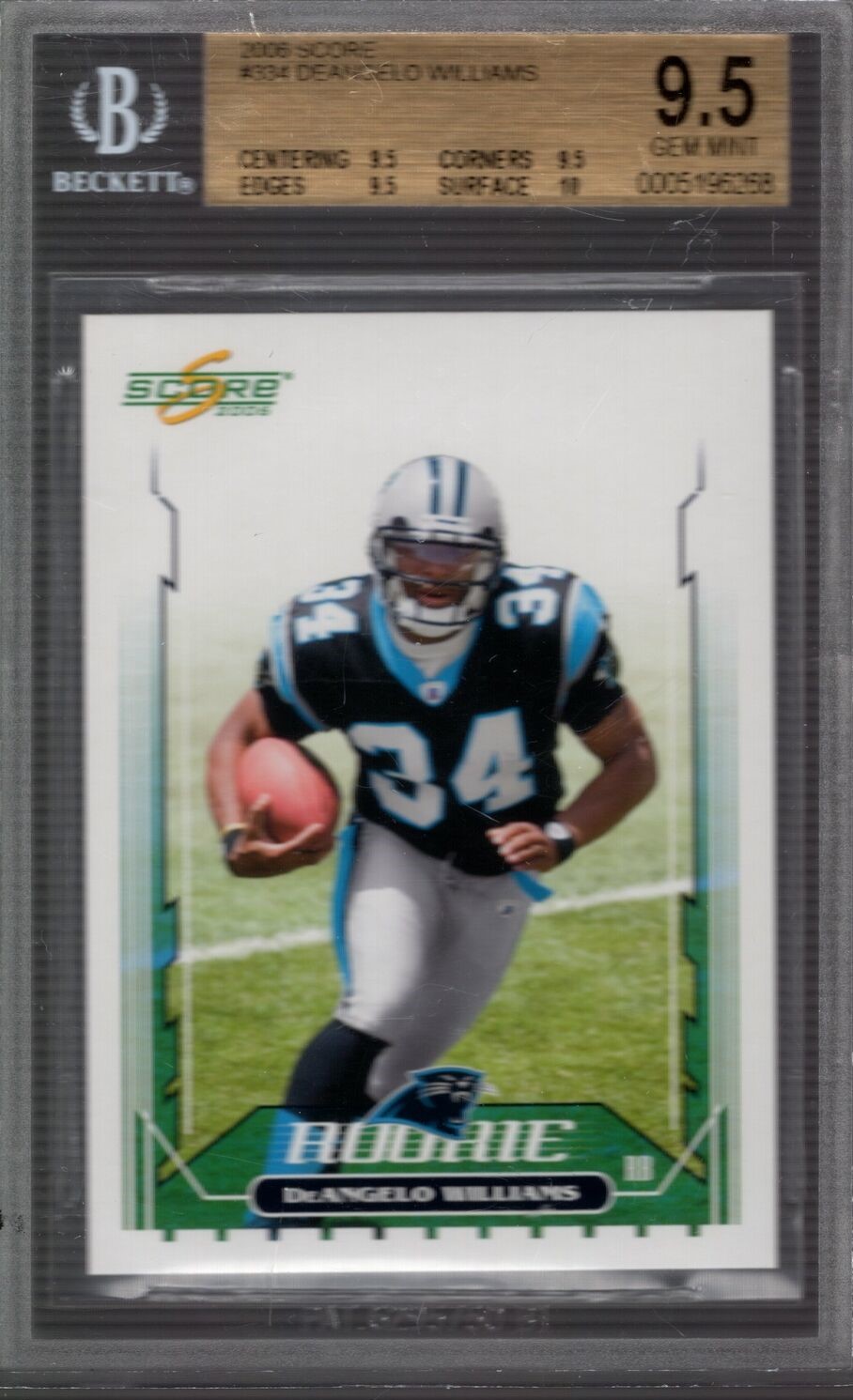 63. 1989 Donruss #42 Randy Johnson RC (4,667 Copies Graded)
If I'm standing in the batter's box in 1989 the last person on the mound I want to see is Randy Johnson. He was a 6′ 10″ erratic pitcher who's fastball may just end your career. I would want no part of that. Randy eventually overcame those issues and worked his way to 5 Cy Young Awards and a Hall of Fame career, but not before murdering that bird.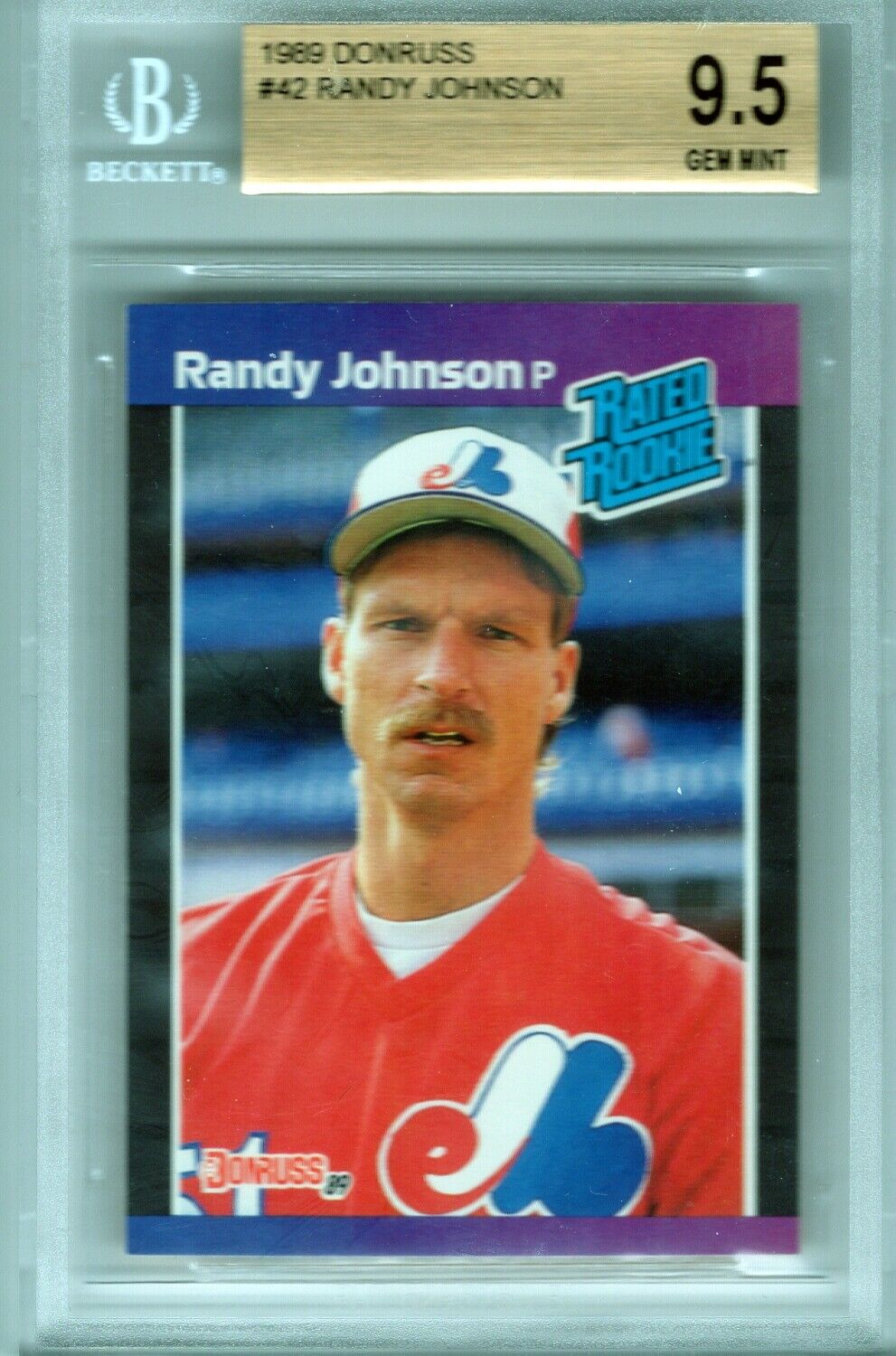 62. 2001 Upper Deck #295 Albert Pujols SR RC (4,767 Copies Graded)
Where 2001 Upper Deck is concerned, I never pulled this card. Not once. I can vividly remember pulling the Ichiro but never Pujols. Albert's career started off with a Rookie of the Year nod and he finished 4th in MVP voting. Since then he has been nothing short of incredible.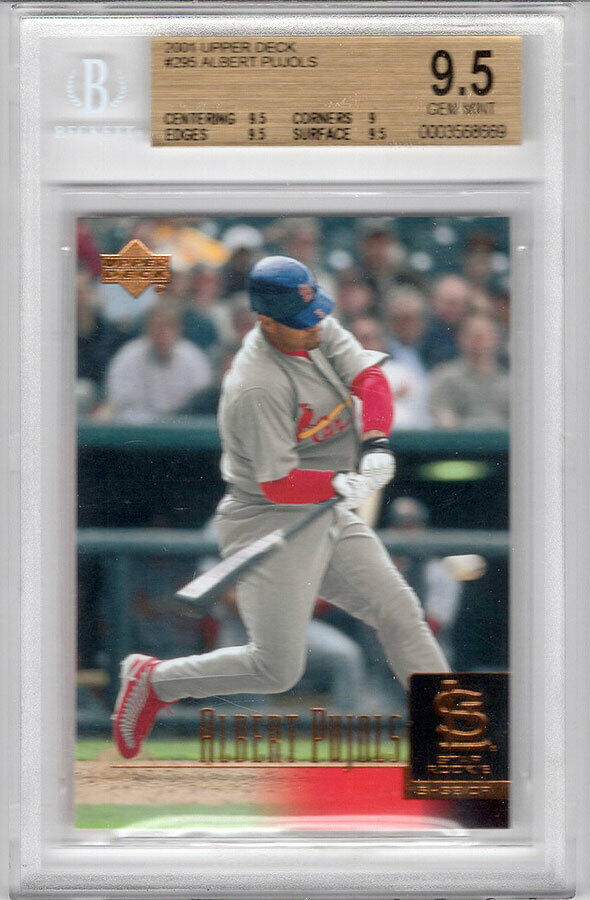 61. 1990 Donruss #489 Sammy Sosa RC (4,793 Copies Graded)
Our final entry on the BGS 100 Most Submitted Cards Countdown this week is another Sammy Sosa. If you're not keeping track this is the second time his name has appeared on the countdown. This time it's for his 1990 Donruss which can only be explained away by popular he became later that decade. As you will see in the weeks to come, Sammy has his place in the hobby, even if it is from junk wax era products.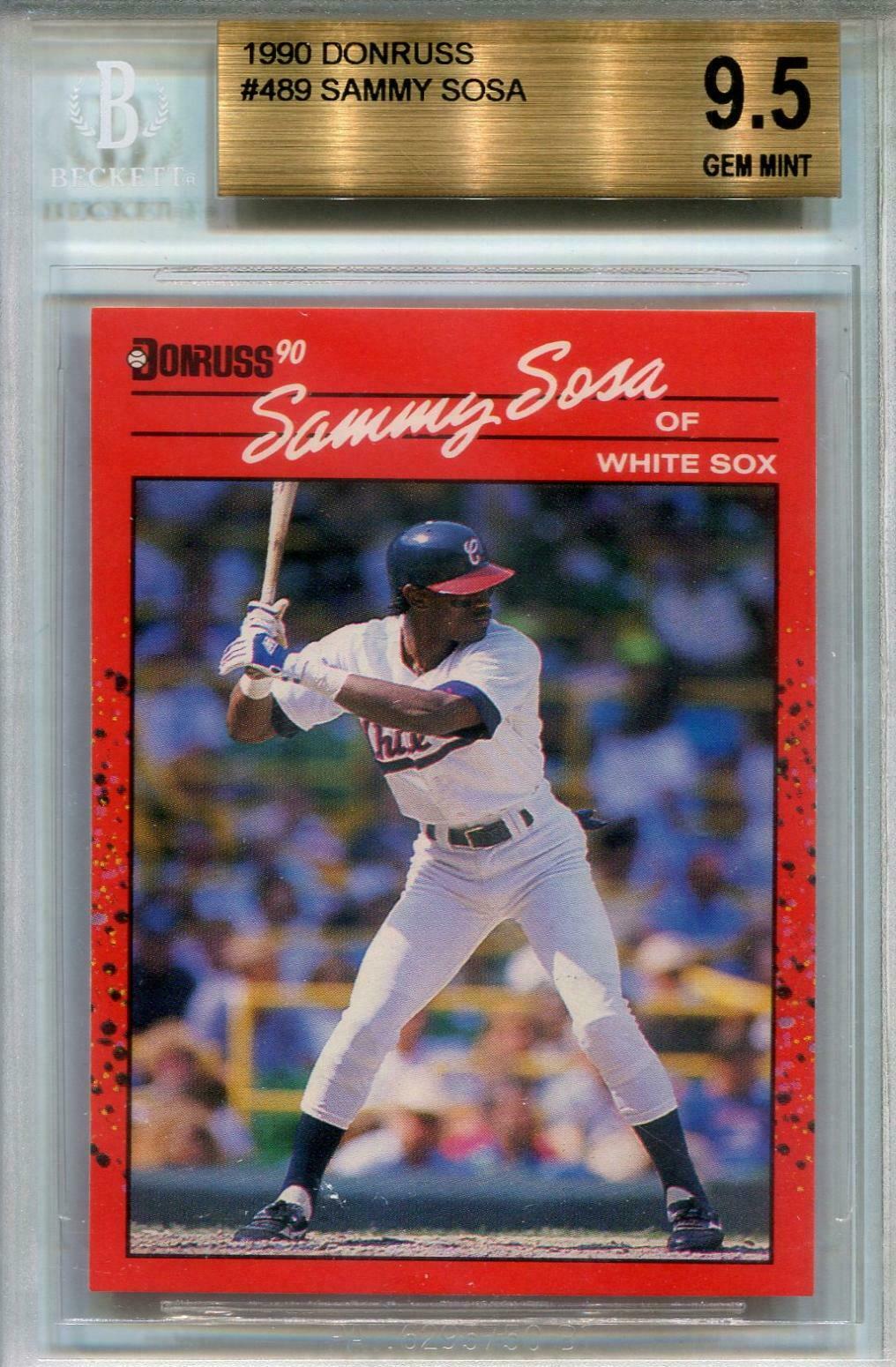 So, that it for this week. Let us know how many of these cards you have in your collection. Also, if you missed the first 30 entries on the countdown you can check them out here.