First look: 2011 Topps American Pie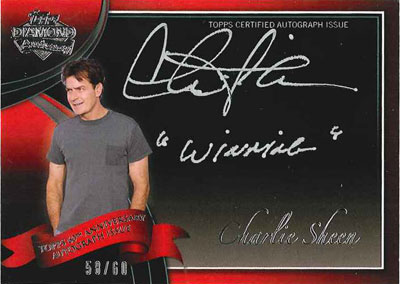 By Chris Olds | Beckett Baseball Editor
The Pie is back.
After nearly a decade since its last go, Topps has revived its American Pie line of cards as it unveiled the first glimpses at the non-sports set that will celebrate pop culture and personalities when it arrives on Dec. 14.
While the set was largely a baseball release with history and pop culture inside it in the past, this time American Pie is largely everything but sports — a 200-card base set of historic moments, places and people who helped defined the times. Each 24-pack hobby box will include three autograph or Relic cards as well as a buyback past Topps card.
There will be a parallel card or an insert in every pack with the Hollywood Walk of Fame, Fads and Fashions and Hirsute History (yep, notable hairstyles) among the insert sets.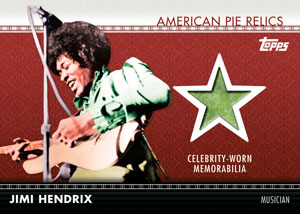 Some of the notable signers for the product will include Mickey Rooney, Jimmie Walker, Bob Costas, Charlie Sheen, Chris Hansen, Kato Kaelin, Tom Arnold, Tia Carrere, Henry Winkler, Sean Astin, Carmen Electra, Jack Hanna, Naomi Judd, Susan Lucci, Chynna Phillips, Bret Michaels, Jeffrey Ross, Wilmer Valderama, Paul Teutul Sr., Gilbert Gottfried, Dean Cain, Billy Baldwin, Joey Fatone and more.
There will be 40 celebrity autographs to be found with 200 copies of each card, while Sheen will be on a limited 60th anniversary card as seen above. There also will be buyback autographs, cut signatures, dual cuts and quad cuts. Autographed Relics also will be found, each limited to 50 copies, while cut signature Relics will be 1/1s — as are all cut autographs in the product.
The Relic lineup will include swatches of clothing from the likes of Jimi Hendrix, Walk of Fame patch cards, stamp Relics, coin Relics  and more.
Hollywood sign letter patches will be found as single letters while there will be fold-out booklets as well for all 25 celebrities featured. The Walk of Fame set will feature 25 stars who were honored with each of those cards limited to 50 copies.
The American Pie Relics will include 50 subjects, while an American Pie Stamp Collection Relic set will showcase a person along with a stamp from the year they were born.  The same approach will be used for 75 people with coin Relics but each one will be found with penny, nickel, dime, quarter and 50-cent piece versions. All of those cards will be limited to just 76 copies.
Chris Olds is the editor of Beckett Baseball magazine. Have a comment, question or idea? Send an email to him at colds@beckett.com. Follow him on Twitter by clicking here.