Pro wrestling legend Mick Foley auctions off his card collection, notable memorabilia for RAIN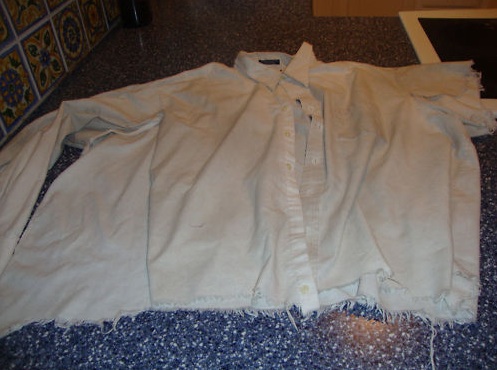 By Chris Olds | Beckett Sports Card Monthly Editor
Mick Foley's professional wrestling career is one that can be summed up in one word — violent.
But these days, outside the ring, Foley is anything but that. In fact, you could use the word charitable to sum up his latest efforts to raise money for victims of sexual abuse.
That's meant auctioning off his childhood baseball and basketball card collections — his personal treasures just like everyone else who bought plenty of 1972, 1974 and 1976 Topps — but now it's getting serious as the mementos of a career are on the auction block with 100 percent of the proceeds benefitting RAINN.
Now, significant items from his wrestling career — one so infamous he'll end up in multiple Halls of Fame — are on the block. The shredded white dress shirt seen above? It was what Foley, as Mankind, wore in one of the most-brutal matches in WWE history, a Hell in the Cell match against Undertaker.
Sure, the result of the 1998 match … it was fixed. But there was nothing fake about the bumps Foley took. Here's a highlight reel of two moments — then read more after the jump.
[youtube]http://www.youtube.com/watch?v=1MwZBINfWNE[/youtube]
—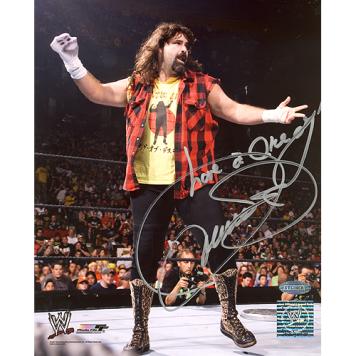 The match included Foley being thrown off the top of a steel cage 16 feet to a table on the floor and then through the roof of the cage down to an unforgiving canvas ring surface. It resulted in multiple serious injuries and a lost tooth — that could infamously be seen hanging from his nose during a close-up after the match.
Now, that priceless piece of wrestling memorabilia can be yours. With nearly a week remaining in the auction, the tattered shirt is at $327 after 11 bids — and it's not alone in its attention on the auction block. A pair of leopard print boots worn by Foley under his even-more-violent Cactus Jack persona are at $610 after just two bids. What makes these even more interesting? The bottoms are filled with match-used thumbtacks — some 149 according to Foley's count — that missed entering his body during a hardcore match.
Also up for grabs are one of Foley's famed red flannels used during a match, his brown Mankind shirt worn throughout his career, the Mankind "mandible claw" leather strap and, yes, even an authentic Mr. Socko — a sock-puppet stored in his sweatpants but used when he defeated The Rock for the WWE title in 1998.
Foley's big push with these items comes on the heels of his selling his card collection in several auctions as part of an effort to raise $100,000 for the charity. It's a total that already has been surpassed via donations — with rewards for various amounts including autographed photos, a personal phone call and even the ultimate honor (I guess), having a hardcore legend personally show up at your home to mow your lawn for a $5,000 donation.
It's an impressive push for a good cause — largely through Foley's use of social media — and it's been interesting to watch the auctions unfold both as a collector and a fan.
For more information, watch the video below.
[youtube]http://www.youtube.com/watch?v=JGwIcAG44H0[/youtube]
Chris Olds is the editor of Beckett Baseball. Have a comment, question or idea? Send an e-mail to him at colds@beckett.com. Follow him on Twitter by clicking here.