Card shop adds another dimension to its promotions
Southbay Cards is back with one of its special promotions. The brick-and-mortar shop in Lomita, Calif., has looked for new ways to keep sports fans and collectors coming through their door.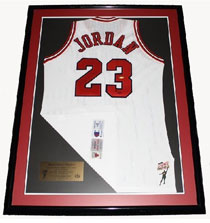 Their Super Boxes have been a success for baseball. Now, Southbay Cards is trying it out with baseball and football boxes.
In each 2011 Playoff Super Box, there will be 10-11 autograph and memorabilia cards per box with players such Kobe Bryant, Blake Griffin, Sam Bradford, Tim Tebow and other NBA and NFL stars.
Also inside each box is a raffle ticket. Each box cost $99.95, and when they sell out, the raffle tickets will be pulled to award 20 extra prizes.
Some of the extra prizes include a Michael Jordan Upper Deck Authenticated Mr. June limited autographed framed jersey or an autographed Blake Griffin Los Angeles Clippers jersey. Football fans can hope to grab a Dan Marino signed football or signed items from Matt Ryan, Rey Maualuga or Joe Montana.
Southbay has done this promotion with baseball. In its last giveaway, Southbay handed a signed Babe Ruth ball to one lucky collector.