First Look: 2015 Wacky Packages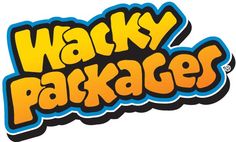 By Matt Bible | Beckett Non-Sports and Gaming Analyst
This summer, things will once again get a little wacky.
Topps announced last week the release of 2015 Wacky Packages. This is by far the longest-running parody series in non-sports with the first release coming in 1967. Even though releases had thinned out in some decades more than others, the mass appeal of seeing your favorite washing detergent or candy bar being parodied has remained strong the past 48 years.
This year's product will be once again be available in hobby and collector's edition versions. It will carry a suggested retail price of $2.49 per pack. There are 24 packs per hobby box with each pack containing 10 stickers. The base set consists of 110 stickers and will have some fun little subsets such as Coming Soon (which parodies TV and movies), Crazy Collectibles (funny products and hobbies), and Batty Baseball — a comical homage to the national pastime. The hobby version will also have several parallels including the hobby-exclusive Pattern (one per pack), Silver Border (1:3), Gold Border (/25) and Pencil Art (1:24). Rounding out the hobby version will be a 10-card Tattoo set and various sketch cards by artists like Brent Engstrom and Joe Simko.
For those wanting a little more bang for their buck, the collector's edition may be for you. It includes everything not-exclusive to the hobby version plus much more. The suggested retail price is $4.99 with 14 packs per box and six stickers per pack. There are many exclusive parallels including — Red Metallic (one per pack), Black Ludlow (1:14), Red Ludlow (1:84), Wacky Backs (/15), and Wood (/10). Rounding out the product are a variety of inserts and hits such as On-Card Artists Autos (/15), Shaped Sketches and Printing Plates. New additions include Panoramic Sketches, Embroidered Logo Patches (wwith rare variants), and Wardrobe cards (with rare and super rare variants).
Wacky Packages is slated for a June 3 release. No preliminary checklist has been unveiled at this time.
Matt Bible is the non-sports and gaming analyst for Beckett Media. Have a comment, question or idea? Send an email to him at mbible@beckett.com.