Philip Rivers and Another Amazing Comeback – Beckett Pricing Insider
With four seconds left and down by seven, Philip Rivers threw a touchdown pass to Mike Williams for his third score of the game. Everyone thought the game was headed to overtime, but the Chargers had other ideas. They decided to go for a two-point conversion and, once again, a Rivers-to-Williams pass converted and won the game for Los Angeles.
For the first time since 2013, the Chargers are in the playoffs and have a chance at the best record in the AFC.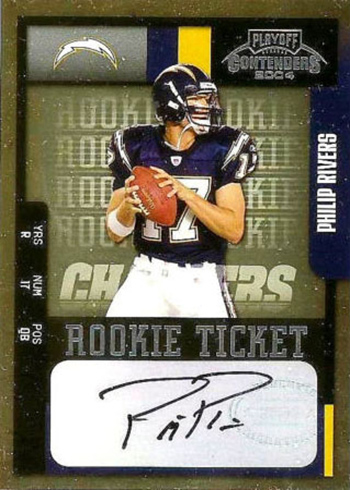 Philip Rivers has been one of the hottest quarterbacks this season, throwing for almost 4,000 yards already and 31 touchdowns. If it wasn't for Patrick Mahomes and the Chiefs, more people would be talking about the Chargers and how great this team is. After Thursday's game both teams have the same record (as of now, the Chiefs hold the edge for playoff positioning) and there is a chance the Chargers take the division from the Chiefs.
Rivers currently has almost 7,400 cards in the Beckett Online Price Guide. He as always consistently sold well, but it always seems like he has been overlooked by collectors. No matter how good of a season he has, someone always seems to do something more in collectors' eyes.
He was drafted in 2004 with Eli Manning and Ben Roethlisberger, both of whom have two Super Bowl wins to Rivers' zero appearances.
This year is different though. Rivers' cards are selling stronger and some of his values are actually rising. If he can lead the Chargers to a division title and take some of the attention away from the Chiefs, his cards might go higher. Only time will tell, but this year feels like it will be the best chance for Philip Rivers to make the big game and entrench his place in the hobby.