1994 Topps Finest Protector Samples Among Decade's Scarcest Baseball Cards
It has been a couple of years since I added a new John Jaha card to my collection. That changed recently when I came across something I didn't know I was looking for. Thinking I was down to a bunch of early one-of-ones and a checklist for some test issue marbles,  I had no idea that there were 1994 Topps Finest Protector Samples out there.
But they are, offering some of the first mentions of a trend that would become part of the hobby for a handful of years — the peel protector.
Technically, the 1994 Topps Finest Protector Samples aren't officially released cards. They're not part of a test issue and the were never included in packs. But they do exist.
Here's the one I now have in my collection: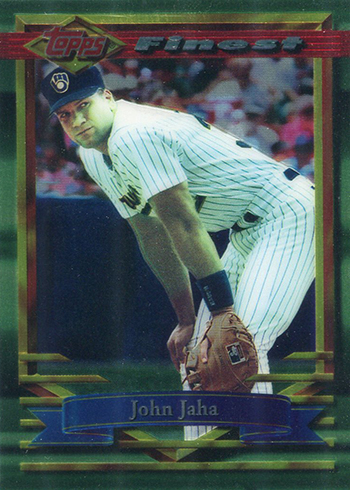 From the front, it looks just like regular 1994 Topps Finest Baseball cards.
The backs are a totally different story: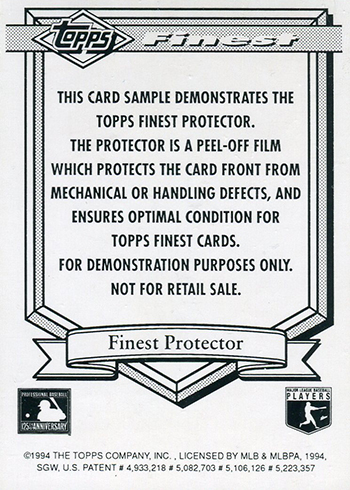 In all honesty, I didn't try to peel it to see if there was a film fearing the combination of possible damage and likelihood I'll ever find another one. An actual protector isn't noticeable, though.
All of the cards have the same back. As a result, there is no numbering.
Where Did the 1994 Topps Finest Protector Samples Come From?
The 1994 Topps Finest Protector Samples appear to be a prototype. As such, the cards were intended for testing, not collecting.
Someone in this Blowout Forums thread from 2016 mentions they obtained cards from an executive from Signs & Glassworks, the company that developed the chromium used in the brand's early days. The company is mentioned on the back of the Protector Sample in the fine print (SWG).
While not confirmed, the post mentions that it's unlikely that more than ten copies of each sample exists. Even if the number is slightly higher than ten, 1994 Topps Finest Protector Samples are tough. Just a handful of singles are available on eBay. These aren't a new find. Collectors have known of their existence for a while. But due to their prototype status are rarity, they've flown largely under the radar.
It's important to note that these are not the same as the 1994 Finest Pre-Production cards found in 1994 Topps Series 2 Baseball packs.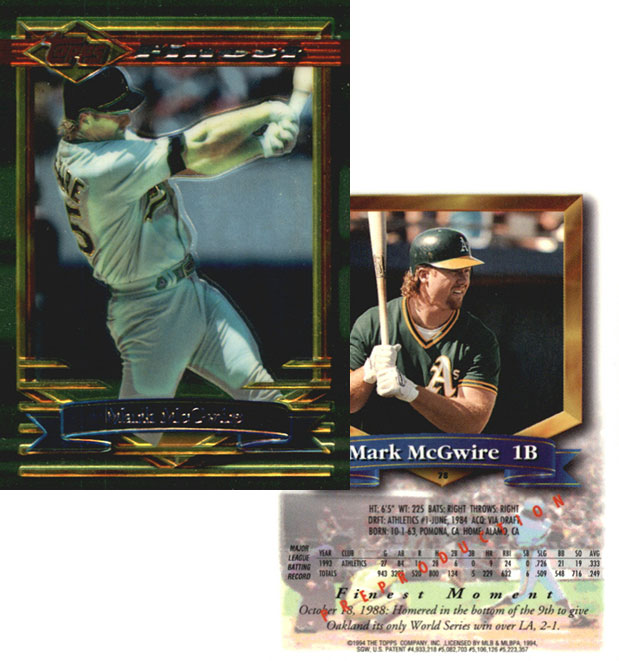 As for the technology the cards were testing, it wasn't long before the Protector made its official Finest debut. 1994-95 Finest Basketball uses the peel.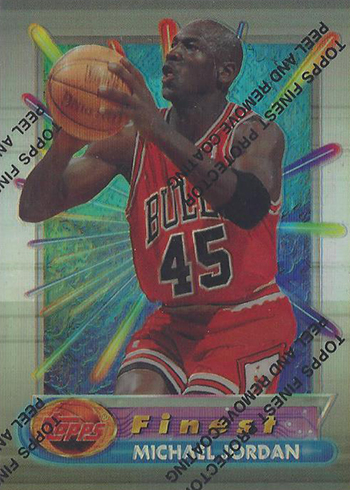 It continued to be used for a few years after. It wasn't exclusive to Finest or even Topps, either. Other companies used protective film as a way to emphasize keeping cards in the best condition possible. The idea was that the film kept surfaces safe from scratching and other damage.
Set Size
According to this Sig Auctions listing, there are 108 total 1994 Topps Finest Protector Sample cards. The auction, which closed on May 12, 2017, saw all 108 cards sell together in a single lot for $831. Yes, that's a lot of money, but it breaks down to roughly $8 a card. In those terms, a likely bargain. Sure, you're probably not going to find a lot of Jaha buyers out there willing to spend much (apologies to whoever ends up with my collection after I've passed away). But there are lots of big names to be found.
The checklist does have some heavy hobby hitters like Kirby Puckett, Tony Gwynn, Greg Maddux, Ryne Sandberg and Roger Clemens. However, it's also missing a couple of the era's biggest stars in Ken Griffey Jr. and Frank Thomas.
Every MLB at the time has at least one card on the 1994 Topps Finest Protector Samples checklist. The majority of teams have between three and five. With seven cards, the Montreal Expos have the most.
1994 Topps Finest Protector Samples Checklist
Base
108 cards.
Jim Abbott
Roberto Alomar
Moises Alou
Wilson Alvarez
Rich Amaral
Brady Anderson
Rene Arocha
Brad Ausmus
Jeff Bagwell
Albert Belle
Jason Bere
Dante Bichette
Mike Bordick
Steve Buechele
Jeromy Burnitz
Chuck Carr
Joe Carter
Wes Chamberlain
Roger Clemens
Jeff Conine
Steve Cooke
Wil Cordero
Darren Daulton
Chili Davis
Mike Devereaux
Rob Dibble
Dennis Eckersley
Cecil Fielder
Chuck Finley
Darrin Fletcher
Mike Gallego
Carlos Garcia
Brent Gates
Juan Gonzalez
Doc Gooden
Jim Gott
Ricky Gutierrez
Tony Gwynn
Bob Hamelin
Chris Hammond
Mike Henneman
Orel Hershiser
Chris Hoiles
Dave Hollins
John Jaha
Gregg Jefferies
Randy Johnson
Pat Kelly
Jeff Kent
Jeff King
Mark Langston
Mike Lansing
Darren Lewis
Pat Listach
Kenny Lofton
Greg Maddux
Edgar Martinez
Tino Martinez
David McCarty
Mark McLemore
Greg McMichael
Pat Meares
Orlando Merced
Mike Morgan
Hal Morris
Mike Mussina
Charles Nagy
Jamie Navarro
Troy Neel
Paul O'Neill
Jose Offerman
Joe Oliver
Joe Orsulak
Eduardo Perez
Mike Piazza
Phil Plantier
Kirby Puckett
Armando Reynoso
Kevin Roberson
Kenny Rogers
Kirk Rueter
Jeff Russell
Tim Salmon
Ryne Sandberg
Deion Sanders
Reggie Sanders
Aaron Sele
Scott Servais
Don Slaught
John Smoltz
Kevin Stocker
Todd Stottlemyre
Bill Swift
Kevin Tapani
Frank Thomas
Jim Thome
Ryan Thompson
Randy Tomlin
Randy Velarde
Robin Ventura
Larry Walker
Bill Wegman
Bob Welch
David Wells
John Wetteland
Devon White
Darrell Whitmore
Dave Winfield
Team Sets
1994 Topps Finest Protector Samples Team Set Checklists
Here's the checklist broken down by team. Scroll through or click below to go directly to that team.
1994 Topps Finest Protector Samples Atlanta Braves Checklist
Greg Maddux
Greg McMichael
Deion Sanders
John Smoltz
1994 Topps Finest Protector Samples Baltimore Orioles Checklist
Brady Anderson
Mike Devereaux
Chris Hoiles
Mark McLemore
Mike Mussina
1994 Topps Finest Protector Samples Boston Red Sox Checklist
Roger Clemens
Jeff Russell
Aaron Sele
1994 Topps Finest Protector Samples California Angels Checklist
Chili Davis
Chuck Finley
Mark Langston
Eduardo Perez
Tim Salmon
1994 Topps Finest Protector Samples Chicago Cubs Checklist
Steve Buechele
Mike Morgan
Kevin Roberson
Ryne Sandberg
1994 Topps Finest Protector Samples Chicago White Sox Checklist
Wilson Alvarez
Jason Bere
Frank Thomas
Robin Ventura
1994 Topps Finest Protector Samples Cincinnati Reds Checklist
Rob Dibble
Hal Morris
Joe Oliver
Reggie Sanders
1994 Topps Finest Protector Samples Cleveland Indians Checklist
Albert Belle
Kenny Lofton
Charles Nagy
Jim Thome
1994 Topps Finest Protector Samples Colorado Rockies Checklist
Dante Bichette
Armando Reynoso
1994 Topps Finest Protector Samples Detroit Tigers Checklist
Cecil Fielder
Mike Henneman
David Wells
1994 Topps Finest Protector Samples Florida Marlins Checklist
Chuck Carr
Jeff Conine
Chris Hammond
Darrell Whitmore
1994 Topps Finest Protector Samples Houston Astros Checklist
Jeff Bagwell
Scott Servais
1994 Topps Finest Protector Samples Kansas City Royals Checklist
Bob Hamelin
1994 Topps Finest Protector Samples Los Angeles Dodgers Checklist
Jim Gott
Orel Hershiser
Jose Offerman
Mike Piazza
1994 Topps Finest Protector Samples Milwaukee Brewers Checklist
John Jaha
Pat Listach
Jamie Navarro
Bill Wegman
1994 Topps Finest Protector Samples Minnesota Twins Checklist
David McCarty
Pat Meares
Kirby Puckett
Kevin Tapani
Dave Winfield
1994 Topps Finest Protector Samples Montreal Expos Checklist
Moises Alou
Wil Cordero
Darrin Fletcher
Mike Lansing
Kirk Rueter
Larry Walker
John Wetteland
1994 Topps Finest Protector Samples New York Mets Checklist
Jeromy Burnitz
Doc Gooden
Jeff Kent
Joe Orsulak
Ryan Thompson
1994 Topps Finest Protector Samples New York Yankees Checklist
Jim Abbott
Mike Gallego
Pat Kelly
Paul O'Neill
Randy Velarde
1994 Topps Finest Protector Samples Oakland Athletics Checklist
Mike Bordick
Dennis Eckersley
Brent Gates
Troy Neel
Bob Welch
1994 Topps Finest Protector Samples Philadelphia Phillies Checklist
Wes Chamberlain
Darren Daulton
Dave Hollins
Kevin Stocker
1994 Topps Finest Protector Samples Pittsburgh Pirates Checklist
Steve Cooke
Carlos Garcia
Jeff King
Orlando Merced
Don Slaught
Randy Tomlin
1994 Topps Finest Protector Samples San Diego Padres Checklist
Brad Ausmus
Ricky Gutierrez
Tony Gwynn
Phil Plantier
1994 Topps Finest Protector Samples San Francisco Giants Checklist
Darren Lewis
Bill Swift
1994 Topps Finest Protector Samples Seattle Mariners Checklist
Rich Amaral
Randy Johnson
Edgar Martinez
Tino Martinez
1994 Topps Finest Protector Samples St. Louis Cardinals Checklist
Rene Arocha
Gregg Jefferies
1994 Topps Finest Protector Samples Texas Rangers Checklist
Juan Gonzalez
Kenny Rogers
1994 Topps Finest Protector Samples Toronto Blue Jays Checklist
Roberto Alomar
Joe Carter
Todd Stottlemyre
Devon White