MMC Draft Edition: Kevin White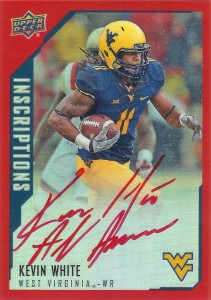 By: Justin Grunert | Beckett Football Analyst
Kevin White has already started making a name for himself, impressing everyone at the rookie combine. Every mock draft online has him going in the top 5 of this April's draft. Here are some teams that might take him in the draft and what his collectability could be on those teams.
If the Rams select White: The Rams are in need of a lot of things to improve their team right now. They have already traded away Sam Bradford to the Eagles for Nick Foles. The Rams could use White's speed and sure hands next season, if they want to be contenders in the NFC West. He would be the most collected player on the Rams, with Kenny Britt and Tavon Austin not attracting too many collectors.
If the Jaguars draft White: If the Jaguars take Kevin White his collectability would be in the hands of second-year quarterback Blake Bortles. White would see playing time almost immediately with the Jaguars, who were the worst scoring team in 2014. White has the potential to make big plays and bring a lot of collector's attention. That is if the Jaguars can get the ball to him.
If the Raiders take White: The most likely destination for Kevin White to end up in is with the Oakland Raiders. The Raiders are desperate for a big time wide receiver and White can make the big plays they have been without for the last few years. He would be catching passes from collector favorite quarterback Derek Carr. With the potential that Carr has, White could have a real chance to shine and make a big name for himself in Oakland. White would probably a game one starter for the Raiders and will have the chance to impress collectors right away.
The best case scenario for collecting value is if Kevin White went to Oakland. The Raiders have a rabid fan base, and they have been waiting a long time for a receiver like White to play for their team. The Raiders are building a team around Derek Carr and Kevin White would fit right in with that plan. The expectations are high for this wide receiver, but he has the skill level to live up to those expectations.