2018 Upper Deck Marvel's The Defenders Trading Cards Checklist, Details
2018 Upper Deck Marvel's The Defenders trading cards head to Hell's Kitchen for a recap of the Netflix shows. That means lots of heroes, several villains and a wide variety of cards to chase.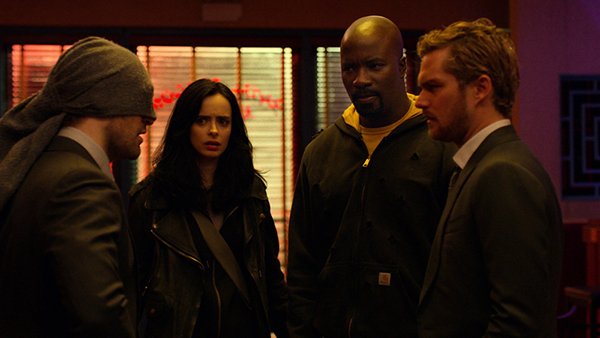 2018 Upper Deck Marvel's The Defenders hobby boxes come with a couple of premium inserts. For most, the big one is the promise of an autograph or sketch card. Manufactured patch cards are also inserted on a one-per-box level.
2018 Upper Deck Marvel's The Defenders Overview
Covering the first season, the base set breaks down to 100 total cards. It recaps the story that brings together Luke Cage, Jessica Jones, Daredevil and Iron Fist, not to mention some of their friends and rivals. Like many Upper Deck sets, high number cards are short prints. These add another 30 cards with one landing every fourth pack.
Parallels, which are three per box, are done on acetate, giving them a clear look and a plastic feel. Gold versions are on the rare side.
Autographs come from the show's actors, although a list of signers has not been announced. Dual autographs are also available.
Manufactured patch cards come in multiple styles. First are Letterman Patch cards, which have letters embedded in them. Tough Character Patch have corresponding logos.
2018 Upper Deck Marvel's The Defenders has a few other inserts. Back from the Dead Coffin and The Hand are both case hits. Back from the Dead has randomly inserted autograph versions as well.
Flashback cards go back to the four shows that combine to make The Defenders happen.
Other inserts include Character Headers and The Black Sky.
2018 Upper Deck Marvel's The Defenders trading cards at a glance:
Cards per pack: 5
Packs per box: 20
Boxes per case: 12
Set size: 130 cards
Release date: December 19, 2018
What to expect in a hobby box:
• Autographs or Sketch Cards – 1
• Manufactured Patch Cards – 1
• Acetate Parallels – 3
2018 Upper Deck Marvel's The Defenders Checklist
Base
Autographs
Inserts
Sketch Cards