Panini America and Broadway Joe create a memory-making experience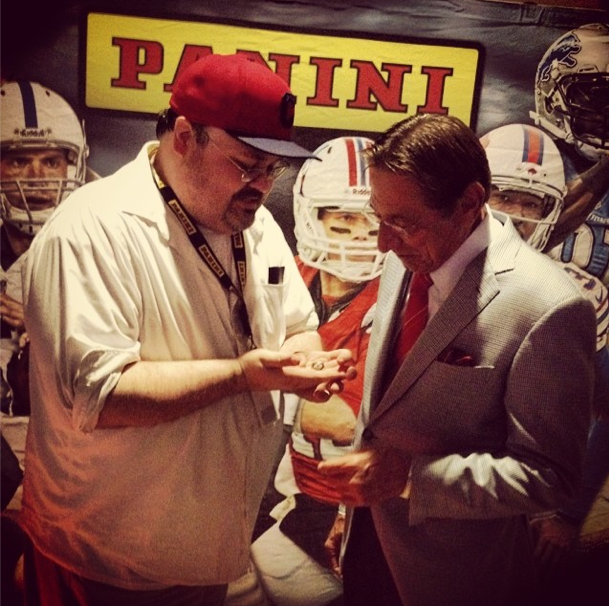 By Chris Olds | Beckett Sports Card Monthly Editor | Commentary
CLEVELAND | I went to the National Sports Collectors Convention seeking something memorable, but what I got on Saturday night was priceless.
It was better then any autographed photo from any guest in attendance at the Panini America VIP Party. It wasn't anything found in a coveted two-card NSCC promo pack being shredded en masse by those in attendance inside the home of the Cleveland Browns hoping for something rare, something pricey.
What I got was a moment I'll never forget — and a moment where, honestly, I can't even remember all the details. It was a whirlwind of emotion, surprise and the surreal.
Joe Namath handed me his Super Bowl ring.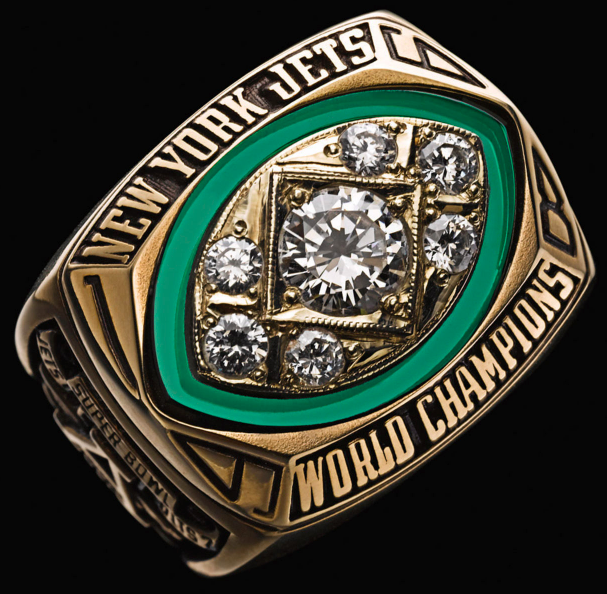 It wasn't the first time I met Joe Willie Namath. Years ago — 5,005 days before to be exact — at the 2000 Iron Bowl, I met him in the typical hobby fashion while still a student at the University of Alabama. I got his autograph by hounding during a miserable day for football — a bitter and windy rain-filled Saturday that ended with a 9-0 loss to Auburn. During the game I passed up chance after chance to get one of many Crimson Tide legends' autographs as I knew I truly wanted just one. I got Namath's signature on the only mini-helmet I had, and I was one of only a few people who could make that claim on that given day as I witnessed his quick, security-escorted arrival at Bryant-Denny Stadium as well as his exit.
My experience Saturday night at FirstEnergy Stadium was nothing like that. In fact, because Panini America's VIP guests were able to greet fans in attendance and then hand them an personally signed photo after that interaction — a move to be commended in today's sometimes assembly-line-inspired memory-making autograph system — my moment happened.
My phone was handed off to someone else for a series of snapshots as I stepped forward, but I knew what I wanted to say as I interacted with greatness beyond the stroke of a pen and a handshake. I introduced myself saying I, too, was an Alabama grad. His immediate response? He looked me dead in the eyes and said "Roll Tide" with his unique Pennsylvanian-and-Southern drawl.
I'm sure I smiled, but I don't remember a thing about my reply and I'm still not sure my feet were touching the floor. I'm sure I extolled his greatness — something I'm sure he hears daily — as I turned toward my camera for a first image after he asked my name. Then, before my moment ended, I asked whether he was wearing his ring and glanced down at his right hand that once famously waggled running off the field after Super Bowl III.
It wasn't there, but just as fast as I could finish my thought he had reached into his left pocket and dropped his priceless piece of history into my right palm. I wasn't shaking, I wasn't nervous — but I also didn't touch it other than to slightly spin it to see a side panel and a hint of some green striping on its face.
While it was surely just seconds, it all seemed like slow-motion with Namath speaking about how special his ring was to him along with a ring from his time with another legend he simply, respectfully, called "Coach Bryant." Again, all he said were things now a bit lost to me as I marveled at what I was holding, shocked that it was all happening.
Just how special it was truly sunk in when my iPhone was returned to me with a few photos documenting it all. All I could think was "wow."
As I enter what is the final day of this year's NSCC today, I have one goal for my remaining hours left on the floor. It's a goal I have had before, too — find a single special item to add to my collection, a piece that evokes memories of this particular event years from now.
I'll walk into the IX Center today fully knowing that I already have that memory-inducing piece, and that's honestly a hard thing to do at a National convention. I know that I won't find a thing — baseball or otherwise — that can trump my photograph seen above, but I'll do my best to seek it out.
I guarantee it.
Chris Olds is the editor of Beckett Baseball and Beckett Sports Card Monthly magazines. Have a comment, question or idea? Send an email to him at colds@beckett.com. Follow him on Twitter by clicking here.