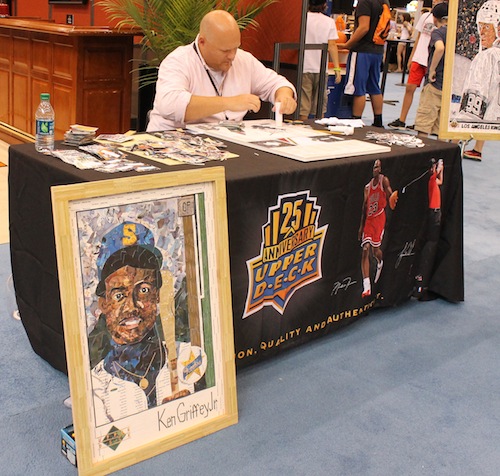 By Ben Aguirre | Contributing Writer
CLEVELAND | When one thinks of the most-iconic basketball card of the last decade, there is likely one that comes to mind — the 2003-04 Upper Deck Exquisite LeBron James, an autographed patch Rookie Card.  Only 99 copies exist, but with the help of Tim Carroll, an elementary school teacher from South Carolina, there soon will be a 100th of sorts.
Carroll, the man who famously cut up 1989 Upper Deck baseball cards to create a giant tribute of the famed Ken Griffey Jr. RC, has been at the National Sports Collectors Convention this week making his latest creation, his version of the famed James card.
"I'm using nothing but Upper Deck brand Cleveland Cavaliers cards to recreate the modern Holy Grail of basketball cards," Carroll said as he held a glue stick in one hand preparing to place a shiny piece of 1995-96 SP card into the area that surrounds the head of James on his creation.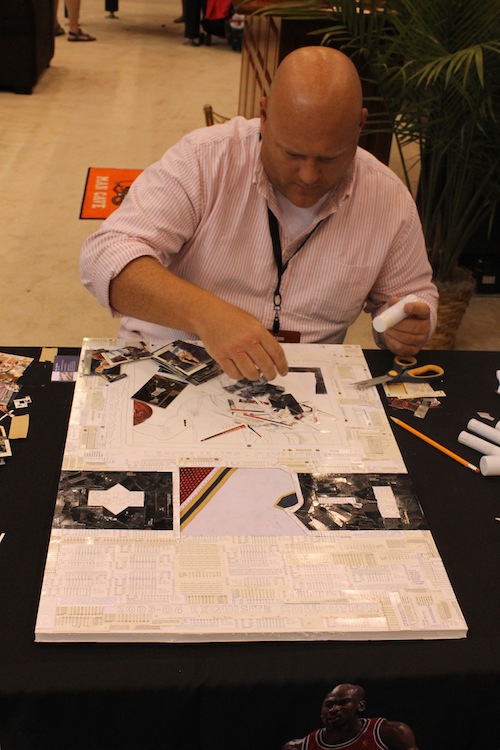 Carroll, who was commission by Upper Deck to make the jumbo-sized James, estimates that it will take roughly 600 Cavaliers cards and about 24 to 28 hours total to complete the one-of-a-kind piece, which in comparison to some of the others he has made, is actually not that long.
Carroll got his start making his creations about five years ago when he decided to take a shot at making one of the hobby's most iconic cards, the T-206 Honus Wagner.
"The concept of trading cards is trading the cards you don't want for the cards that you do," Carroll said. "So I went into my closet and pulled out all of my commons from when I was a kid and said, `you know what, I'll trade them by using artwork.'"
Since his first creation, Carroll has made pieces for himself – most notably the Griffey – as well as for others.  Some individuals have hired him to make renditions of their loves ones using cards while large entities such as Upper Deck (Carroll also created a re-make of the 1990-91 Upper Deck Wayne Gretzky for the company) and Major League Baseball have commissioned him to make specialized pieces. Some of the pieces take as many as 40 hours to complete.
In preparation for the Hall of Fame induction of Joe Torre, MLB hired Carroll to make a specialized piece for the former New York Yankees manager who won four World Series titles in the Bronx.
"They gave it to him two weeks ago," Carroll said.  "[On the piece] Torre's face appears almost 50 times and his name almost 150.  And I tried to use as many of his former Yankee Dynasty players in there as well."
Typically the cards that are used in the creations are those that are from his collection, or ones that are donated to him from others.  In the case of Torre, MLB sent him a stack of roughly 150-200 Torre cards, including one of his 1962 Topps Rookie Cards.  Carroll said he couldn't cut up the rookie card; he actually sent it back to MLB.
But for the James piece that he was working on Friday for Upper Deck, Carroll said the cards were donated to him from collectors from various collecting sites. For the most part, Carroll says he tries to stick with common cards from plentiful years because he doesn't feel like he is ruining rare expensive pieces of the hobby.
"I'm not really cutting something that someone couldn't go find again," he said as he manipulated yet another piece of a 1995-96 SP Danny Ferry.
Carroll takes his work seriously. He sketches the player subjects before hand, and then custom cuts each piece as he goes along.  He stops to talk to passersby, and tries to work at the same time. He is humble when speaking of his success in recent years, yet he is proud of his work.
"I'm very fortunate to have the opportunity to work with the guys here at Upper Deck during their 25th anniversary.  It's a big deal to them, and it's a big deal to me," he said.
So, why is LeBron the subject of Carroll's latest piece?  The answer isn't as easy as you think.
"I chose this LeBron not only because he's coming back to Cleveland," he said. "I chose it because it kind of follows that (concept of) trading lesser cards for ones that you could only dream to own."
Ben Aguirre is author of cardboardicons.com and is covering his second National Sports Collectors Convention with Beckett. Follow him on Twitter @cardboardicons.