Panini teases more info on Donruss Elite Extra Edition
By Chris Olds | Beckett Baseball Editor
Panini America's return to MLBPA-approved baseball cards got a little closer to reality on Friday as the company released the basic product information for its first product under its new deal, 2011 Donruss Elite Extra Edition.
Set to arrive on Dec. 21, each 20-pack box will include six autographs. Meanwhile, four Hot Boxes per 20-box case will include 10 autographs. For those not quick enough to do the math, that's 136 autographs per case.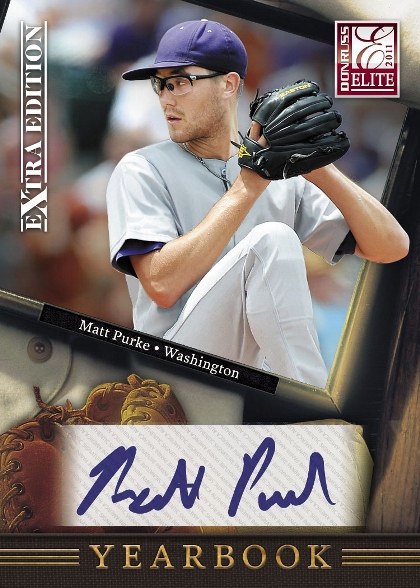 There will be 150 prospects signing for the product, which will include several new insert lines, including Building Blocks (dual, triple and quad autograph cards), Best Compared To (a draft pick and a present major-leaguer) and Two-sport Stars. The base set will include 150 prospects and 25 present MLB players.
Other items worth noting for the product include 50 on-card autographs and a full array of the familiar diecut cards from the past — Aspirations and Status — in both autograph and standard card form.
Chris Olds is the editor of Beckett Baseball. Have a comment, question or idea? Send an email to him at colds@beckett.com. Follow him on Twitter by clicking here.
Franchise Futures Prospects Autographs
Tyler Goeddel
Dante Bichette Jr.
James Harris
Cory Mazzoni
Abel Baker
Alex Dickerson
Justin Bour
Tyler Anderson
Jeff Ames
Cristhian Adames
Jason Krizan
Michael Kelly
Kyle McMillen
Charlie Tilson
Brad Miller
Blake Snell
Daniel Norris
Williams Jerez
Erik Johnson
Gabriel Rosa
Adam Morgan
Aaron Westlake
Brandon Loy
Zach Good
Angelo Songco
Jordan Akins
Josh Osich
Austin Hedges
Jake Sisco
B.A. Vollmuth
Austin Wood
Dan Vogelbach
Carl Thomore
Blake Swihart
James Allen
Carlos Sanchez
Michael Goodnight
James McCann
Will Lamb
Taylor Featherston
Nick Ramirez
Johnny Eierman
Logan Verrett
Neftali Rosario
Kevin Comer
Kendrick Perkins
Tyler Grimes
Kyle Winkler
John Hicks
Taylor Guerrieri
Dillon Maples
Harold Martinez
Grayson Garvin
Zeke DeVoss
Mitch Walding
Clay Holmes
Hudson Boyd
Granden Goetzman
Bryan Brickhouse
Shane Opitz
Nick Fleece
Carson Smith
Jake Lowery
Madison Boer
Tony Zych
Sean Halton
Cavan Cohoes
Dean Green
Miles Hamblin
J.R. Graham
Tom Robson
Riccio Torrez
Adam Conley
Pratt Maynard
Jordan Cote
Kyle Gaedele
Christian Lopes
Travis Shaw
Parker Markel
Chad Comer
Adrian Houser
Corey Williams
Brian Flynn
Phillip Evans
Lee Orr
Brandon Parrent
Roman Quinn
Jake Floethe
Andrew Susac
Navery Moore
Chris Schwinden
Cole Green
Chris Wallace
Steven Ames
James Baldwin III
Forrest Snow
Bobby Crocker
Dwight Smith Jr.
Greg Bird
Bryson Myles
On-Card Prospects Autographs
Trevor Bauer
Anthony Rendon
Gerrit Cole
Dylan Bundy
C.J. Cron
Tyler Collins
Cory Spangenberg
Archie Bradley
Jason Esposito
Bubba Starling
Joe Panik
Kolten Wong
Levi Michael
Sonny Gray
Javier Baez
Danny Hultzen
Alex Hassan
Jace Peterson
Jason King
Kyle Kubitza
Matt Szczur
Sean Gilmartin
Kevin Matthews
Brandon Nimmo
Jed Bradley
Cameron Gallagher
Mikie Mahtook
Jacob Anderson
Michael Fulmer
Jackie Bradley Jr.
Taylor Jungmann
Matt Dean
Joe Ross
Jake Hager
Josh Bell
George Springer
Chris Reed
Brian Goodwin
Francisco Lindor
Tyler Gibson
Robert Stephenson
Brandon Martin
Matthew Purke
Leonys Martin
Keenyn Walker
Kyle Parker
Travis Harrison
Matt Barnes
Trevor Story
Kyle Crick