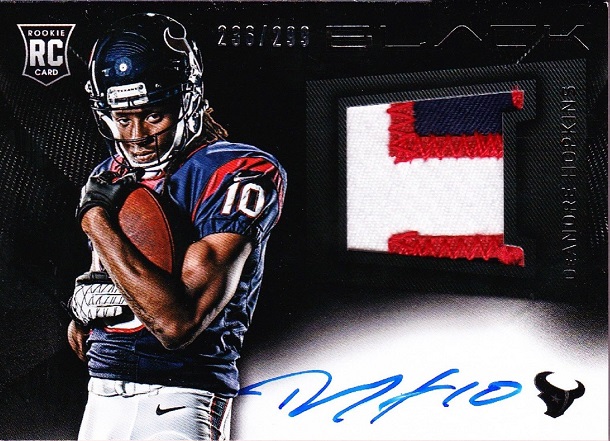 By Susan Lulgjuraj | Beckett Football Editor
DeAndre Hopkins came from a successful college program. At Clemson University, his teams simply won and he helped the Tigers to their first 11-win season in 2012.
After three years, Hopkins finished his college career with records in receiving yards (3,020) and career touchdowns (27). The Houston Texans drafted him with 27th overall, which seemed like a good place to keep the winning tradition going. Houston made the playoffs each of the last two seasons and was considered to be a contender again.
However, Hopkins found himself in an unfamiliar place when the Texans finished the 2013 season losing 14 straight games.
"It was difficult," Hopkins told Beckett Media. "Thankfully, we had some guys that had been in tough situations. We have vets who have been in this spot."
"I like to win," Hopkins added. "It didn't go with me well. We were losing. My coach always told me to keep my head in it and don't let frustrations show. But it hit me to be the last team in the NFL. It doesn't look good."
Hopkins had a good season from a personal standpoint. The wide receiver had 802 yards on 52 receptions with two receiving touchdowns.
Some of the struggles occurred when Hopkins found himself playing with a different quarterback week to week. Three players lined up under center with Matt Schaub, Case Keenum and even T.J. Yates getting a shot.
"It didn't help to have consistency at any position not just the quarterback position," Hopkins said. "To have a quarterback there, they can get us the ball consistently. That's always a good thing."
Still, Hopkins had some pleasant moments from Houston's 2-14 season, and he's looking forward to see what the Texans do with the first overall pick in the 2014 draft.
"The two wins we had that's what I remember most," Hopkins said. "There were good times and bad times. You learn from the bad things we did, but there were some good memories. I am very excited. They are great guys. They know what they are doing. I am on board with them. With getting a new coach, I am excited to see what the season holds."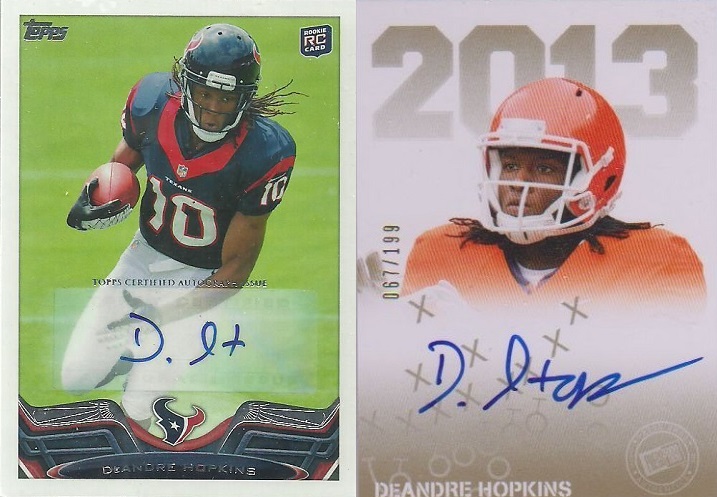 Hopkins has been one of the more popular rookies on trading cards in 2013 products. He appears on nearly 1,300 cards with more than 600 autograph cards. Some of those autographs have high print runs, and the 2013 trading card season isn't over yet.
Some collectors may have noticed that Hopkins changed his autograph on cards during the season. His early autographs feature his first initial and his last name "D. Hopkins" on cards. But later autographs have just his initials "D.H." Some even have his initials with his jersey number on them.
"I was talking to a couple of veterans in the league, looking at a lot of their cards," Hopkins said. "A lot of cards are just their initials. When you have to sign so many cards, sometimes doing Hopkins is kind of heavy on the hand. I just kind of took it and ran with it."
Current cards are different than the kinds of cards Hopkins collected when he was younger. He would go to Wal-Mart and pick up baseball and basketball cards. These days, he sees the options are far different.
"The ones with jersey patches are neat," Hopkins said. "Those are unique. It's cool to think someone is going to have a piece of your jersey."
Susan Lulgjuraj is an editor at Beckett Media. You can email her here with questions, comments or ideas. Follow her on Twitter here. Follow Beckett Media on Facebook and Twitter.