David Freese's autographs aren't plentiful
—
By Chris Olds  | Beckett Baseball Editor
Cardinals third baseman David Freese's jersey may have been left in tatters after his game-winning home run in the bottom of the 11th Thursday night in St. Louis, but interest in his baseball cards have to be at an all-time high.
According to the Beckett.com database, Freese appears on just 148 cards with a total value of just $1,337.55 for those not too scarce to track and price. He appears on just 11 Rookie cards and has just 14 certified autographs.
Oh, and memorabilia cards? He's got none — but his teammates might have thought they were helping out Topps or Panini by starting the shredding on his jersey during his home run celebration at home plate. The jersey, above, has been authenticated by MLB with one employee joking that "It'll just need more than one sticker." Meanwhile, the bat — and the jersey — are headed to Cooperstown.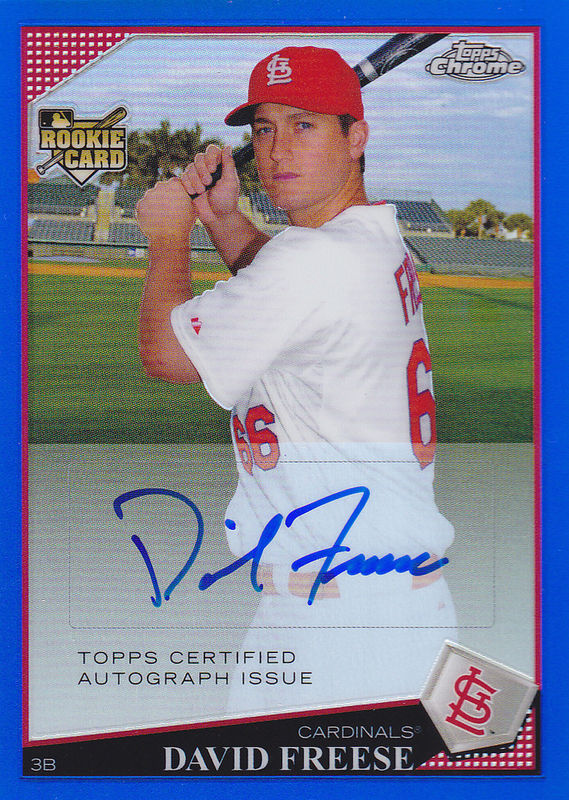 While Freese's first minor league card is from 2006 (Eugene Emeralds team set by Grandstand), most of his cards are from 2009. His most expensive Rookie Card is his 2009 Topps Chrome Gold Refractor (his Blue is seen here), which is limited to 50 copies and has sold for as much as $150. The Blue, which is limited to just 199 copies, has sold for as much as $120. His standard Chrome autograph commands $50 or less.
Freese's cheapest certified autograph comes from the 2009 Upper Deck Signature Stars set with it selling for $40 or less.
Freese has not had any certified autographs since his rookie season and has appeared on just 19 cards from Topps this year.
Something tells us that will be changing for 2012.
Chris Olds is the editor of Beckett Baseball. Have a comment, question or idea? Send an email to him at colds@beckett.com. Follow him on Twitter by clicking here.