Tom Brady Gets Emotional About Panini Kid Reporter Question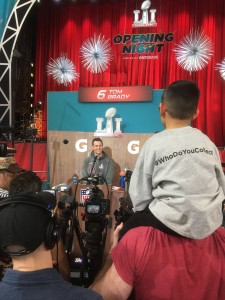 Yesterday was the first official Super Bowl "Opening Night" in Houston, Texas.
Originally known as Media Day, the event makes coaches and players accessible to the media for interviews and mini-press conferences. You may have caught what is shaping up to the story of Super Bowl LI Opening Night.
An unlikely reporter asked Tom Brady who his hero was.
The four-time champion answered, "That's a great question. I think my dad is my hero, because he's someone I look up to every day."
Brady then paused and began to choke up with emotion. He looked back up to the reporter and again said, "My dad." He then gave a thumbs-up sign, acknowledging the good question. Brady was then given one of his Super Bowl LI exclusive cards to check out.
That reporter was none other than 7-year-old Joseph Perez—winner of Panini's longstanding Kid Reporter contest. Joseph was mentored by former quarterback and current ESPN analyst Trent Dilfer, and even sat on top of Dilfer's shoulders to deliver his question above the crowd of fellow media members.
"It's cool, and I like being on social media," Joseph says about his whirlwind past 24 hours. He added that he was surprised at Brady's reaction. Joseph is a big football fan and collector (and an aspiring pro football player). His favorite team is the Dallas Cowboys, collecting cards of Roger Staubach, Troy Aikman, Dak Prescott, Dez Bryant and Ezekiel Elliott, just to name a few.
Media Frenzy
Brady's dad came under some criticism this week about comments he made on a radio show about NFL Commissioner Roger Goodell's handling of his son's suspension. Perhaps this was a major reason Brady got emotional about the question. Major national media quickly took up the story last night and today, further giving exposure to the Kid Reporter program and the sports card industry as a whole.
Here's how a few national media covered it:
From Mike Reiss, ESPN: New England Patriots quarterback Tom Brady was overtaken with emotion on Monday at Super Bowl LI Opening Night, choking up when asked by a 7-year-old reporter which person is his hero.
"That's a great question. I think my dad is my hero, because he's someone I look up to every day," Brady said, before a noticeable pause.
Brady then looked down and adjusted the microphone with his right hand. His eyes welled up before he made eye contact with the 7-year-old and simply said, "My dad."
Brady nodded his head and gave a thumbs-up to the questioner, Joseph Perez, who was on hand at after winning a "Kid Reporter" contest.
From NBC Sports: Tom Brady kept a lot of the anticipated questions at bay last night, but was moved to an emotional moment when a 7-year-old reporter asked the Patriots quarterback who his hero was.
From Today.com: Tom Brady is known as a quarterback who rarely gets rattled, but a simple question by a kid reporter at Monday night's Super Bowl LI press conference had him fighting back tears.
The New England Patriots star was at the podium in Houston when he fielded a question from a 7-year-old boy who won a contest to be a Super Bowl reporter.
"Many people say you're their hero, but who's your hero?" the boy asked.