One-Sheet Collections: All Junk Wax RC Team
When you click on links to various merchants on this site, like eBay, and make a purchase, this can result in this site earning a commission.
The One-Sheet Collections idea is a simple concept with infinite possibilities. Take a single nine-pocket sheet and a reasonable $100 budget, and build a nine-card collection with a unifying theme.
This week's collection pays homage to the much maligned but still nostalgic Junk Wax Era, when mass production took hold of the industry and rendered many of the cards rolled out from the late 1980s through 1993 with little to no value due to their unfathomably large print runs.
Ahead I've selected my All Junk Wax Rookie Card team, picking one notable Rookie Card from each position to field a team of legends who closely resemble a mid-90s All-Star team. They might not be a ticket to early retirement, but these cards should have a nostalgic place in a lot of collections.
1987 Topps #320 Barry Bonds RC ($15)
There is still some value to be found in the 1987 Donruss and Fleer sets, but the 1987 Topps set feels like the emergence of the Junk Wax Era. I actually have a full case of unopened rack packs sitting in a closet at my parent's house just waiting for a rainy day.
Barry Bonds and Bo Jackson are the chase cards on a massive 792-card checklist, while Barry Larkin, Will Clark and Rafael Palmeiro are among the other notable rookies in the set.
Buy on: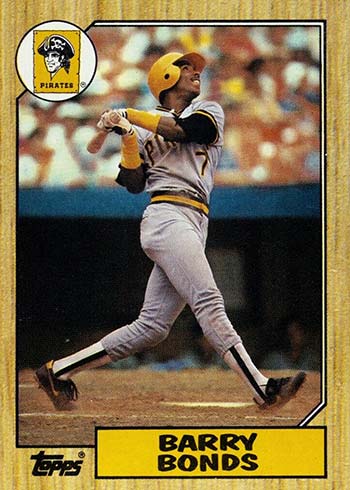 1989 Donruss #33 Ken Griffey Jr. RC ($20)
With its brightly colored borders and almost comical level of overproduction, the 1989 Donruss set has very little value outside of the iconic Ken Griffey Jr. Rated Rookie card.
Despite the massive quantity available, it's fairly difficult to find the card in gem mint condition due to centering issues and the condition-sensitive nature of the colored borders. Other Rookie Cards in the set include Craig Biggio, Randy Johnson, John Smoltz, Gary Sheffield and the only rookie for Curt Schilling.
Buy on: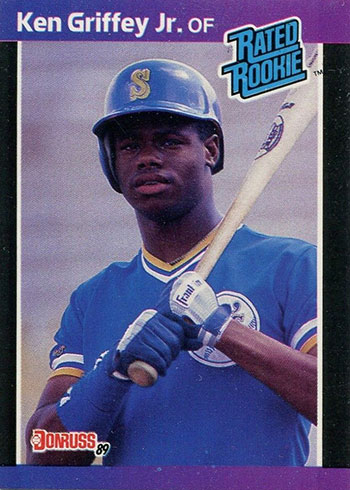 1992 Topps #156 Manny Ramirez RC ($5)
There are nine different Manny Ramirez rookies scattered across 1992 products after the New York high school star was chosen with the No. 13 overall pick in the 1991 draft, and he is far and away the headliner of that year's Rookie Card class.
The 1992 Topps set is notable for the inclusion of the Topps Gold parallels, which were a tougher pull than their one-per-pack 1993 and 1994 counterparts. That set helped pave the way for today's parallel-centric focus.
Buy on: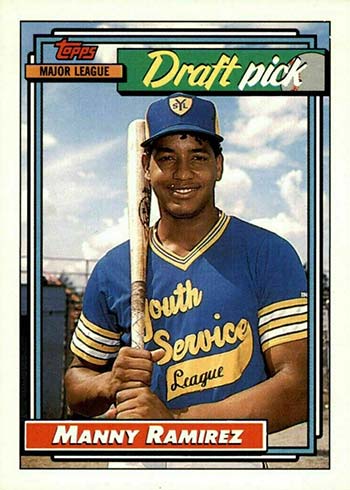 1993 Topps #98 Derek Jeter RC ($20)
One of the only players with Rookie Cards from the Junk Wax Era that still have decent value is Derek Jeter. Despite an estimated print run in the millions, his 1993 Topps rookie remains an iconic card with raw copies still regularly selling for $15-20 on eBay.
There is a wide range of price points on Jeter rookies, with his Upper Deck, Score and Select rookies readily available for under $10, while his Stadium Club rookie carries a price tag above the Topps option and his SP rookie is among the most valuable cards of the 1990s.
Buy on: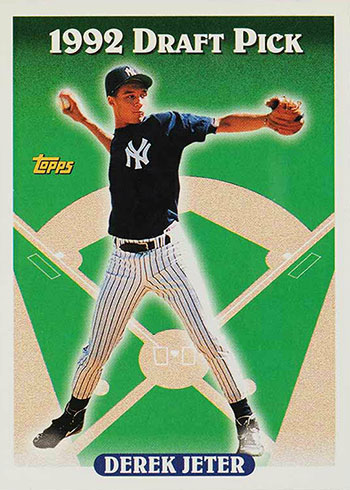 1989 Score #645 Randy Johnson RC ($3)
Hot take: I think the 1989 Score design is underrated. The set as a whole is largely overlooked due in part to the fact that Ken Griffey Jr. does not have a rookie in the base set. He was instead included in the Score Rookie/Traded boxed set, leaving the main set without a clear chase card.
That said, the rookies that were included in the set feature a very distinct "1989 Rookie" sprawled across the top of the cards. Hall of Fame starter Randy Johnson is part of a group that also includes Craig Biggio, John Smoltz, Gary Sheffield and an early card of Edgar Martinez.
Buy on: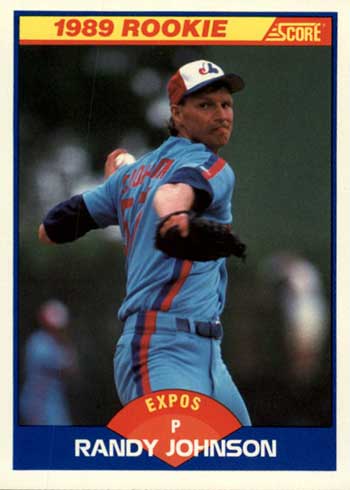 1988 Donruss #34 Roberto Alomar RC ($2)
Few Junk Wax products carry less value than 1988 Donruss Baseball. While mass production is the major culprit, a fairly boring design, major centering issues and a lack of notable Rookie Cards also keeps the set off most collector's radars.
Its only saving grace is that iconic "Rated Rookie" symbol, though they missed on including the set's top rookie, Tom Glavine, in the subset. The biggest name who did make the cut is undoubtedly Hall of Fame second baseman Roberto Alomar, while Mark Grace is the other top name with the logo on his card.
Buy on: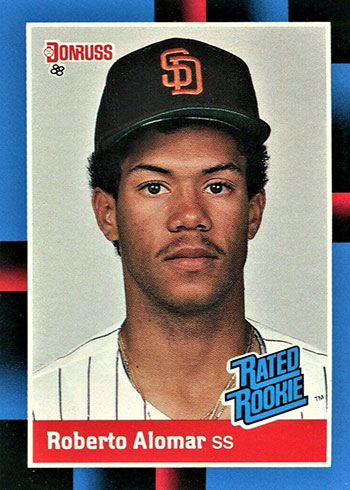 1991 Topps #333 Chipper Jones RC ($15)
Chipper Jones is one of the notable examples of a player who was featured in mainstream products years before establishing himself as an MLB player. The No. 1 overall pick in the 1990 draft has six different Rookie Cards in 1991 products, three of which are the same design from the 1991 Topps, Topps Micro and O-Pee-Chee releases.
He made his MLB debut with an eight-game audition in 1993, then missed the entire 1994 season with an injury before finally breaking through in 1995. Jones would be featured on rookie subset cards in the 1992, 1993 and 1994 Topps flagship sets, but it's his 1991 Topps card that is his RC.
Buy on: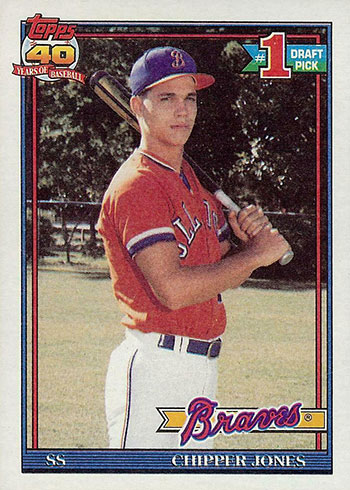 1991 Bowman #272 Ivan Rodriguez RC ($4)
Mike Piazza only has two Rookie Cards, and both the 1992 Bowman and 1992 Fleer Update sets have a strong enough values and rarity (relatively speaking for the time) that they don't fall into the category of Junk Wax, despite being released near the peak of that era.
As a result, I'll pivot to fellow Hall of Famer Ivan Rodriguez to fill the catcher spot on this team. Bowman was the only set to include him in their base product in 1991, but he also has Rookie Cards in that year's Donruss Rookies, Fleer Update, Score Rookie/Traded, Topps Traded, Ultra Update and Upper Deck Final Edition supplemental sets.
Buy on: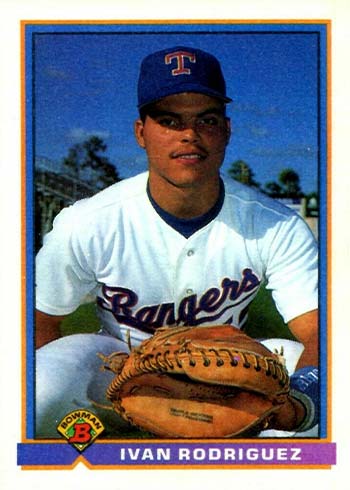 1990 Topps #414 Frank Thomas RC ($4)
Chicago White Sox first baseman Frank Thomas was one of the faces of baseball during the Junk Wax Era, and his 1990 Leaf Rookie Card remains one of the most valuable rookies of the 1990s, though it's by no means a Junk Wax product as it still carries solid values and it's not nearly as plentiful as other products from the year.
While he also has rookies in the 1990 Bowman, Fleer Update and Score sets, it's really a no-brainer which of his Rookie Cards belongs in this collection. The "no name on front" error variation of this card remains one of the most sought after error cards of all-time.
Buy on: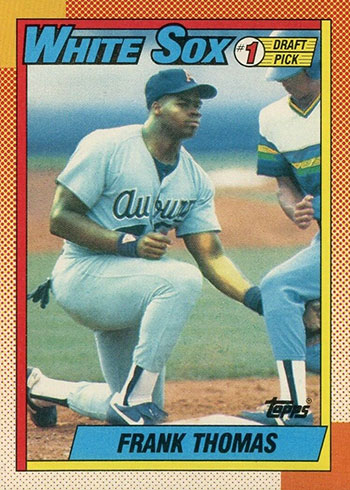 Total: $88.00