One-Sheet Collections: Fleer Rookie Sensations Through the Years
For many, nostalgia remains the driving force behind baseball card collecting, and that's how we arrived at the idea of One-Sheet Collections.
It's a simple concept with infinite possibilities.
Take a single nine-pocket sheet and a reasonable $50 budget, and build a nine-card collection with a unifying theme.
This time around, we turn our attention to a memorable 1990s insert set that helped pave the way for insert chasing throughout the decade.
No brand did a better job catering to insert hunters than Fleer, and their "Rookie Sensations" set in the 1992 release was a hot commodity in its day. The set's success made it an annual inclusion in Fleer's flagship release through the 1997 season before it shifted to Fleer Tradition in 1998.
After a brief hiatus, the Rookie Sensations set resurfaced in 2002 Fleer and 2007 Fleer, giving us nine different years worth of inserts to build out our collection.
Enjoy!
Pocket 1: Jeff Bagwell, 1992
Card: 1992 Fleer Rookie Sensations #4 Jeff Bagwell
Beckett Value: $8
The Frank Thomas card from the inaugural 1992 set helped launch the insert craze of the 1990s, and it's still an in-demand card with a $25 price tag. We could say that card belongs in a one-touch, and that's why it's not included here in our binder collection. However, the truth is it was borderline impossible to include that card while still staying within our $50 budget.
Luckily, this set features two other future Hall of Famers in Jeff Bagwell and Ivan Rodriguez.
Bagwell hit .294/.387/.437 with 15 home runs and 82 RBI in 156 games, kicking off an excellent 15-year career on a high note.
Also included in the 1992 set: Frank Thomas, Ivan Rodriguez, Chuck Knoblauch, Ray Lankford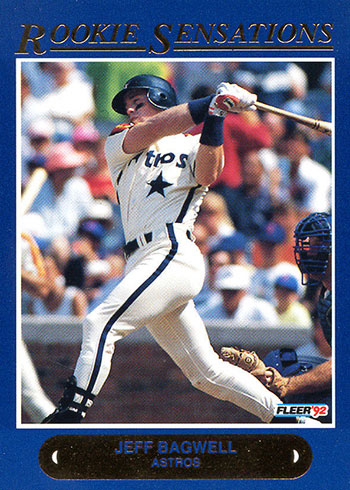 Pocket 2: Kenny Lofton, 1993
Card: 1993 Fleer Rookie Sensations #RSA1 Kenny Lofton
Beckett Value: $2
The 1993 Rookie Sensations set is actually made up of two different 10-player checklists that were split between Series 1 and Series 2 products.
The best of a thin crop—Kenny Lofton, Eric Karros and Reggie Sanders—were all featured in Series 1 packs, and it's Lofton who gets the nod for our collection.
Acquired from the Houston Astros in a four-year player deal prior to the '92 season, Lofton hit .285 and led the AL with 66 steals to finish runner-up to Pat Listach in AL Rookie of the Year balloting.
Also included in the 1993 set: Eric Karros, Reggie Sanders, Tim Wakefield, Moises Alou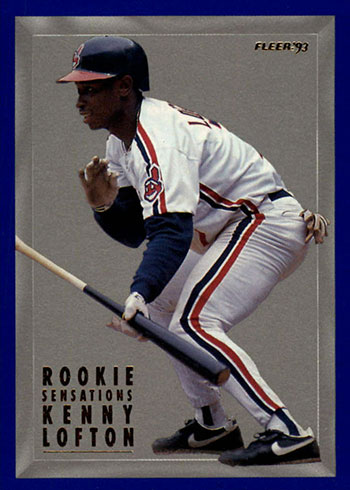 Pocket 3: Tim Salmon, 1994
Card: 1994 Fleer Rookie Sensations #17 Tim Salmon
Beckett Value: $3
Tim Salmon exploded onto the hobby scene in 1993 when he hit .283/.382/.536 with 35 doubles and 31 home runs to win AL Rookie of the Year honors unanimously over Chicago White Sox right-hander Jason Bere.
The enduring name from this set may be Hall of Fame catcher Mike Piazza, but there was a time when Salmon was just as big.
Fun fact: Tim Salmon never made an All-Star team in his 14-year career.
Also included in the 1994 set: Mike Piazza, Jeromy Burnitz, Jeff Conine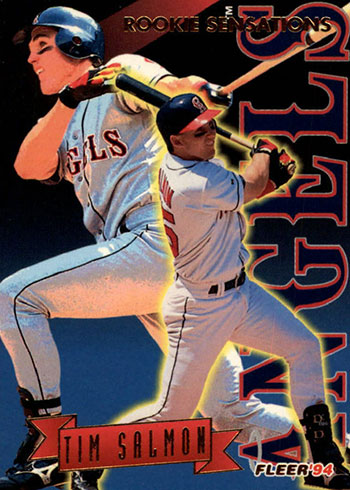 Pocket 4: Manny Ramirez, 1995
Card: 1995 Fleer Rookie Sensations #14 Manny Ramirez
Beckett Value: $5
The No. 13 overall pick in the 1991 draft, Manny Ramirez made his MLB debut two years later, shortly after his 21st birthday.
In his first year as an everyday player during the strike-shortened 1994 season, he posted a 125 OPS+ with 22 doubles, 17 home runs and 60 RBI in 91 games to finish second to Kansas City Royals designated hitter Bob Hamelin in AL Rookie of the Year voting.
Also included in the 1995 set: Raul Mondesi, Javy Lopez, Ryan Klesko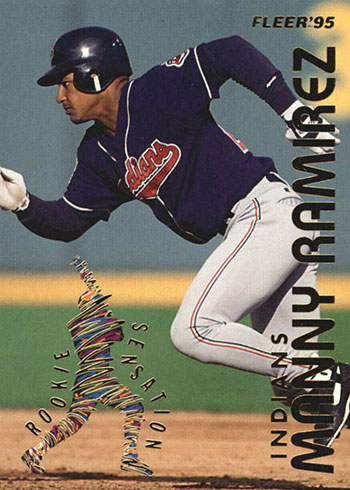 Pocket 5: Chipper Jones, 1996
Card: 1996 Fleer Rookie Sensations #10 Chipper Jones
Beckett Value: $3
The Atlanta Braves selected Chipper Jones with the No. 1 overall pick in the 1990 draft and from the time his rookie cards appeared in 1991 products through his first full season in the majors in 1995, he was a staple in annual rookie subsets and insert sets.
That includes the 1996 Rookie Sensations set which came on the heels of his long-awaited debut as an everyday player. He hit .265 with 23 home runs and 86 RBI to finish second in NL Rookie of the Year balloting and 18th in NL MVP voting in 1995.
In the end, his rookie season was overshadowed by Nomomania in Los Angeles.
Also included in the 1996 set: Andy Pettitte, Johnny Damon, Hideo Nomo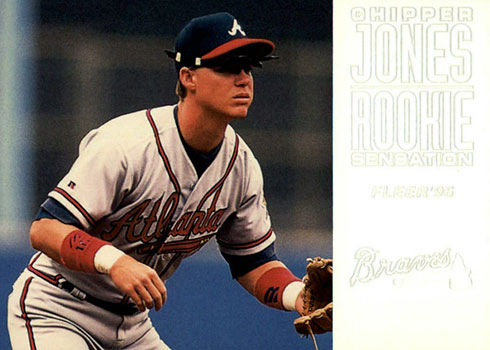 Pocket 6: Derek Jeter, 1997
Card: 1997 Fleer Rookie Sensations #7 Derek Jeter
Beckett Value: $5
The 1997 set jumped the gun on a few players, with Nomar Garciaparra, Andruw Jones and Scott Rolen included despite still holding rookie eligibility. As a result, all three were included again the following year.
Regardless, Derek Jeter was an easy choice for inclusion as the biggest name in the set and the 1996 AL Rookie of the Year winner.
He played in 157 games as a rookie, hitting .314/.370/.430 with 41 extra-base hits and 14 steals to help the New York Yankees to a World Series title, and he was just getting started.
Also included in the 1997 set: Nomar Garciaparra, Andruw Jones, Scott Rolen, Jason Kendall, Jermaine Dye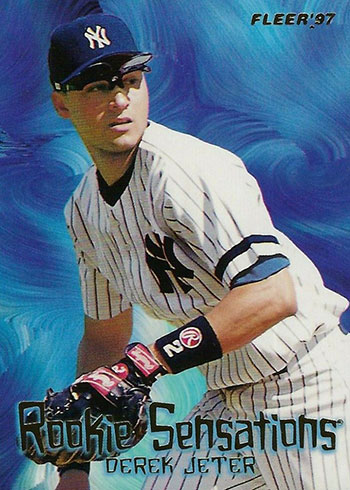 Pocket 7: Vladimir Guerrero, 1998
Card: 1998 Fleer Tradition Rookie Sensations #7 Vladimir Guerrero
Beckett Value: $4
In 1998, Fleer changed the name of its flagship release from Fleer to Fleer Tradition, and the Rookie Sensations insert set came along for the ride.
There are a number of big names in this set, but only one Hall of Famer in Vladimir Guerrero.
Relative to his peak production, Guerrero had a modest rookie season in 1997, hitting .302/.350/.483 with 11 home runs and 40 RBI in 90 games to finish a distant sixth in Rookie of the Year balloting. The following year he slugged 38 home runs and he spent the next decade plus as a bona fide superstar.
Also included in the 1998 set: Magglio Ordonez, Nomar Garciaparra, Andruw Jones, Todd Helton, Scott Rolen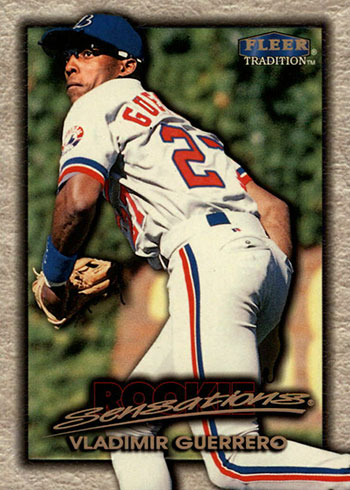 Pocket 8: Ichiro Suzuki, 2002
Card: 2002 Fleer Rookie Sensations #4 Ichiro Suzuki
Beckett Value: $15
Ichiro Suzuki and Albert Pujols turned in two of the best rookie seasons in MLB history in 2001, so it's fitting that the 2002 release is when Fleer decided to dust off the Rookie Sensations set for the first time in four years.
For the first time, the set was serial numbered with a print run of 1500.
Ichiro gets the nod for our collection thanks to a rookie season where led the AL in batting average (.350), hits (242) and steals (56) to become just the second rookie in MLB history to win MVP honors.
Also included in the 2002 set: Albert Pujols, CC Sabathia, Roy Oswalt, Josh Beckett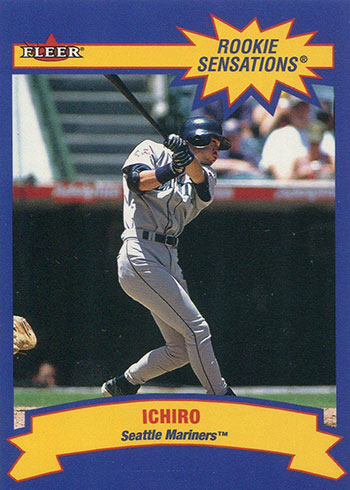 Pocket 9: Justin Verlander, 2007
Card: 2007 Fleer Rookie Sensations #JV
Justin Verlander Beckett Value: $2.50

The Rookie Sensations set was trotted out one final time in 2007, in what would be the last hurrah for Fleer. The brand's naming rights had been purchased by Upper Deck and it was discontinued following the 2007 release.
The 20-card set featured plenty of players with impressive peaks and Justin Verlander will go down as the best of the bunch.
Two years after going No. 2 overall in the 2004 draft, Verlander went 17-9 with a 3.63 ERA in 186 innings to win AL Cy Young honors while also finishing seventh in AL Cy Young voting.
Also included in the 2007 set: Cole Hamels, Prince Fielder, Jon Lester, Hanley Ramirez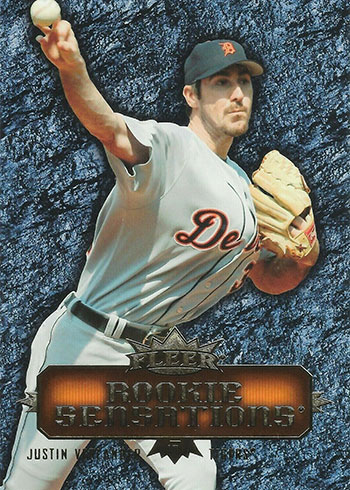 Total Beckett Value: $47.50