Arizona Diamondbacks $100 Baseball Card Starter Kit – One-Sheet Collections
For many, nostalgia remains the driving force behind baseball card collecting, and that's how I arrived at the idea of One-Sheet Collections.
It's a simple concept with infinite possibilities.
Take a single nine-pocket sheet and a reasonable $100 budget, and build a nine-card collection with a unifying theme.
I'm kicking off a new team-specific theme with this week's article. In the coming weeks, I'll be going team-by-team with a $100 nine-card starter kit of cards for each of the 30 MLB fan bases.
Up first is the Arizona Diamondbacks, a franchise still in its infancy relative to many others after being added as an exhibition team in 1998. Ahead I've selected nine cards that represent a good starter collection for any D-backs fan who is just diving into card collecting.

1997 Bowman Chrome #257 Travis Lee RC ($1.50)
At surface level, this is a bargain box Rookie Card of a mediocre player who hit 115 home runs in nine seasons. However, at the time it was released, Travis Lee was one of the top prospects in baseball and this was one of the hottest cards on the market.
For fans who were there for the D-backs inaugural season in 1998, there is plenty of nostalgia value here, even if Lee never quite lived up to the hype. His 22-homer, 72-RBI rookie season landed him third in 1998 NL Rookie of the Year balloting, behind Cubs pitcher Kerry Wood who was also one of the chase cards in 1997 Bowman Chrome.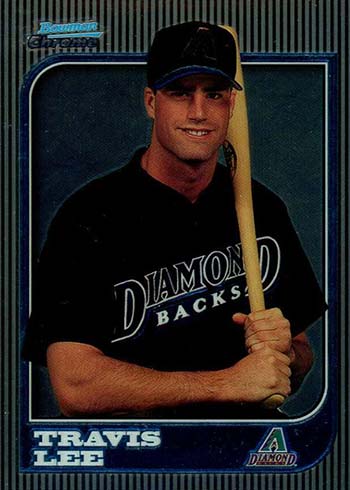 2000 Revolution MLB Icons #1 Randy Johnson ($10)
The greatest player in D-backs history, Hall of Famer Randy Johnson won four straight NL Cy Young awards during his time in Arizona. He went 81-27 with a 2.48 ERA while averaging 354 strikeouts and 258 innings during that four-year stretch. He didn't join the team until his age-35 season.
I set out to fill this slot in the collection with the coolest looking $10 insert I could find, and surprise, surprise it belonged to a card from the Pacific product line. The MLB Icons inserts were a tough pull at 1:121 packs and the elaborate die-cut design fits the Pacific mold.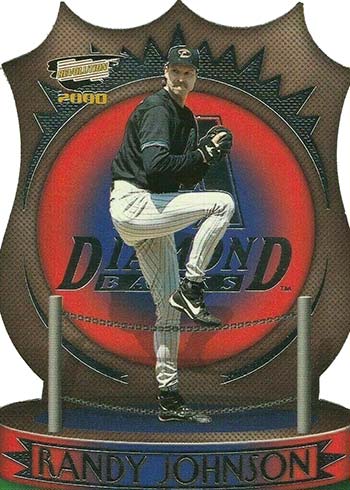 2000 Upper Deck Pros and Prospects Game Jersey Autograph #LG Luis Gonzalez ($15)
Luis Gonzalez had the greatest offensive season in Diamondbacks history in 2001 when he hit .325/.429/.688 with 57 home runs and 142 RBI to finish third in NL MVP voting. All told, he had a 130 OPS+ with 224 long balls during his eight-year run with the team.
His autographs easily fit the budget, and while there were a number of options, I opted for his first certified autograph card in an Arizona uniform from the 2000 Upper Deck Pros and Prospects set.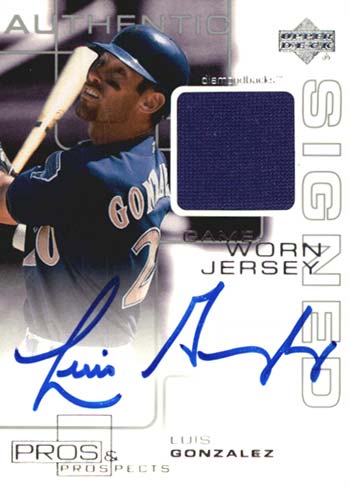 2001 SPx Winning Materials Update Duos #CSRJ Curt Schilling/Randy Johnson ($10)
In just their fourth MLB season in 2001, the D-backs won the World Series, shocking the heavily-favored New York Yankees in a thrilling seven-game Fall Classic.
Co-aces Randy Johnson and Curt Schilling shared World Series MVP honors that year following a regular season where they went a combined 43-12 with a 2.77 ERA and 665 strikeouts in 506.1 innings. It was only fitting that the tandem be represented with a shared card in this collection.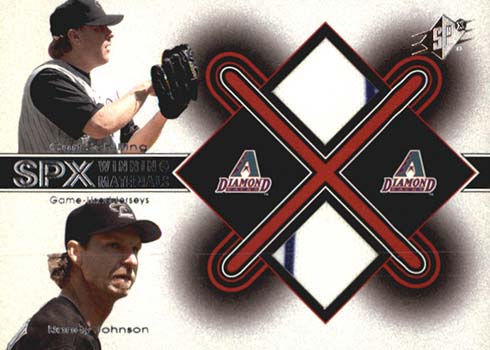 2003 Topps Chrome Traded #T169 Brandon Webb ($3)
The best homegrown pitcher in franchise history, sinkerballer Brandon Webb won NL Cy Young honors in 2006 and finished runner-up in the voting in 2007 and 2008 before injuries derailed his career. He racked up 33.2 WAR in his six full seasons in the Arizona rotation.
He has a whopping 44 different Rookie Cards, so there were plenty to choose from, but t's hard to go wrong with 2003 Topps Chrome Traded.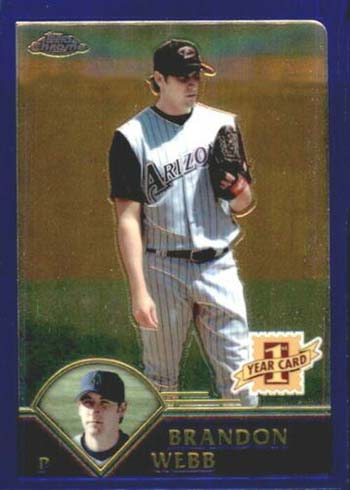 2007 Topps Update #327 Justin Upton RC ($3)
After a 111-loss season in 2004, the D-backs had the No. 1 overall pick in the 2005 draft. They selected Virginia high school standout Justin Upton atop a draft class that also included Alex Gordon, Ryan Zimmerman, Ryan Braun, Troy Tulowitzki and Andrew McCutchen.
Upton made his MLB debut in 2007 at the age of 19 and spent the first six seasons of his career in Arizona, earning a pair of All-Star selections and winning Silver Slugger in 2011. His Rookie Cards don't hold the same value as they did when he was a top prospect, but are a worthy addition to this collection nonetheless.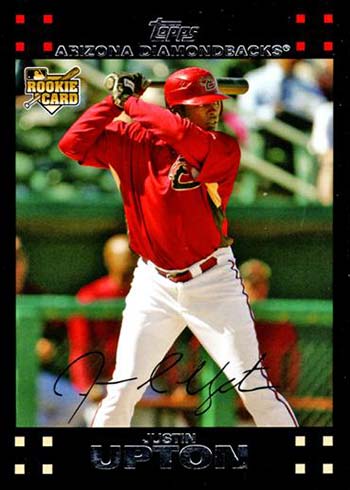 2008 Stadium Club #140 Max Scherzer RC ($15)
The one that got away! Arizona took Scherzer in the first round of the 2006 draft and he logged a 4.12 ERA with 174 strikeouts in 170.1 innings in his first full season in the MLB rotation in 2009. That offseason, he was flipped to the Detroit Tigers in a three-team, seven-player deal that brought Ian Kennedy and Edwin Jackson to Arizona.
In the years since, he has developed into a three-time Cy Young winner, one of the best pitchers of his generation, and a sure-fire future Hall of Famer. While most of his Rookie Cards command a premium, his Stadium Club rookie remains a great value.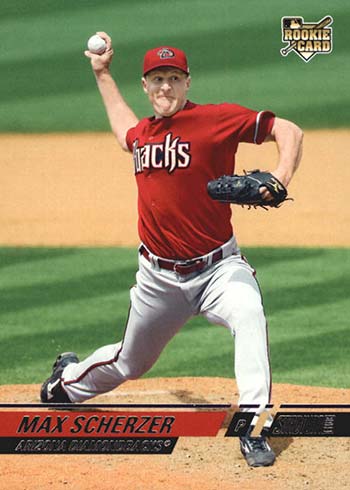 2011 Topps Update #US47 Paul Goldschmidt RC ($20)
First baseman Paul Goldschmidt is the best homegrown player in Diamondbacks franchise history. The eighth-round pick out of Texas State was never a top prospect, but he moved quickly through the Arizona farm system and made an immediate impact once he arrived in the majors. He was runner-up in NL MVP voting in 2013 and 2015, and logged 39.9 WAR in eight seasons before he was traded to the St. Louis Cardinals.
His Topps flagship Rookie Card is part of the same 2011 Topps Update set that contains the iconic Mike Trout rookie, and it's an easy choice to represent him in this collection.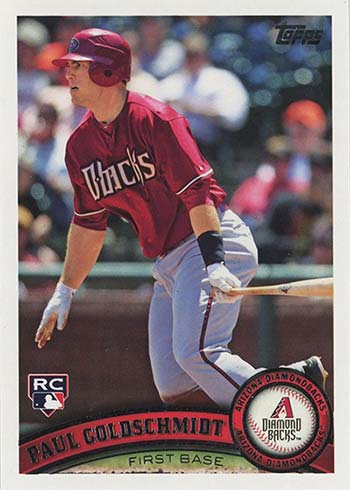 2020 Topps Heritage Real One Autographs #ROAKM Ketel Marte ($20)
Ketel Marte is the current face of the franchise for a rebuilding Diamondbacks team, and after signing a five-year, $76 million extension that includes a club option for a sixth year, he is now under club control through 2028.
The 28-year-old had a huge breakout season in 2019 to finish fourth in NL MVP voting and he impressed during an injury-shortened campaign last year. Despite his production and the fact that he's just entering his prime, his autographs are still affordable, with his 2020 Topps Heritage auto among a handful in the $20-25 range.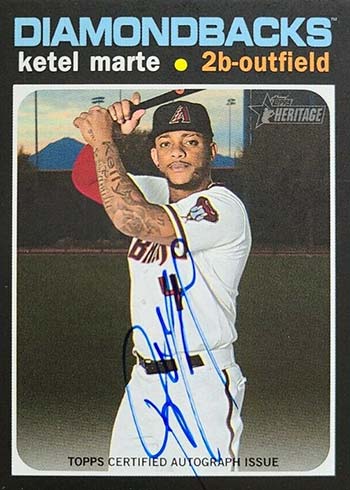 Total: $97.50