One-Sheet Collections: Fleer Basketball Rookie Sensations of the 1990s
The One-Sheet Collections idea is a simple concept with infinite possibilities. Take a single nine-pocket sheet and a reasonable $100 budget, and build a nine-card collection with a unifying theme.
This week's collection will focus on one of the Rookie Sensations inserts from Fleer that helped launch the insert card craze of the 1990s.
There were nine different Rookie Sensations sets released during the 1990s, and I've selected one card from each to highlight the progression of the insert set over the years.
1990-91 Fleer Rookie Sensations #1 David Robinson ($8)
The No. 1 overall pick in the 1987 draft, Robinson served a two-year commitment in the U.S. Navy before starting his pro career. A legitimate superstar from the jump, he averaged 24.3 points, 12.0 rebounds and 3.9 blocks per game to win 1989-90 Rookie of the Year honors.
The inaugural Rookie Sensations insert set also includes Hall of Famer Tim Hardaway and sharp-shooter Glen Rice.
Buy on: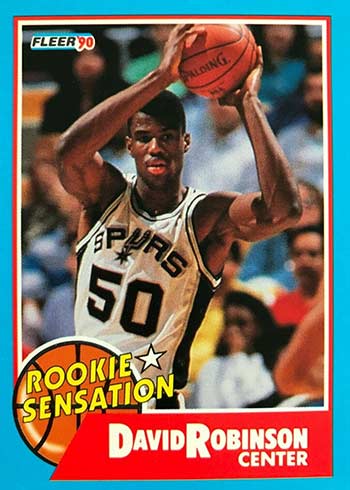 1991-92 Fleer Rookie Sensations #9 Gary Payton ($6)
The Sonics selected Payton with the No. 2 pick in the 1990 draft out of Oregon State, and he averaged a modest 7.2 points, 6.4 assists and 2.0 steals while starting all 82 games as a rookie. Three years later he was an All-Star for the first time, and he went on to a Hall of Fame career as one of the best two-way point guards of his era.
The checklist for the insert set's second year is less impressive, with Derrick Coleman, Kendall Gill, Dennis Scott and Dee Brown the other notable names.
Buy on: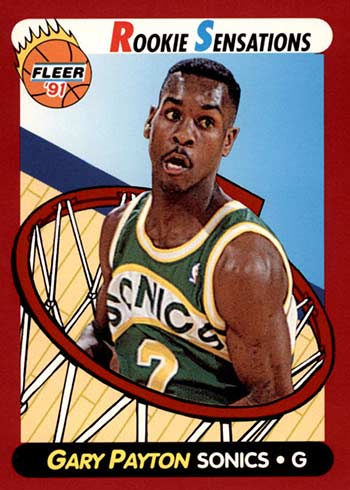 1992-93 Fleer Rookie Sensations #5 Larry Johnson ($6)
The face of the "Runnin' Rebels" team at UNLV that went 34-0 during the 1990-91 season before losing in the Final Four, Johnson made an immediate splash with the Hornets, winning Rookie of the Year during the 1991-92 season with 19.2 points and 11.0 rebounds per game. The 6'7″ forward was a two-time All-Star and one of the most popular players of the 1990s.
Hall of Fame center Dikembe Mutombo and three-point specialist Steve Smith are the other top names in the 1992-93 set.
Buy on: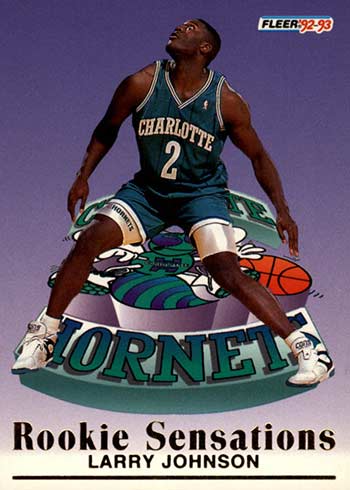 1993-94 Fleer Rookie Sensations #18 Shaquille O'Neal ($15)
Few rookies have taken the league by storm the way O'Neal did when he averaged 23.5 points, 13.9 rebounds and 3.5 blocks per game during the 1992-93 season. He went on to be one of the most dominant centers in NBA history, racking up 14 All-Star selections, two scoring titles and 28,596 points to rank eighth on the all-time list.
The 1993-94 checklist also features Alonzo Mourning, Latrell Sprewell and standout sixth man Robert Horry.
Buy on: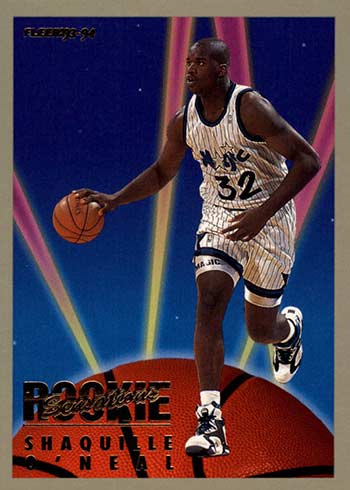 1994-95 Fleer Rookie Sensations #9 Anfernee Hardaway ($4)
One of the most popular players of the 1990s, Hardaway starred alongside Shaquille O'Neal on some great Orlando Magic teams. He averaged 16.0 points, 6.6 assists and 5.4 rebounds per game as a rookie and filled up the box score throughout his prime before injuries derailed his career.
Chris Webber, Toni Kukoc, Vin Baker, Sam Cassell, Allan Houston, Jamal Mashburn and Nick Van Exel are among the other top names in the 1994-95 set.
Buy on: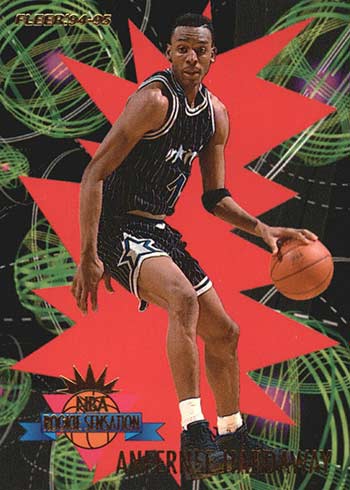 1995-96 Fleer Rookie Sensations #5 Jason Kidd ($6)
Kidd was an immediate starter for the Mavericks after going No. 2 overall in the 1994 draft. He averaged 11.7 points, 7.7 assists and 5.4 rebounds as a rookie, and Dallas improved from 13 to 36 wins as he took home Rookie of the Year honors. The following year he made his first of what would be 10 career All-Star appearances.
Grant Hill is the other chase card in the 1995-96 set, while Jalen Rose, Juwan Howard, Glenn Robinson and Eddie Jones are also included.
Buy on: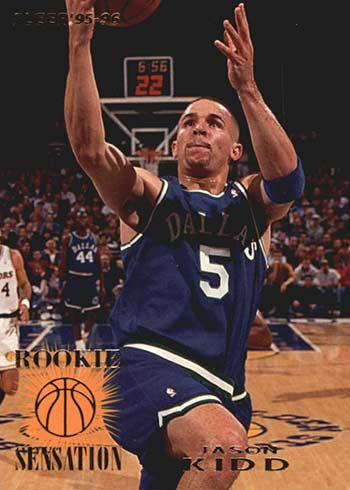 1996-97 Fleer Rookie Sensations #10 Steve Nash ($20)
After leading a Cinderella story at Santa Clara in college, Nash was the No. 15 overall pick in a stacked 1996 draft. He spent his rookie season backing up Kevin Johnson and Jason Kidd, averaging a modest 3.3 points and 2.1 rebounds in 10.5 minutes per game.
The Kobe Bryant ($500) and Allen Iverson ($100) cards in the 1996-97 set are outside of the One-Sheet Collection budget, but Nash ($20), Ray Allen ($20) and Stephon Marbury ($15) are all attractive alternatives.
Buy on: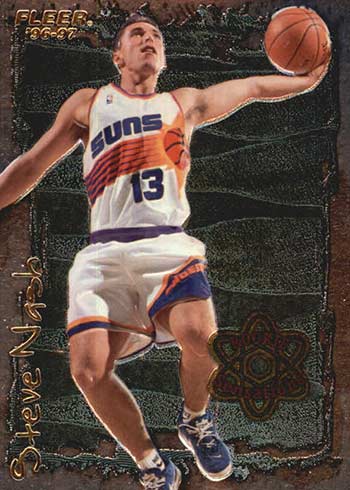 1997-98 Fleer Rookie Sensations #6 Tim Duncan ($5)
One of the most decorated college players of all-time during his four years at Wake Forest, Duncan averaged 21.1 points, 11.9 rebounds and 2.5 blocks to win Rookie of the Year honors during the 1997-98 season. He went on to be one of the greatest power forwards in NBA history, averaging 19.0 points and 10.8 rebounds while winning five rings during a 19-year career.
Tracy McGrady and Chauncy Billups are the other top cards on the 1997-08 checklist. This would be the final year of the flagship Fleer brand. It was reworked as Fleer Tradition the following year and the Rookie Sensations set was discontinued for a year.
Buy on: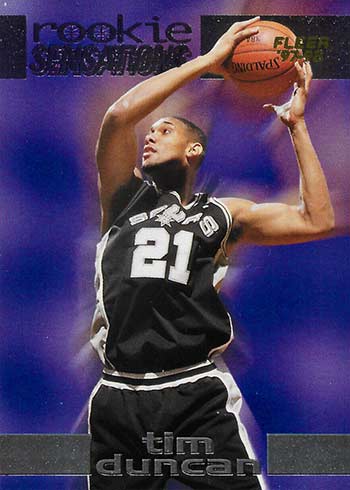 1999-00 Fleer Tradition Rookie Sensations #15 Dirk Nowitzki ($5)
Chosen No. 9 overall in the 1999 draft out of Germany, Nowitzki got off to a slow start in the NBA with 8.2 points and 3.4 rebounds per game as a rookie. Two years later, he topped 20 points per game for the first of what would be 12 straight seasons on his way to a Hall of Fame career.
Vince Carter, Paul Pierce and Jason Williams are the other big names on the 1999-00 checklist, while Mike Bibby, Antawn Jamison and Peja Stojakovic are others of note.
Buy on: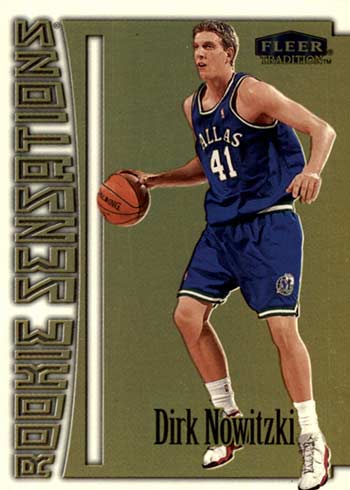 The Rookie Sensations inserts returned under the Fleer Tradition umbrella during the 1999-00 season, and they would return twice more in the 2006-07 and 2007-08 Fleer sets.
Total: $75