One-Sheet Collections: 1990s World Series MVPs
For many, nostalgia remains the driving force behind baseball card collecting, and that's how we arrived at the idea of One-Sheet Collections.
It's a simple concept with infinite possibilities.
Take a single nine-pocket sheet and a reasonable $100 budget, and build a nine-card collection with a unifying theme.
This time around we focus on the World Series MVP winners of the 1990s, which fits our nine-pocket approach perfectly as a result of the 1994 World Series being cancelled due to the strike.
We've opted for the Topps base card from the year that each player won World Series MVP honors to represent their spot in a collection that should serve as a fun walk down memory lane of some of the best and brightest in the Fall Classic.
Pocket 1: 1990 Topps #627 Jose Rijo ($0.05)
At his peak, Jose Rijo was one of the best pitchers of the 1990s and the ace of the Cincinnati Reds staff.
He went 14-8 with a 2.70 ERA in 197 innings while tossing seven complete games during the regular season in 1990. He started two games during the World Series against the Oakland Athletics, going 2-0 with a 0.59 ERA in 15.1 innings.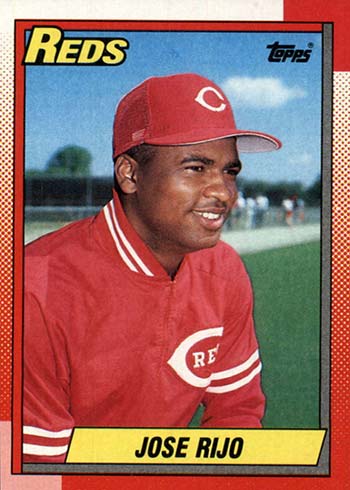 Pocket 2: 1991 Topps Traded #82T Jack Morris ($0.10)
After 14 seasons with the Detroit Tigers, workhorse Jack Morris signed a one-year, $7 million contract with the Minnesota Twins prior to the 1991 season. He went 18-12 with a 3.43 ERA in 246.2 innings to finish fourth in AL Cy Young voting and 14th in AL MVP balloting during the regular season, and then anchored the starting staff in October.
In three World Series starts against the Atlanta Braves, he was 2-0 with a 1.17 ERA, including a 10-inning complete game shutout in Game 7 that stands as one of the greatest playoff performances in MLB history.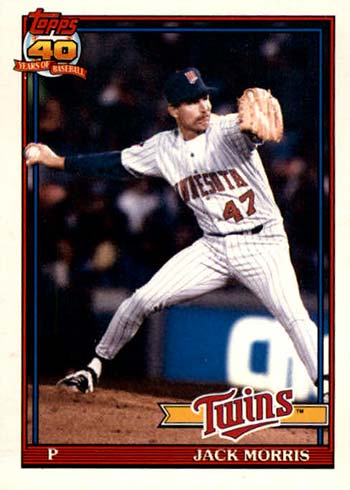 Pocket 3: 1992 Topps #563 Pat Borders ($0.05)
One of the unlikeliest World Series MVP winners in history, catcher Pat Borders hit .242/.290/.385 with 13 home runs and 53 RBI while hitting primarily eighth in the Toronto lineup.
The 29-year-old caught fire during the Fall Classic, going 9-for-20 with three doubles, one home run and three RBI to take home the hardware for the Blue Jays.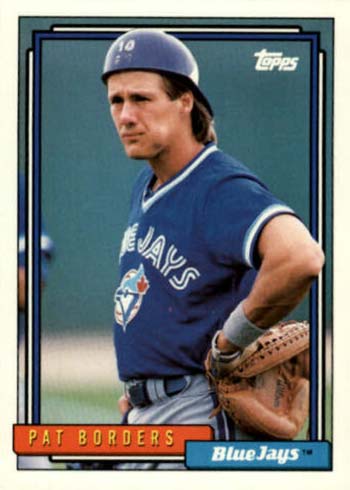 Pocket 4: 1993 Topps Traded #48T Paul Molitor ($0.20)
The 1992-93 free-agent class is arguably the deepest in MLB history. It saw Barry Bonds (PIT to SF), Greg Maddux (CHC to ATL), David Cone (TOR to KC) and Wade Boggs (BOS to NYY) all find new teams, while Mark McGwire, Kirby Puckett and Joe Carter re-upped with their previous clubs.
Future Hall of Famer Paul Molitor also signed a three-year, $16 million deal with the Blue Jays after 15 seasons with the Brewers, and he hit .332/.402/.509 with 64 extra-base hits to finish runner-up in AL MVP voting. The cherry on top of a terrific debut was an 11-for-24 showing in the World Series that included one double, two triples, two home runs and seven RBI.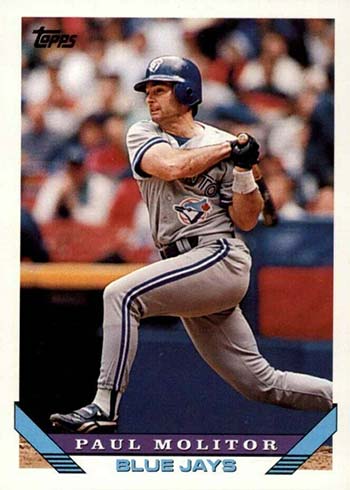 Pocket 5: 1995 Topps #175 Tom Glavine ($0.50)
Tom Glavine finished third in NL Cy Young voting during the 1995 season, going 16-7 with a 3.08 ERA in 198.2 innings, but he was the ace of the staff in October as the Atlanta Braves finally won a World Series title.
In two starts against Cleveland's juggernaut lineup, he went 2-0 with a 1.29 ERA, 0.71 WHIP, including eight shutout innings in the Game 6 clincher.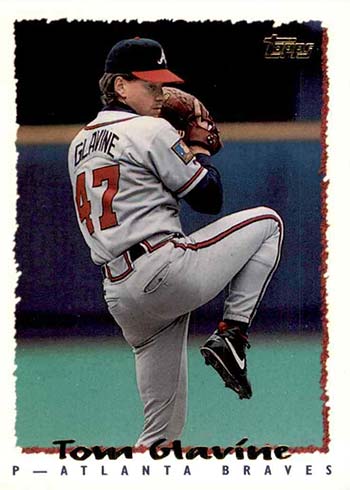 Pocket 6: 1996 Topps #95 John Wetteland ($0.20)
Veteran John Wetteland was one of baseball's best closers in 1996, nailing down 43 of 47 save chances with a 2.83 ERA and 9.8 K/9 with a young Mariano Rivera bridging the gap to him as the Yankees primary setup man.
He appeared in five games during the six-game World Series against the Atlanta Braves, converting all four of his save chances while allowing just four hits, one walk and one earned run in 4.1 innings.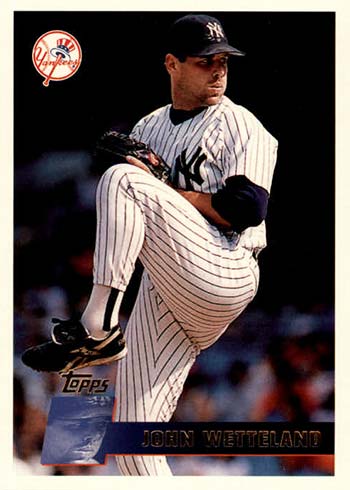 Pocket 7: 1997 Topps #382 Livan Hernandez ($0.20)
As a 22-year-old rookie in 1997, Cuban defector Livan Hernandez went 9-3 with a 3.18 ERA in 96.1 innings to finish runner-up to Scott Rolen in NL Rookie of the Year voting.
After taking home NLCS MVP honors on the strength of a 15-strikeout complete game in Game 5 against the Atlanta Braves, he added to his trophy case with World Series MVP honors by earning the victory in Game 1 and Game 5 of the Fall Classic against Cleveland.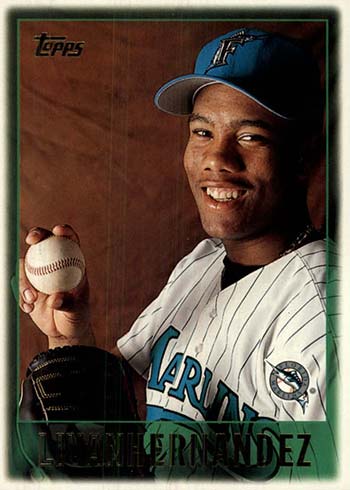 Pocket 8: 1998 Topps #405 Scott Brosius ($0.20)
The Yankees acquired Scott Brosius from Oakland prior to the 1998 season in exchange for left-hander Kenny Rogers to replace future Hall of Famer Wade Boggs at third base.
He hit .300/.371/.472 with 34 doubles, 19 home runs and 98 RBI to earn his lone All-Star selection in his Yankees debut, and he went 8-for-17 with two home runs and six RBI in a four-game sweep of the Padres.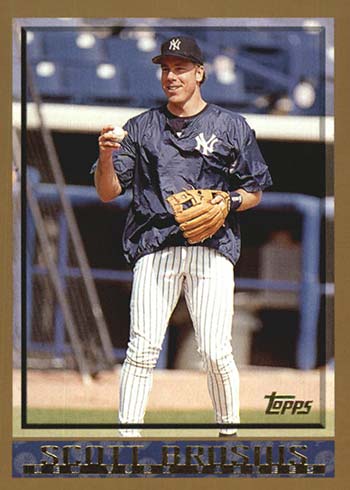 Pocket 9: 1999 Topps #172 Mariano Rivera ($0.50)
For the second straight season, the Yankees swept their way to a World Series title in 1999, outscoring the Atlanta Braves by a 21-9 margin en route to a third championship in four years.
Closer Mariano Rivera converted 45 of 49 save opportunities with a 1.83 ERA in 66 appearances during the regular season to finish third in AL Cy Young voting, and he was virtually untouchable in October. He threw 12.1 scoreless innings throughout the team's playoff run that year, including 4.2 blank frames and a pair of saves in the World Series.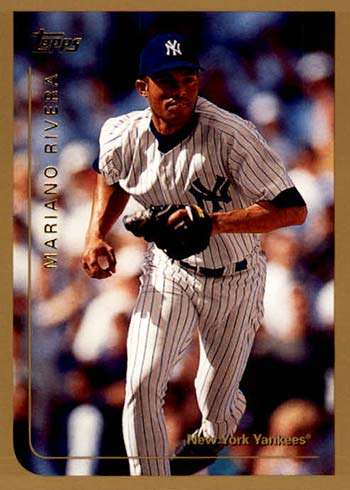 Total: $2.00