One-Sheet Collections: Baseball's WAR Leaders from the 1970s, '80s and '90s
For many, nostalgia remains the driving force behind baseball card collecting, and that's how we arrived at the idea of One-Sheet Collections.
It's a simple concept with infinite possibilities.
Take a single nine-pocket sheet and a reasonable $100 budget, and build a nine-card collection with a unifying theme.
This time around we took a more analytical approach to assembling our collection.
Wins Above Replacement or WAR has become one of the go-to statistics for measuring a player's value to his team relative to other players.
For this week's collection, I sought out the nine highest single-season WAR totals of the 1970s, 1980s and 1990s and tracked down the corresponding Topps flagship card for each player's standout season.
Enjoy!
Pocket 1: 1991 Topps #150 Cal Ripken ($0.75) – 11.5 WAR in 1991
Cal Ripken Jr. was ahead of his time as an offensive-minded shortstop. He was 30-years old and already well established as a superstar when he put together arguably the best performance of his Hall of Famer career in 1991.
He hit .323/.374/.566 with 46 doubles, 34 home runs and 114 RBI while also winning his first career Gold Glove Award. That earned him AL MVP honors for the second time in his career, and his 11.5 WAR is tied for the 12th-highest single-season total in MLB history.
Buy on: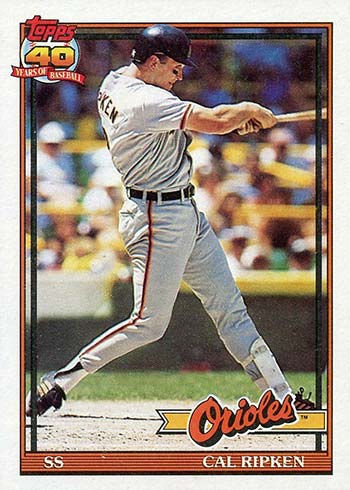 Pocket 2: 1975 Topps #180 Joe Morgan ($20) – 11.0 WAR in 1975
In his fourth season with the Cincinnati Reds, second baseman Joe Morgan won the first of what would be back-to-back NL MVP Awards. He hit .327/.466/.508 with 17 home runs, 94 RBI and 67 steals, leading the NL with 132 walks while striking out just 52 times. That was worth 11.0 WAR–the highest single-season WAR total of the 1970s.
His 1975 Topps card actually carries a fairly reasonable price tag for being part of an iconic set.
Buy on: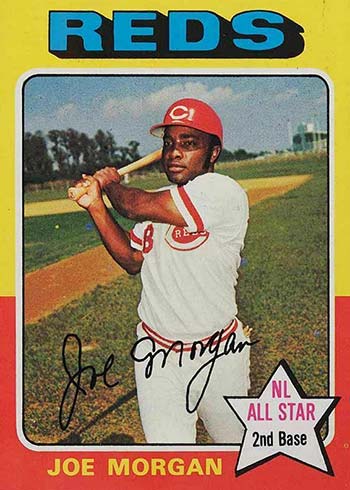 Pocket 3: 1982 Topps #435 Robin Yount ($2) – 10.5 WAR in 1982
Still lining up at shortstop in 1982, Robin Yount hit .331 with 29 home runs and 114 RBI while leading the NL in hits (210), doubles (46), slugging (.578), OPS (.957), OPS+ (166) and total bases (367).
He helped lead the Milwaukee Brewers to the World Series and nearly won AL MVP honors unanimously with Reggie Jackson receiving a single first-place vote.
Buy on: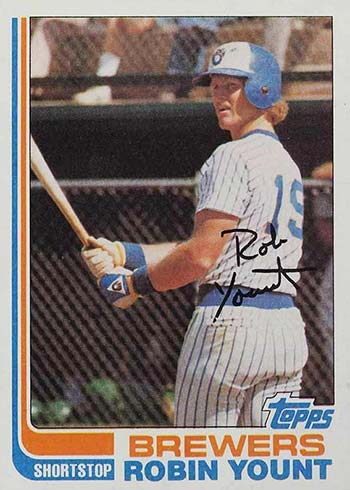 Pocket 4: 1984 Topps #490 Cal Ripken ($4) – 10.0 WAR in 1984
A year after winning AL MVP honors in his second full season in the majors, Cal Ripken Jr. finished 27th in MVP balloting during the 1984 season, despite leading the majors in WAR and posting the second-highest WAR total of his career.
He hit .304/.374/.510 with 37 doubles and 27 home runs to capture the Silver Slugger at shortstop, but it was Detroit Tigers closer Willie Hernandez who won MVP. Who doesn't love the 1984 Topps set design?
Buy on: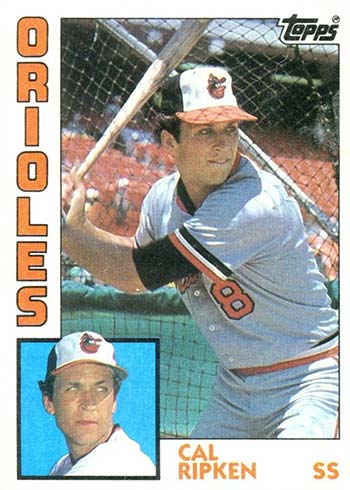 Pocket 5: 1993 Topps Traded #1T Barry Bonds ($1.50) – 9.9 WAR in 1993
Barry Bonds signed a six-year, $43.75 million contract with the San Francisco Giants prior to the 1993 season, a record figure at the time. He was fresh off winning the NL MVP as a member of the Pittsburgh Pirates the previous season, and was just entering his prime at the age of 28.
He repeated as NL MVP in his Giants debut, hitting .336/.458/.677 while leading the NL in home runs (46), RBI (123), OPS+ (206) and total bases (365). It was one of eight times in his career he would eclipse 9.0 WAR in a season. Since his 1993 Topps base card still shows him on the Pirates, I opted for the 1993 Topps Traded card instead.
Buy on: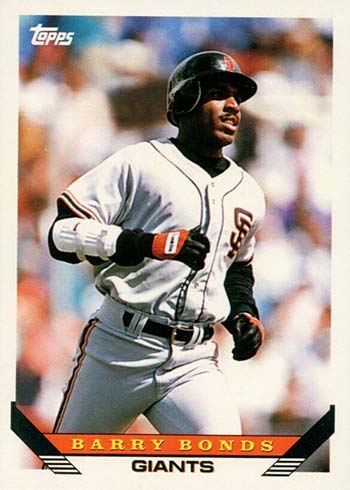 Pocket 6: 1985 Topps Traded #49T Rickey Henderson ($2.50) – 9.9 WAR in 1985
After five seasons and 493 steals with the Oakland Athletics to begin his career, Rickey Henderson was traded to the New York Yankees for a five-player package. In his first season in the Bronx, he hit .314/.419/.516 with 80 steals and a career-high 146 runs scored.
The 1985 Topps base set still shows him as a member of the Athletics, so his Topps Traded card is the choice for this collection.
Buy on: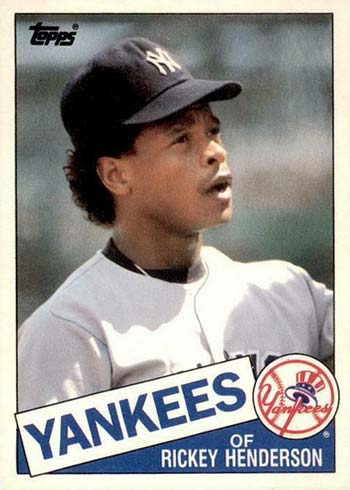 Pocket 7: 1990 Topps #450 Rickey Henderson ($0.25) – 9.9 WAR in 1990
Following five seasons in New York, Henderson returned to the Athletics for a second go-around. In his first full season back in 1990, he hit .325/.439/.577 with 64 extra-base hits, 65 steals and 119 runs scored for a team that won 103 games and the AL pennant. He edged out 51-homer slugger Cecil Fielder for AL MVP.
The 1990 Topps set came at the height of overproduction, so this card can be found for Pocket change.
Buy on: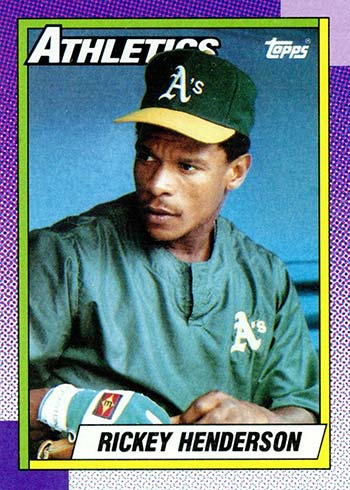 Pocket 8: 1997 Topps #461 Larry Walker ($0.20) – 9.8 WAR in 1997
One of the most underrated players of the 1990s, Larry Walker was at his peak in 1997 when he hit .366/.452/.720 with 46 doubles, 49 home runs, 130 RBI, 143 runs scored and 33 steals for the Colorado Rockies.
Detractors are quick to point to Coors Field as the reason for his impressive numbers, but he hit an equally impressive .346/.443/.733 with 29 home runs and 62 RBI on the road that season, so it was a non-factor.
Buy on: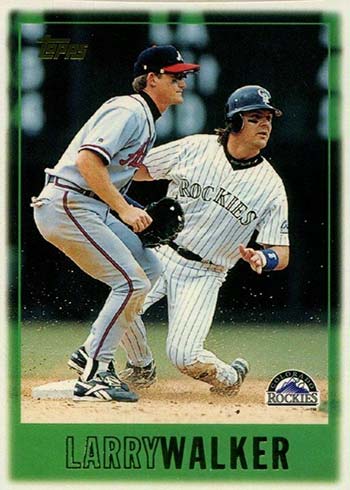 Pocket 9: 1974 Topps #283 Mike Schmidt ($60) – 9.8 WAR in 1974
Mike Schmidt hit a lackluster .196 with 18 home runs and 52 RBI as a rookie in 1973, but it didn't take long for him to develop into a superstar. The following year, he batted .282/.395/.546 with an NL-leading 36 home runs and 116 RBI to finish sixth in NL MVP balloting. His 9.8 WAR was the highest single-season total of his Hall of Fame career.
Since he shares his 1973 Topps Rookie Card with two other players, this is his first solo Topps card.
Buy on: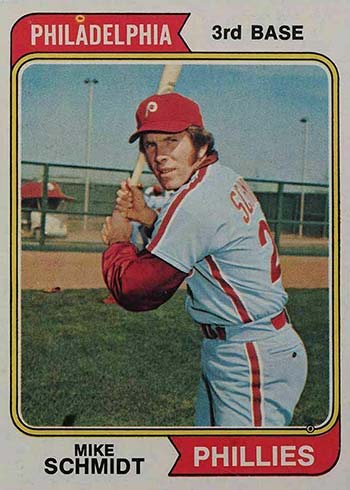 Total: $91.20