One-Sheet Collections: 1995 Seattle Mariners
For many, nostalgia remains the driving force behind baseball card collecting, and that's how we arrived at the idea of One-Sheet Collections.
It's a simple concept with infinite possibilities.
Take a single nine-pocket sheet and a reasonable $50 budget, and build a nine-card collection with a unifying theme.
This time around we focus on the 1995 Seattle Mariners who upended the New York Yankees in the ALDS and in the process likely saved baseball in Seattle.
Led by Ken Griffey Jr., Edgar Martinez and Jay Buhner, the '95 Mariners ranked fourth in the majors with 5.49 runs per game, and that offense helped carry them to an AL West title following a one-game playoff with the California Angels.
Ahead I've highlighted one card of each player from the starting lineup of the decisive Game 5 of the ALDS matchup with the Yankees, a game that ended with "The Double" off the bat of Edgar Martinez.
LF Vince Coleman: 1985 Topps Traded #24T XRC ($1)
Vince Coleman took baseball by storm with a 110-steal season in 1985 to win NL Rookie of the Year honors. He went on to lead the NL in that category for six straight years to begin his career, including two more 100-steal seasons.
The 33-year-old joined the Mariners in an August waiver deal with the Royals in 1995, and he hit .290 with 16 steals and 27 runs scored in 40 games down the stretch to help shore up a revolving door in left field.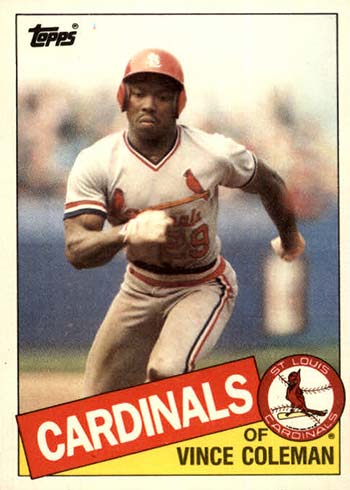 2B Joey Cora: 1988 Fleer #580 RC ($0.25)
Veteran Joey Cora signed with the Mariners prior to the 1995 season after four years as the Chicago White Sox starting second baseman. He hit .297/.359/.372 while striking out just 31 times in 487 plate appearances during the '95 season, and two years later he was an All-Star for the first and only time in his career.
He has Rookie Cards in the 1988 Fleer, Score and Topps sets after a 77-game debut with the Padres during the 1987 season.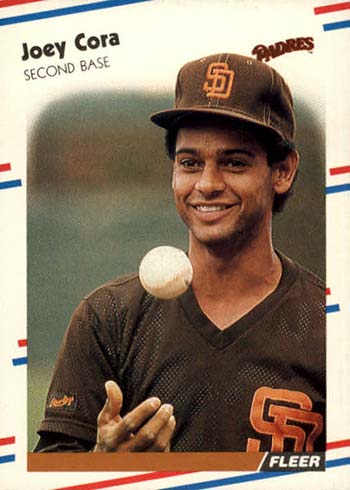 CF Ken Griffey Jr.: 1989 Topps Traded #41T RC ($20)
The face of the franchise and one of the most recognizable players in the history of the sport, Ken Griffey Jr. actually battled injuries during the '95 season, playing in just 72 games and hitting .258/.379/.481 with 17 home runs and 42 RBI. That didn't stop him from going 9-for-23 with five home runs and seven RBI against the Yankees in the ALDS.
His 1989 Upper Deck Rookie Card is too pricey for our $100 spending limit, but his 1989 Topps Traded rookie is a worthy fallback option at a far more reasonable price point.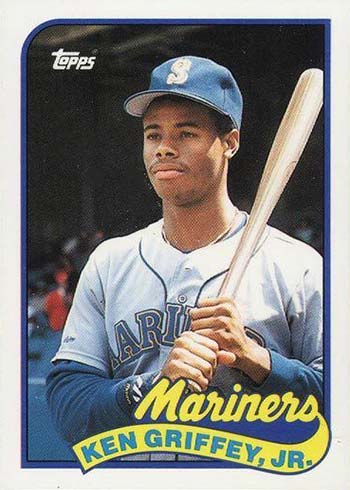 DH Edgar Martinez: 1988 Fleer #378 RC ($20)
Designated hitter Edgar Martinez was signed out of Puerto Rico in 1982 for a modest $4,000 bonus. The 32-year-old won the AL batting title (.356) in 1995 while also leading the league in on-base percentage (.479), OPS+ (185), doubles (52) and runs scored (121).
His only Rookie Card is part of an otherwise forgettable 1988 Fleer set, and it has seen an uptick in value since he was inducted into the Hall of Fame.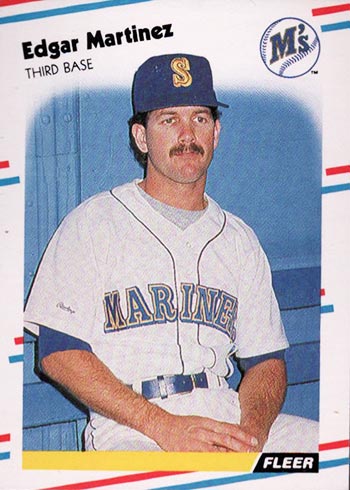 1B Tino Martinez: 1988 Topps Traded #66T XRC ($3)
Best remembered for his time with the New York Yankees, first baseman Tino Martinez began his career in Seattle when the Mariners took him with the No. 14 overall pick in the 1988 draft. He was an All-Star for the first time in 1995 when he hit .293/.369/.551 with 35 doubles, 31 home runs and 111 RBI.
I've opted for his XRC card in the 1988 Topps Traded set which shows him as a member of Team USA, rather than his only Rookie Card which is part of the annoyingly oversized 1989 Bowman set.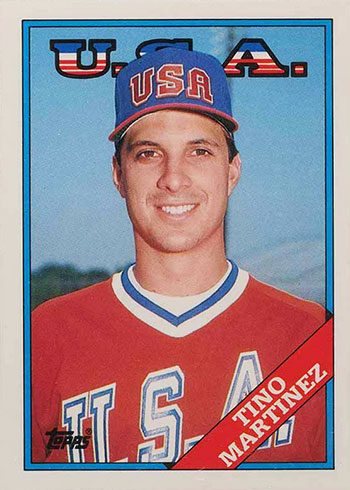 RF Jay Buhner: 1988 Topps Traded #21T XRC ($1)
Slugger Jay Buhner was acquired from the Yankees at the 1988 trade deadline in exchange for veteran Ken Phelps in a deal later made famous by an episode of Seinfeld. One of the most feared sluggers of his era, he posted a 131 OPS+ with 40 home runs and 121 RBI during the '95 season.
While his only Rookie Card is part of the mass-produced 1988 Donruss set, he also has a pair of XRCs in the 1988 Score Rookie/Traded and 1988 Topps Traded sets.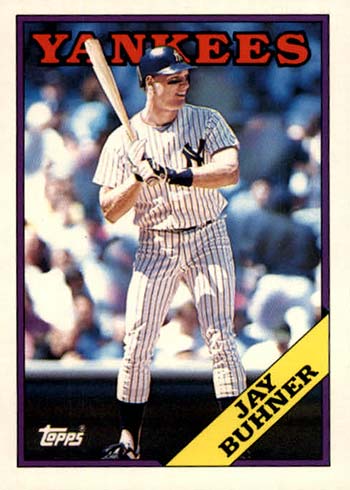 SS Luis Sojo: 1990 Leaf #291 RC ($0.40)
Luis Sojo had a solid 13-year MLB career as a utility infielder, including some memorable moments in a Yankees uniform where he won four rings. In 1995, he was tasked with keeping the shortstop position warm for a young Alex Rodriguez, and he hit .289 with 27 extra-base hits in 370 plate appearances.
Signed out of Venezuela by the Toronto Blue Jays in 1986, he has four Rookie Cards in the 1990 Bowman, 1990 Fleer Update, 1990 Leaf and 1990 Topps sets.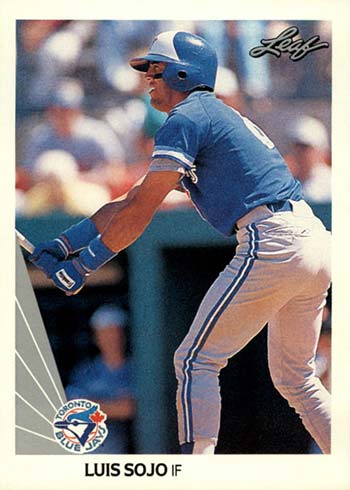 C Dan Wilson: 1991 Topps #767 RC ($0.25)
Drafted No. 7 overall in the 1990 draft, catcher Dan Wilson was traded to Seattle prior to the 1994 season in a four-player deal that sent Bret Boone to Cincinnati. He went on to spend 12 seasons with the Mariners, and he hit .278 with nine home runs and 51 RBI in '95 before making his one and only All-Star appearance the following year.
Thanks to his status as an early first-round pick, he has a wide variety of Rookie Cards scattered across 1991 products.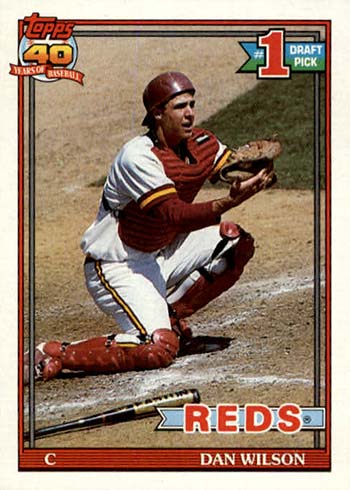 3B Mike Blowers: 1990 Leaf #109 RC ($0.40)
An under-appreciated contributor during his four seasons in Seattle, third baseman Mike Blowers had a career year in 1995, posting a 108 OPS+ with 24 doubles, 23 home runs and 96 RBI. He was traded to the Dodgers following the conclusion of the '95 season.
Originally drafted by the Expos, Blowers was traded to the Yankees in an August waiver deal in 1989 in exchange for John Candelaria. He made his MLB debut with New York following the trade and he has seven different Rookie Cards in 1990 products.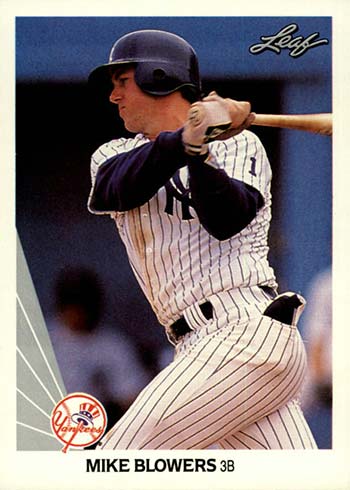 Total: $46.30