One-Sheet Collections: Heroic 1993 Upper Deck Fun Pack Baseball Cards
For many, nostalgia remains the driving force behind baseball card collecting, and that's how we arrived at the idea of One-Sheet Collections.
It's a simple concept with infinite possibilities.
Take a single nine-pocket sheet and a reasonable $50 budget, and build a nine-card collection with a unifying theme.
This time around we focus on a forgotten mid-1990s set.
Fun Pack was a short-lived product line from Upper Deck that was targeted toward kids with a low price point and a checklist filled with fun subsets.
The product was nixed after two years and essentially replaced by Collector's Choice.
However, the nine-card HERO subset in the 1993 Fun Pack set deserves to be dusted off and appreciated for its comic-book style depiction of some of the game's biggest stars.
Enjoy!
Pocket 1: Reggie Jackson
Card: 1993 Fun Pack #28 Reggie Jackson
Beckett Value: $0.30
Buy on:
Upper Deck kicked off the subset by predicting that retired New York Yankees star Reggie Jackson would punch his ticket to Cooperstown in 1993.
Mr. October retired following the 1987 season with 563 career home runs, 14 All-Star appearances, five World Series rings, and he indeed earned enshrinement in his first year on the ballot with 93.6 percent of the vote.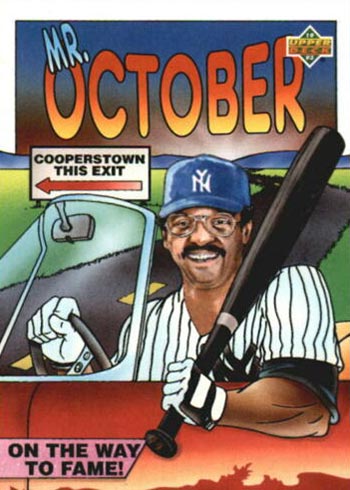 Pocket 2: Roger Clemens
Card: 1993 Fun Pack #29 Roger Clemens
Beckett Value: $0.75
Buy on:
Entering the 1993 season, Roger Clemens was coming off his third straight AL ERA title and third straight season finishing into the top three in AL Cy Young voting as he had firmly established himself as one of baseball's elite pitchers.
Love him or hate him, you have to admit "Rocket" was one of the cooler nicknames of the 1990s and it opened the door for some cool imagery like we see on this card.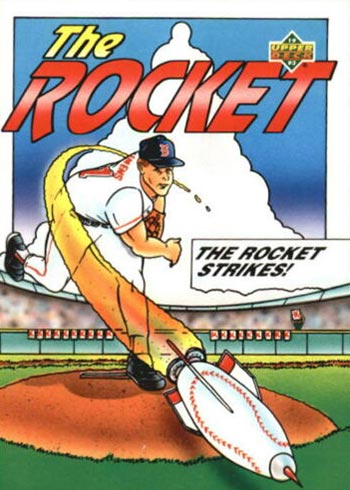 Pocket 3: Ken Griffey Jr.
Card: 1993 Fun Pack #30 Ken Griffey Jr.
Beckett Value: $1
Buy on:
Just 23 years old in 1993, Ken Griffey Jr. was still very much "The Kid" entering his fifth MLB season as he continued his rapid ascent to superstardom.
After averaging 22 home runs over his first four seasons, he launched 45 long balls in '93 while taking home his fourth straight Gold Glove Award and finishing fifth in AL MVP voting. No player was more easily confused with a superhero during his prime.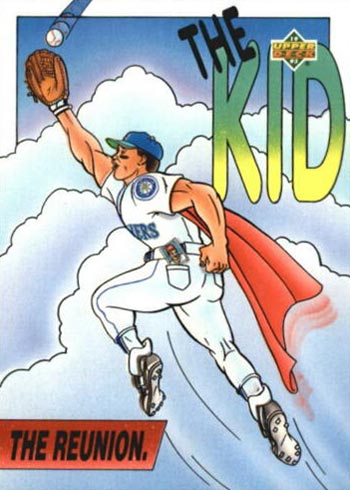 Pocket 4: Bo Jackson
Card: 1993 Fun Pack #31 Bo Jackson
Beckett Value: $0.30
Buy on:
After missing an entire season following hip replacement surgery, Bo Jackson returned to action in 1993 and took home AL Comeback Player of the Year honors when he slugged 16 home runs in 85 games for the Chicago White Sox.
He played just one more MLB season after that with the California Angels before retiring amid the 1994 player's strike, but he goes down as one of the most legendary athletes in sports history.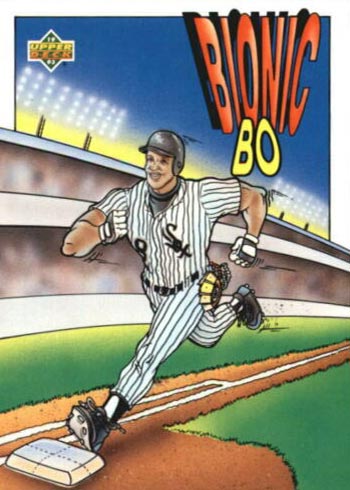 Pocket 5: Cal Ripken Jr.
Card: 1993 Fun Pack #32 Cal Ripken Jr.
Beckett Value: $1.25
Buy on:
This was before Cal Ripken Jr. surpassed Lou Gehrig's consecutive games played streak on September 6, 1995, earning his "Iron Man" moniker.
"The Ripper" does have a nice ring to it, though, and he ripped plenty of home runs over the course of his career. He finished with 431 homers in 21 seasons and won the Home Run Derby in 1991.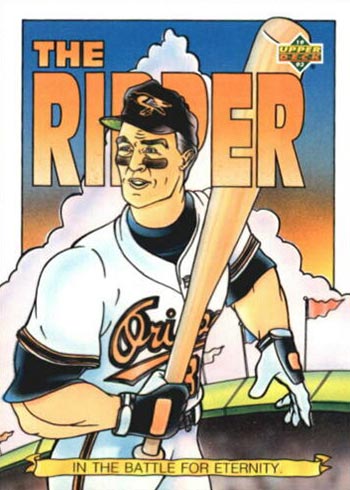 Pocket 6: Nolan Ryan
Card: 1993 Fun Pack #33 Nolan Ryan
Beckett Value: $1.25
Buy on:
At 46 years old, the "Ryan Express" was pulling into the station in 1993 as the future Hall of Famer entered his final MLB season with the Texas Rangers.
He posted a 4.88 ERA in 12 starts before suffering a torn ligament in his arm that brought his career to an abrupt end. The flame-thrower still stands as the all-time strikeout leader (5,714) and no one has matched his 27 seasons played.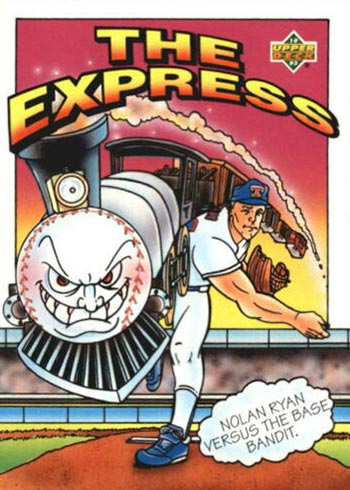 Pocket 7: Deion Sanders
Card: 1993 Fun Pack #34 Deion Sanders
Beckett Value: $0.30
Buy on:
After hitting .183 in 321 plate appearances over his first three MLB seasons, Deion Sanders had a breakout season on the baseball diamond in 1992.
He hit .304 with 26 steals and an NL-leading 14 triples in 97 games, then went 8-for-15 with two doubles and five steals in the World Series. That proved to be the peak of his baseball career, but "Prime Time" was one of the most compelling athletes of his era.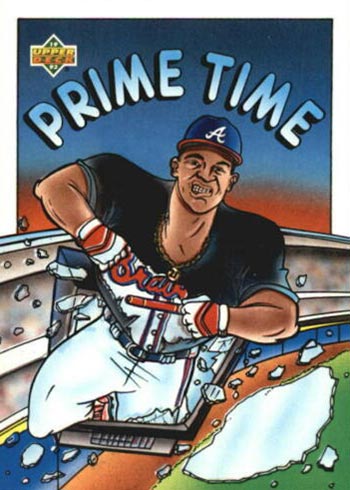 Pocket 8: Ozzie Smith
Card: 1993 Fun Pack #35 Ozzie Smith
Beckett Value: $0.75
Buy on:
Ozzie Smith won his 13th and final Gold Glove Award during the 1992 season, and even in his late 30s, he was still "The Wizard" when it came to his defensive work at shortstop.
The star-adorned red hat and cape he's wearing in this illustration are reminiscent of his 1994 Fleer Pro-Visions card, which is another must-own for any Ozzie Smith collector and comes at a similarly wallet-friendly price.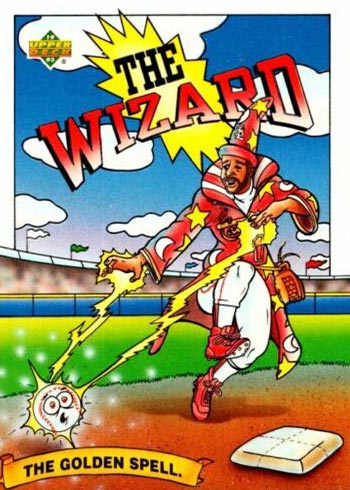 Pocket 9: Frank Thomas
Card: 1993 Fun Pack #36 Frank Thomas
Beckett Value: $0.50
Buy on:
With a stellar 1990 debut and two full seasons after that under his belt, Chicago White Sox slugger was still at the onset of his Hall of Fame career in 1993.
He nearly doubled his home run total from 24 to 41 while hitting .317/.426/.607 with 128 RBI to win his first of back-to-back AL MVP awards. This was apparently before "Big Hurt" had taken hold as his go-to nickname.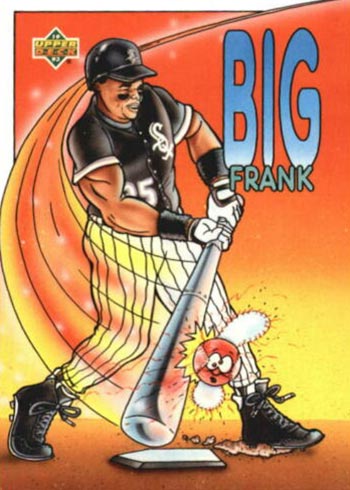 Total Beckett Value: $6.40