The $100 1st Baseman Baseball Card Starter Kit – One-Sheet Collections
For many, nostalgia remains the driving force behind baseball card collecting, and that's how we arrived at the idea of One-Sheet Collections.
It's a simple concept with infinite possibilities.
Take a single nine-pocket sheet and a reasonable $100 budget, and build a nine-card collection with a unifying theme.
This time around, I'm doing something a bit different with our theme and focusing on a specific position. The idea here was to build a nine-card "starter pack" to serve as a foundation for a collection specific to one position.
We've already done the catchers. Now it's time for the first basemen. What nine cards focusing solely on the first base position would you buy with a $100 budget?
Here's what I picked:
1987 Donruss #46 Mark McGwire ($12)
We kick things off with an ongoing debate about what the true Rookie Card should be for legendary slugger Mark McGwire.
His 1985 Topps card where he's pictured as a member of Team USA is considered his Rookie Card, but his 1987 Donruss and Topps are the first to have him in an Athletics uniform. Who doesn't love a "Rated Rookie" card?
Buy on: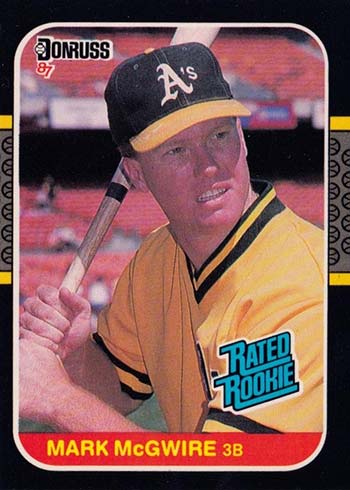 1990 Leaf #300 Frank Thomas RC ($25)
This was one of the biggest cards of the 1990s thanks to a 1990 Leaf set that wasn't massively overprinted like almost everything else during the Junk Wax Era. The set also includes Rookie Cards of Sammy Sosa, Larry Walker and David Justice as well as second-year cards of Ken Griffey Jr. and Albert Belle.
However, there is little question that the Frank Thomas card is the headliner of the set and a must-own addition to any first baseman collection.
Buy on: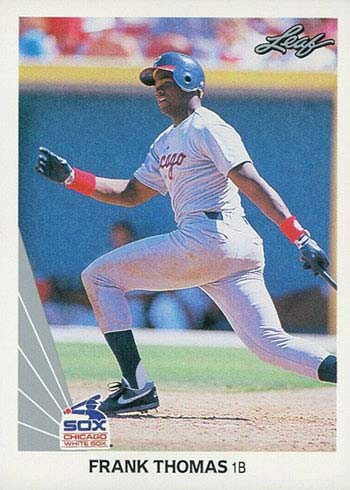 1991 Stadium Club #388 Jeff Bagwell RC ($3)
With 449 home runs, 1,529 RBI and a 149 OPS+ that ranks 40th on the all-time list, Jeff Bagwell was one of the most productive middle-of-the-order sluggers of his era.
The 1991 NL Rookie of the Year has eight different Rookie Cards ranging in price from $1.50 to $6.00 with his Ultra Update rookie the most expensive of the bunch. His 1991 Stadium Club is his best looking rookie of the bunch.
Buy on: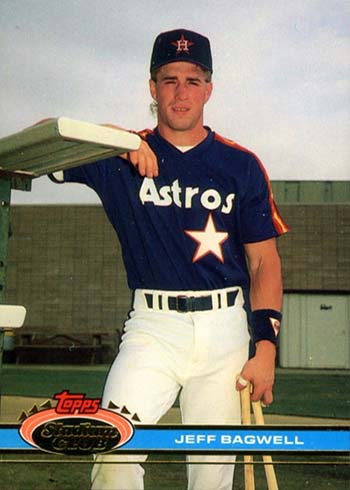 2002 Topps #160 Albert Pujols ($1)
Future Hall of Famer Albert Pujols has a wide variety of high-priced Rookie Cards in 2001 products, including his 2001 Topps Traded rookie that carries a steep $300 price tag and a Rookie of the Year card with Ichiro Suzuki in the same set that goes for $200.
For this exercise, his 2002 Topps second-year card is a more cost-friendly alternative. The iconic Topps Rookie Cup was well-earned as he hit .329/.403/.610 with 37 home runs and 130 RBI in one of the best rookie seasons in MLB history.
Buy on: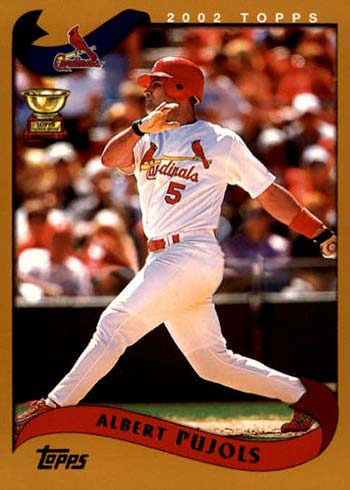 2003 Topps Traded #T126 Miguel Cabrera ($5)
Miguel Cabrera's Rookie Card appears in the 2000 Topps Traded set ($150) and also has a Topps Traded Chrome version ($200), so similar to Pujols, we'll need to get creative to come up with an entry for him in our collection.
After making his MLB debut as a 20-year-old in 2003 and eventually playing in the World Series that year for the Florida Marlins, Cabrera appeared on a Topps card for the second time as a "Prospect" in the 2003 Topps Traded set. That card has a far more budget-friendly alternative to fill his slot.
Buy on: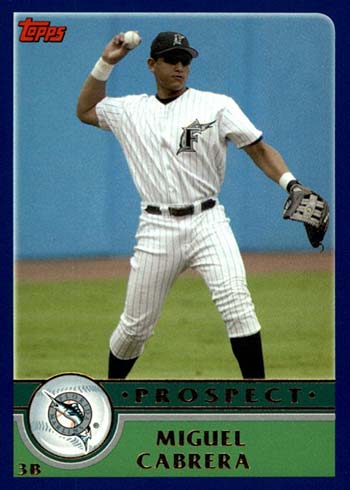 2008 Topps #319 Joey Votto ($15)
Joey Votto was included in the 2002 Bowman Draft ($40), 2002 Bowman Chrome Draft ($80) and 2002 Topps 206 ($60) sets after he was selected in the second round of the 2002 draft out of Canada, and those are his three Rookie Cards.
After debuting as a September call-up in 2007, he was included in the 2008 Topps flagship set and the "Rookie Card" logo is plastered on all of his 2008 cards. It may not be his actual Rookie Card, but it's a good early representation of the on-base machine.
Buy on: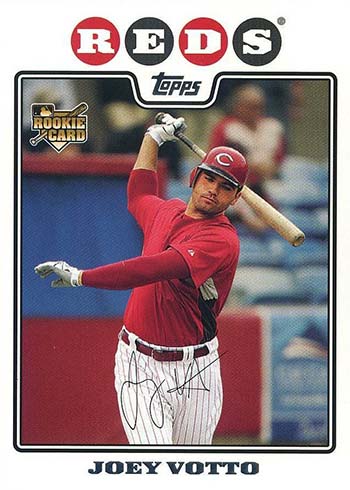 2011 Topps Lineage #146 Freddie Freeman RC ($15)
Freddie Freeman saw a nice spike in his Rookie Card prices after the Atlanta Braves won the 2021 World Series, and his ongoing free agency was one of the biggest stories when the MLB lockout was implemented.
A second-round pick in the 2007 draft, Freeman received a 20-game cup-of-coffee as a September call-up in 2010 and that was enough for him to be included across a wide variety of 2011 products. All told, he has 13 different Rookie Cards, and the Topps Lineage is among the most affordable of the bunch.
Buy on: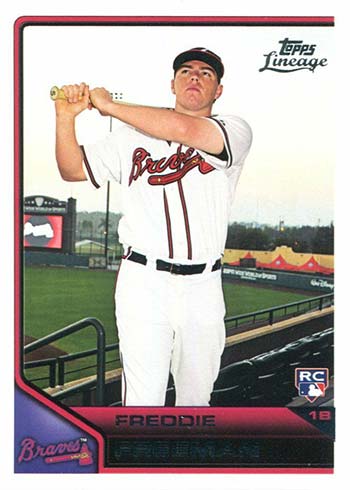 2011 Bowman Draft #108 Paul Goldschmidt RC ($6)
An eighth-round pick in 2009 who never appeared on the Baseball America Top 100 prospect list, Paul Goldschmidt hit .314/.384/.606 with 42 doubles, 35 home runs and 108 RBI at High-A in 2010 and that earned him a spot in the 2011 Bowman Draft and Bowman Chrome Draft sets.
He made his MLB debut on Aug. 1, 2011, and Topps included him in the 2011 Topps Update set. That card has a $20 price tag, so for the sake of our $100 spending limit, the Bowman Draft card gets the nod.
Buy on: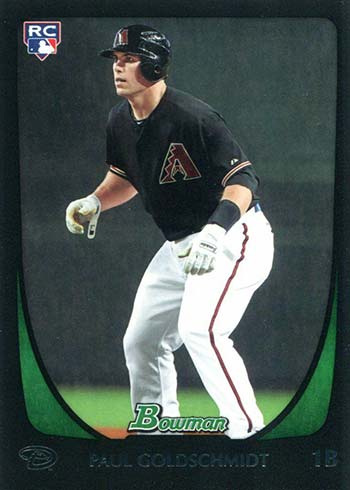 2019 Topps Update #US1 Vladimir Guerrero Jr. RC ($15)
Vladimir Guerrero Jr. is the new headliner at the first base position after hitting .311/.401/.601 with 48 home runs, 111 RBI and 6.8 WAR in his age-22 season while finishing runner-up in AL MVP voting.
He had a 106 OPS+ with 43 extra-base hits and 2.1 WAR in 123 games as a rookie in 2019, and he was the headliner in that year's Topps Update set which also includes Rookie Cards for Austin Riley, Mike Yastrzemski, Jared Walsh, Cavan Biggio and Keston Hiura.
Buy on: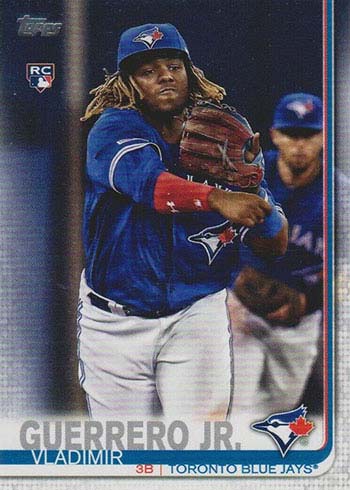 Total: $97