In 1979, Topps unleashed its one-and-done Topps Comics set. It never lived up to the hype, but the 33 wax comics still hold interest as an affordable oddball item. And that's no joke.
It's a set that could exist only in a specific space in time, in the final hours of a trading card monopoly that seemed it would never end, presented before a consumer public hungry for something — anything — new.
How else to explain the exceedingly brief popularity of 33 flimsy, waxy cartoon images of baseball players, folded tightly around a rectangular chunk of pink bubble gum and sold during the spring and summer of 1979?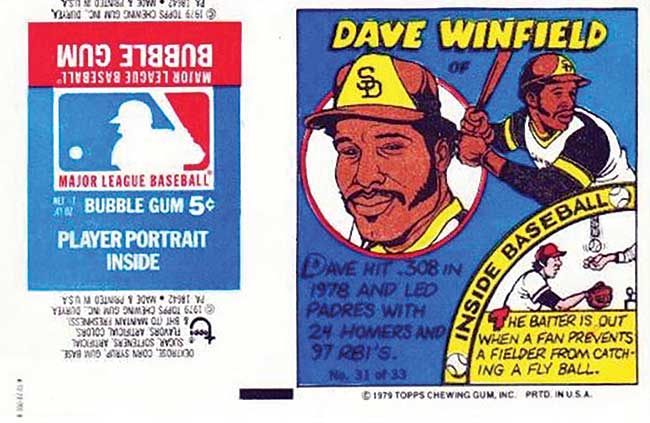 The 1979 Topps Comics set, a one-and-done collection never repeated by the company, was released as a "test issue," leading to speculation among dealers and others in the hobby that the set was rare. But unlike the 1973 multi-paneled Topps Comics set that was never sold to the public but was the inspiration for the set that followed six years later, the '79 comics did reach retail stores and collectors.
The comics were issued in three series and sold for 5 cents per, a head-turning bargain even in the days of 25-cent wax packs. Released around the time of Topps' traditional flagship set in March, dealers, spurred by talk of scarcity, gobbled up the set to sell to collectors eager for anything different. Topps rarely issued new product more than once a year during the '70s, creating an interest among a public that had nowhere else to turn outside of cereal boxes or snack cake containers.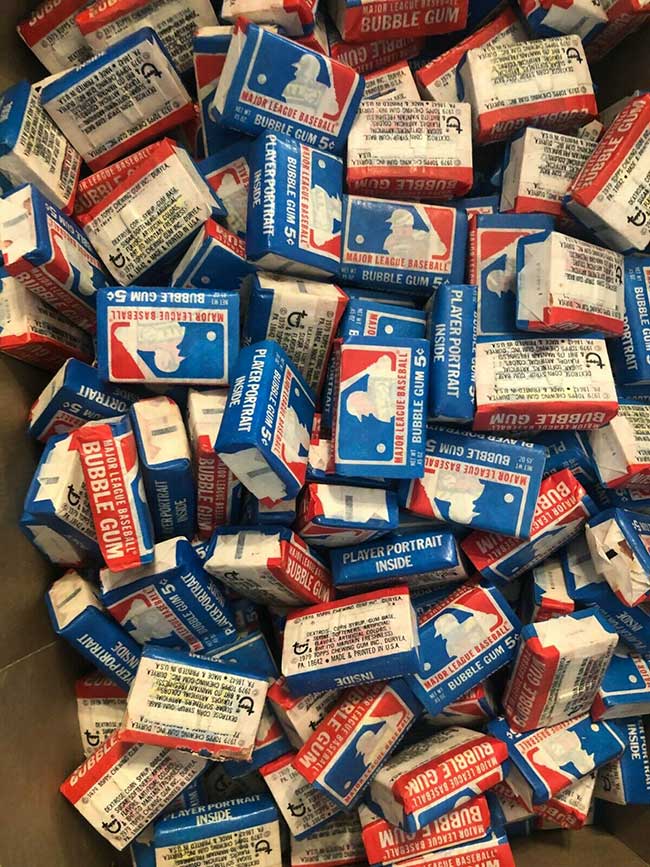 But the set's popularity faded over the following months as each ensuing series arrived. Product didn't move and almost certainly wasn't a money-maker for Topps as nothing like it was issued again.
That makes it unique, the only 3-by-3-¼ panel com- ics of current-day ballplayers presented on the same wax paper that had featured the Bazooka Joe cartoon for decades.
The 33 square images display drawn likenesses of star players Nolan Ryan, Reggie Jackson, George Brett and others in the style of a Robert Laughlin or Bob Parker (the artist is unknown). Each player receives two images, drawn as a portrait and as a half-body action image, above a blurb about the player's exploits. Beneath and in the lower right corner is a smaller panel, separated by a quarter-circle with the words "Inside Baseball," which offers a baseball rule or fact with another cartoon image.
The comics are eye-catching, printed in bright colors that contrast with the comparably staid flagship set design. The panels come with yellow, red or blue backgrounds with yellow the most common (19) and blue the least (4). Eddie Murray starts the 1979 Topps Comics checklist at panel No. 1 and Vida Blue ends it at No. 33. Interestingly, each cartoon is numbered at the lower left, except for Murray, whose number is written sideways in the upper right.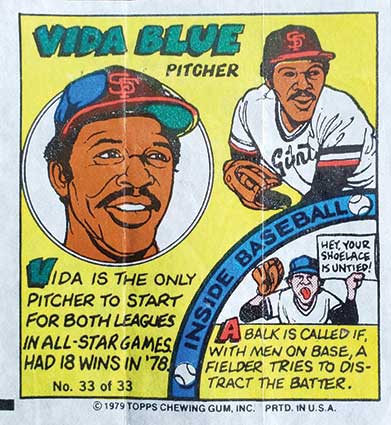 More than one-third of the checklist are now Hall of Famers, a roll call consisting of Johnny Bench, Brett, Rod Carew, Jackson, Murray, Phil Niekro, Jim Rice, Ryan, Tom Seaver, Ted Simmons, Dave Winfield and Carl Yastrzemski. And there are young sensations of the day, such as Mitchell Page, Bob Horner and Jack Clark. All 26 teams at the time are represented with the Braves, Red Sox, Reds, Tigers, Dodgers, Yankees and Giants each receiving two players.
The comic backs are blank. The comics were released within an outer layer that advertised "Major League Bubble Gum" on a blue-and-red wrap- per with the MLB logo. The comic itself is thin, fragile, prone to tears if not careful and each exhibits creases from being wrapped around the gum. Even though some uncut sheets reached collections, without the telltale folds, some companies will not grade the comics due to their flimsy nature.
1979 Topps Comics holds limited monetary value and is easily available, having long lost its reputation as an exclusive test set. Boxes of 72 comics can be found for $45 and the 33-panel set sells for around $25 with individual comics running between a buck and 5 bucks.
Topps created a similar wax-paper comic set the same year, the three-panel Marvel Chewing Gum Spider-Man, but didn't return to a mass-produced wax paper-themed set again.
For a brief period of time the bright comics captured the imagination of collectors still buying comic books off the magazine rack, and they still hold a fascination for those who were youngsters in '79. In a couple of years, competitors to Topps would offer card sets of their own and issue separate sets of stickers, puzzles and in a variety of sizes and shapes. Finding something new and different would become much more commonplace.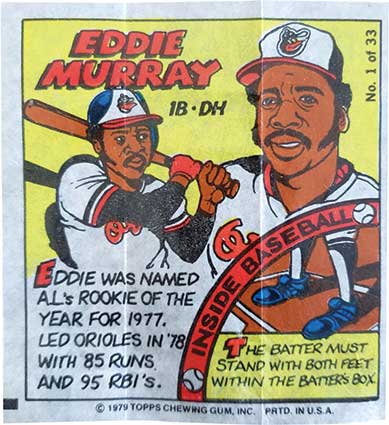 Forgotten by almost anyone who wasn't hunting the streets for something out-of-the-ordinary to collect in the late '70s, the '79 Comics offer a glimpse of the collecting atmosphere of the period. As slight as they are, they were strong enough to remain collectible to this day.
1979 Topps Comics Checklist
33 comics.
Buy on:
1 Eddie Murray, Baltimore Orioles
2 Jim Rice, Boston Red Sox
3 Carl Yastrzemski, Boston Red Sox
4 Nolan Ryan, California Angels
5 Chet Lemon, Chicago White Sox
6 Andre Thornton, Cleveland Indians
7 Rusty Staub, Detroit Tigers
8 Ron LeFlore, Detroit Tigers
9 George Brett, Kansas City Royals
10 Larry Hisle, Milwaukee Brewers
11 Rod Carew, California Angels
12 Reggie Jackson, New York Yankees
13 Ron Guidry, New York Yankees
14 Mitchell Page, Oakland Athletics
15 Leon Roberts, Seattle Mariners
16 Al Oliver, Texas Rangers
17 John Mayberry, Toronto Blue Jays
18 Bob Horner, Atlanta Braves
19 Phil Niekro, Atlanta Braves
20 Dave Kingman, Chicago Cubs
21 Johnny Bench, Cincinnati Reds
22 Tom Seaver, Cincinnati Reds
23 J.R. Richard, Houston Astros
24 Steve Garvey, Los Angeles Dodgers
25 Reggie Smith, Los Angeles Dodgers
26 Ross Grimsley, Montreal Expos
27 Craig Swan, New York Mets
28 Pete Rose, Philadelphia Phillies
29 Dave Parker, Pittsburgh Pirates
30 Ted Simmons, St. Louis Cardinals
31 Dave Winfield, San Diego Padres
32 Jack Clark, San Francisco Giants
33 Vida Blue, San Francisco Giants