One-Sheet Collections: 1986 New York Mets Rookie Cards
For many, nostalgia remains the driving force behind baseball card collecting, and that's how we arrived at the idea of One-Sheet Collections.
It's a simple concept with infinite possibilities.
Take a single nine-pocket sheet and a reasonable $100 budget, and build a nine-card collection with a unifying theme.
This time around we turned our attention to the 1986 New York Mets team that won 108 games during the regular season and bested the Houston Astros and Boston Red Sox en route to the franchise's second and still most recent World Series title.
Ahead you'll find the Rookie Card of each member of the team's go-to lineup during its postseason run to make up this week's One-Sheet Collection.
Enjoy!
Pocket 1: 1981 Donruss #575 Mookie Wilson RC ($3)
The Mets selected Mookie Wilson in the second round of the 1977 draft. After making his MLB debut in 1980, he quickly emerged as the team's starting center fielder and an elite base-stealing threat. The 30-year-old shifted to left field to accommodate a young Lenny Dykstra in '86, and hit .289 with 25 steals and 61 runs scored in 123 games.
He was not included in the 1981 Fleer set and his 1981 Topps rookie is shared with Juan Berenguer and Hubie Brooks, so we opted to go with his 1981 Donruss Rookie Card to fill his spot in this collection.
Buy on: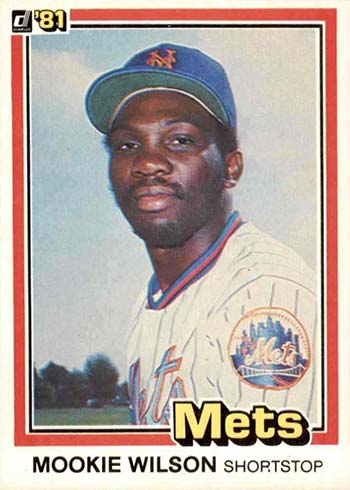 Pocket 2: 1986 Topps #53 Len Dykstra RC ($0.75)
After debuting the previous year, Lenny Dykstra was one of the breakout stars of the 1986 season when he hit .295/.377/.445 for a 129 OPS+ with 42 extra-base hits, 31 steals and 4.7 WAR to finish 19th in NL MVP voting.
The scrappy outfielder has Rookie Cards in 1986 Donruss, Fleer and Topps flagship sets, as well as in the O-Pee-Chee Canadian release. All three are affordable options, with Topps providing the best action shot.
Buy on: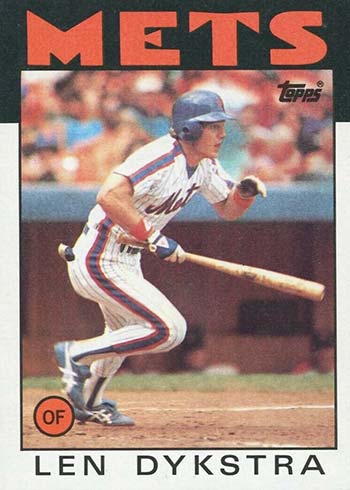 Pocket 3: 1984 Donruss #68 Darryl Strawberry RC ($25)
Darryl Strawberry was the No. 1 overall pick in the 1981 draftHe won AL Rookie of the Year honors in 1983 and was already a well-established star by the time the '86 season rolled around when he had a 27-homer, 28-steal season and earned his third straight All-Star nod.
The 1984 Donruss and Fleer rookies carry a far steeper price tag than the Topps rookie, and all three are worthwhile additions to any Mets PC. The Donruss card gets the nod here as the most sought after of the group.
Buy on: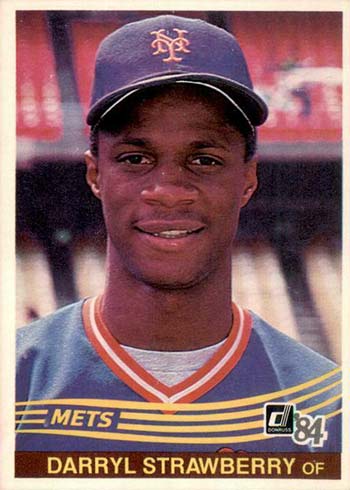 Pocket 4: 1985 Topps #67 Rafael Santana RC ($0.15)
Signed out of the Dominican Republic in 1976, Rafael Santana spent time with the New York Yankees and St. Louis Cardinals before finding a starting gig with the Mets. The light-hitting, glove-first shortstop batted .218 with 12 extra-base hits and 38 runs scored in 139 games in '86, and he was worth 1.6 WAR in four seasons with the Mets.
He has Rookie Cards in the 1985 Donruss, Fleer and Topps sets, and all three can be scooped up for less than $1 combined.
Buy on: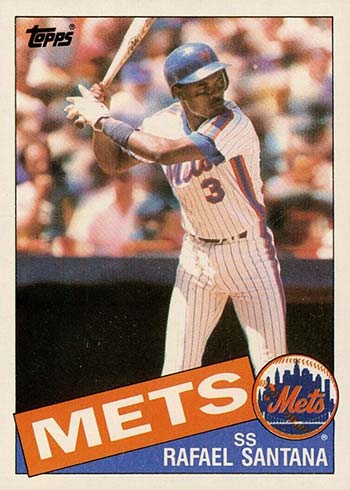 Pocket 5: 1985 Topps #620 Dwight Gooden RC ($2)
After winning NL Rookie of the Year as a 19-year-old phenom in 1984, then following that up with NL Cy Young honors the following year, Gooden was a bona fide ace by the '86 season. He went 17-6 with a 2.84 ERA, 1.11 WHIP and 200 strikeouts in 250 innings.
His three true Rookie Cards are all affordable given his iconic legacy, but Gooden also has XRCs in the 1984 Fleer Update ($80) and 1984 Topps Traded ($40) sets that carry a much bigger price tag.
Buy on: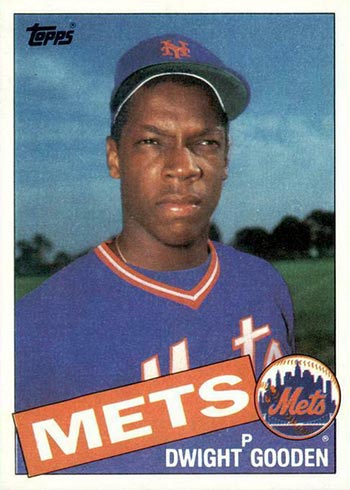 Pocket 6: 1981 Fleer #336 Wally Backman RC ($0.50)
In his seventh MLB season and third as the starting second baseman for the Mets in '86, Wally Backman hit .320 with a .376 on-base percentage in 440 plate appearances, batting mostly out of the No. 2 spot in the lineup.
Despite being the No. 16 overall pick in the 1977 draft, and hitting .323 in 110 plate appearances as a rookie in 1980, Backman has just one true Rookie Card, which is in the 1981 Fleer base set.
Buy on: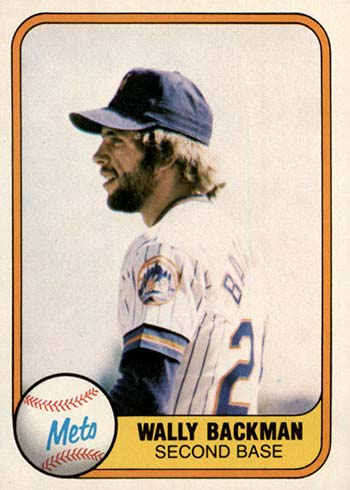 Pocket 7: 1978 Topps #674 Ray Knight RC ($2.50)
Originally selected by the Cincinnati Reds in the 1970 draft, Ray Knight finished fifth in NL MVP voting in 1979 and was an All-Star in 1980 before he was traded to the Houston Astros prior to the 1982 season. He was traded again two years later, and he hit .298/.351/.424 with 11 home runs and 76 RBI to finish 14th in NL MVP voting in '86.
He saw his first extended MLB action in 1977 and his only Rookie Card was featured in the Topps flagship set the following year.
Buy on: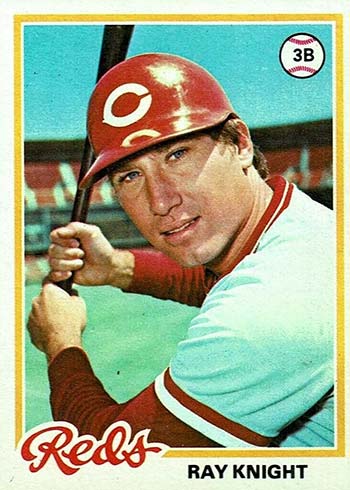 Pocket 8: 1975 Topps #620 Gary Carter RC ($50)
Gary Carter was already a seven-time All-Star with 215 career home runs and 55.7 WAR when he joined the Mets prior to the 1985 season in exchange for a package of four players. He finished third in NL MVP voting and won a Silver Slugger Award in '86 when he hit .255 with 24 home runs and 104 RBI.
His Rookie Card is part of the legendary 1975 Topps set that also includes rookies for George Brett, Robin Yount, Jim Rice, Fred Lynn and another key member of the 1986 Mets squad…
Buy on: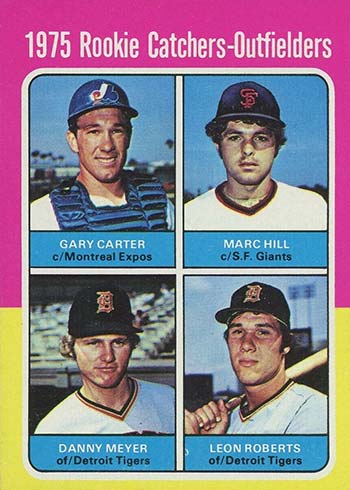 Pocket 9: 1975 Topps #623 Keith Hernandez RC ($10)
In his 10th MLB season and with an NL MVP award already under his belt, Keith Hernandez was traded from the St. Louis Cardinals to the Mets midway through the 1983 campaign. The perennial Gold Glove winner was an instant star in New York, and he hit .310/.413/.446 with 34 doubles, 13 home runs and 83 RBI to finish fourth in NL MVP balloting in '86.
His only Rookie Card sits just a few spots away from Gary Carter's rookie on the 1975 Topps checklist, and is a steal given his place in franchise lore.
Buy on: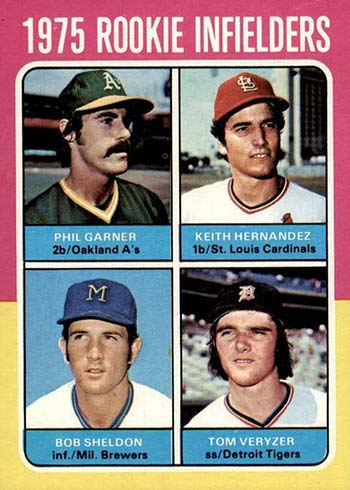 Total: $93.90