For many, nostalgia remains the driving force behind baseball card collecting, and that's how we arrived at the idea of One-Sheet Collections.
It's a simple concept with infinite possibilities.
Take a single nine-pocket sheet and a reasonable $50 budget, and build a nine-card collection with a unifying theme.
This time around, we turn our attention to this year's Hall of Fame ballot, specifically the newcomers who are eligible for the first time.
Curt Schilling (70.0%), Roger Clemens (61.0%), Barry Bonds (60.7%) and Omar Vizquel (52.6%) were the leading vote-getters among 14 players who fell short of the requisite 75 percent needed for enshrinement while receiving the necessary five percent to stay on the ballot last year.
They will now be joined by a new wave of players five years removed from retirement. It's far from a star-studded group with no slam-dunk Hall of Famer, but there are still some notable names and we've chosen rookie cards for the top nine to make up this week's collection.
Enjoy!
Pocket 1: SP Mark Buehrle
Card: 2000 Bowman Chrome Draft #69 Mark Buehrle RC
Beckett Value: $8
Buy on:
One of the biggest draft steals in MLB history, Buehrle was a 38th-round pick in the 1998 draft out of Jefferson College in Missouri.
The soft-tossing lefty was the definition of a workhorse, tallying at least 198 innings pitched in each of his 15 full MLB seasons. He was a five-time All-Star, four-time Gold Glove winner and he pitched a no-hitter and a perfect game.
He also has Rookie Cards in Bowman Draft, Fleer Tradition Update, Pacific Omega and a jersey relic rookie in Black Diamond Rookie Edition.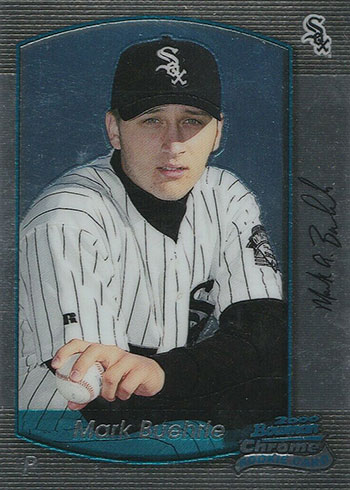 Pocket 2: CF Torii Hunter
Card: 1994 Bowman #104 Torii Hunter RC
Beckett Value: $5
Buy on:
A five-time All-Star and nine-time Gold Glove winner, Hunter was one of the best center fielders in recent memory, consistently impacting the game with his glove and his bat.
The No. 20 overall pick in the 1993 draft, he tallied 353 home runs and 1,391 RBI while hitting .277/.331/.461 over the course of his 19-year career, adding 2,452 hits and 195 steals.
Considering his first-round pedigree, it's a bit surprising that his only other Rookie Cards are in the 1994 Pinnacle and Score releases.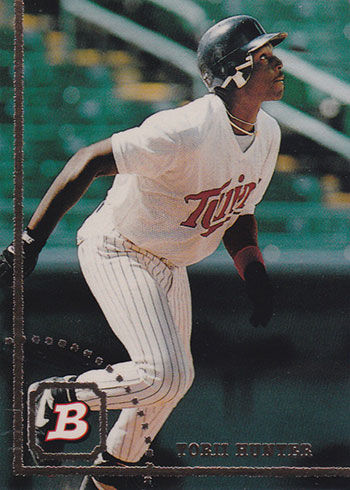 Pocket 3: SP Tim Hudson
Card: 1999 Bowman Chrome #375 Tim Hudson RC
Beckett Value: $4
Buy on:
The Oakland Athletics selected Tim Hudson in the sixth round of the 1997 draft and he made his MLB debut two years later, going 11-2 with a 3.23 ERA in 21 starts to finish fifth in 1999 AL Rookie of the Year voting.
He finished in the top five in Cy Young voting three times and made four All-Star teams over the course of his 17-year career, going 222-133 with a 3.49 ERA in 3,126.2 innings along the way.
His other Rookie Cards options include 1999 Bowman, Fleer Tradition Update, Pacific Omega and a short-printed Upper Deck Ultimate Victory card that ranks as his most valuable RC.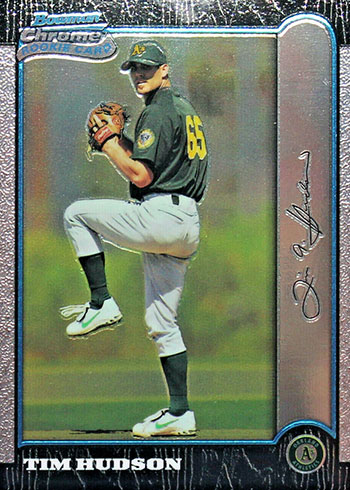 Pocket 4: 3B Aramis Ramirez
Card: 1997 Bowman Chrome #214 Aramis Ramirez RC
Beckett Value: $10
Buy on:
Ramirez put together a 34-homer, 112 RBI season at the age of 23 with the Pittsburgh Pirates, but that didn't stop them from trading him two years later to the Chicago Cubs.
He went on to hit 239 long balls in nine seasons with the North Siders before inking a four-year, $50 million contract with the Milwaukee Brewers that took him to the end of his career. He finished with 386 home runs, 1,417 RBI and a 115 OPS+.
The 1997 Bowman and Bowman Chrome products contain his only Rookie Cards.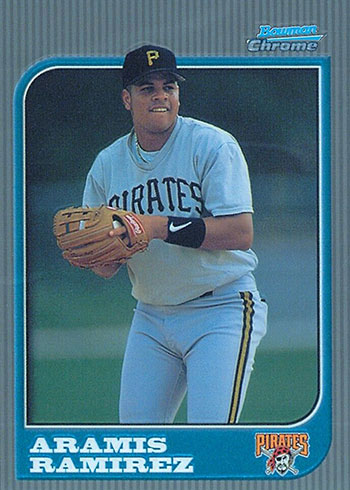 Pocket 5: SP Dan Haren
Card: 2003 Bowman Chrome #167 Dan Haren RC
Beckett Value: $5
Buy on:
Originally drafted by the Cardinals, Haren was traded to the Oakland Athletics in the blockbuster deal that sent Mark Mulder to St. Louis.
At his peak, he was a bona fide ace, earning three straight All-Star selections from 2007 to 2009. He went 153-131 with a 3.75 ERA and 1.18 WHIP in 2,419.2 innings over 13 MLB seasons.
After going 10-9 with a 2.74 ERA and 171 strikeouts in 193.2 innings between Single-A and High-A in 2002, he had 37 different Rookie Cards in 2003 products.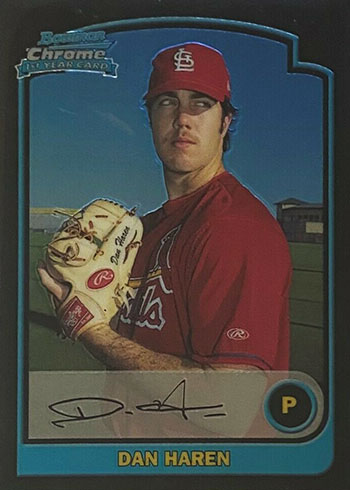 Pocket 6: SP Barry Zito
Card: 2000 Bowman Chrome #419 Barry Zito RC
Beckett Value: $4
Buy on:
Armed with a wicked curveball, Zito was part of Oakland's "Big Three" along with Tim Hudson and Mark Mulder during the 2000s.
He went 23-5 with a 2.75 ERA, 1.13 WHIP and 182 strikeouts in 229.1 innings in 2002 to win AL Cy Young honors, and he turned a stellar eight-year run in Oakland into a record-setting seven-year, $126 million deal with the San Francisco Giants.
The No. 9 overall pick in the 1999 draft out of USC, Zito has 15 different RCs in 2000 releases.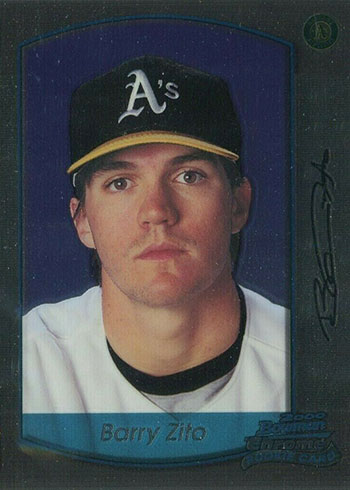 Pocket 7: OF Shane Victorino
Card: 2003 Bowman Chrome #319 Shane Victorino RC
Beckett Value: $3
Buy on:
Shane Victorino played 36 games with the San Diego Padres in 2003, then spent the entire 2004 season in the minors before he was selected by the Philadelphia Phillies in the Rule 5 draft.
He hit .275/.340/.425 with 108 home runs and 231 steals in 12 MLB seasons, earning two All-Star selections and winning four Gold Glove awards. The Phillies made the playoffs five years in a row during his time with the team, winning a title in 2008.
He has a wide array of 19 different Rookie Cards, including autographs in 2003 Hot Prospects and Leaf Certified Materials.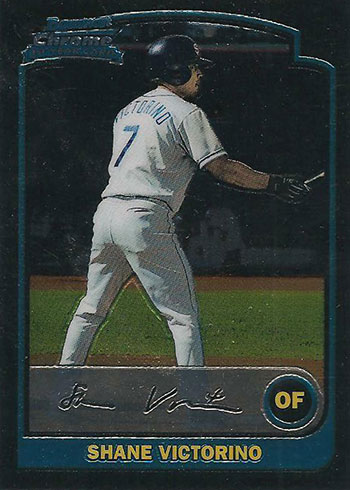 Pocket 8: SP A.J. Burnett
Card: 1999 Bowman Chrome #323 A.J. Burnett RC
Beckett Value: $1.50
Buy on:
The Florida Marlins acquired Burnett from the New York Mets prior to the 1998 season when Al Leiter was shipped out as part of the massive fire sale following the 1997 World Series title.
His 2,513 strikeouts rank 38th on the all-time list and he led the AL with 231 punchouts as a member of the Toronto Blue Jays in 2008. He pitched well into his late-30s, going 164-157 with a 3.99 ERA in 2,731.1 career innings.
He has 17 different Rookie Cards, with the most valuable of the bunch being a Fleer Mystique release that was numbered to 2,999.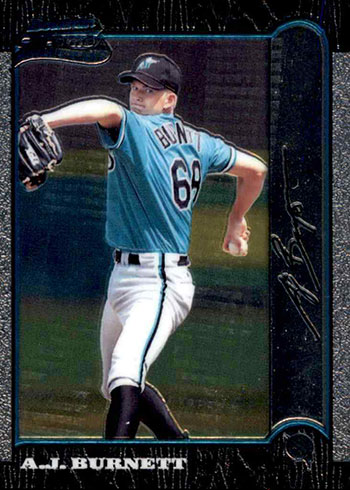 Pocket 9: OF Grady Sizemore
Card: 2000 Bowman Draft #109 Grady Sizemore RC
Beckett Value: $6
Buy on:
A dynamic power-speed threat early in his career, Sizemore averaged 6.2 WAR during the four-year stretch from 2005 to 2008, capping off that run with a 30/30 season.
Unfortunately, injuries derailed his career from there, and he never played more than 112 games in a season after his age-25 campaign. He'll go down as one of the biggest "what-ifs" in baseball history.
A third-round pick in 2000, he was included in the Bowman Draft release that same year for his only Rookie Card.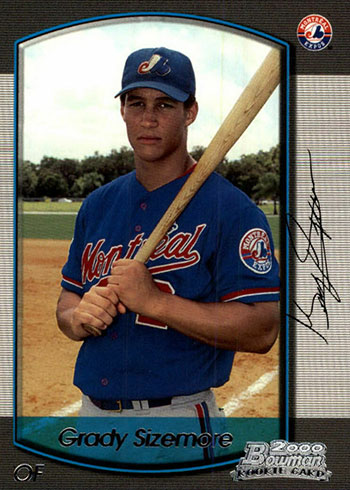 Total Beckett Value: $46.50